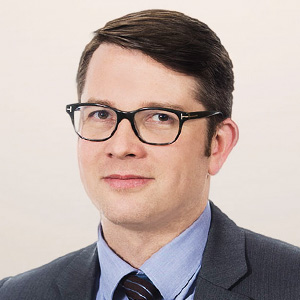 Senior Analyst
Speaker's bio
Jacob serves digital business professionals, helping them understand and respond to the challenges of digitizing their business strategy as well as understand how culture, technology, and organizational change can help accelerate transformation and innovation.
Jacob advises digital business leaders on how to drive forward their digital agenda within financial services and other verticals, with research exploring digital business strategy, evolving collaborative business models, API business strategy, open banking, consumers, digital and mobile payments, as well as emerging disruptive trends. He is based in the UK and has global coverage.
Webinar
Digital Strategies for Banks to Thrive in Today's Crisis and Beyond
Thursday, June 4, 2020
English
Available on-demand
The challenges that banks are facing are staggering— overwhelming exceptions in lending, unprecedented threats to KYC/AML, and LIBOR compliance. The tidal wave of COVID-related loan and forbearance applications continues to rise, while the strain of supporting a remote workforce is pushing processes and technology into crisis. Digital transformation is more necessary than ever… and yet investments must be prioritized strategically.
This webinar introduces Forrester's latest research on digital banking and ABBYY's approach to achieving it using Digital Intelligence. By implementing smarter process assessment and automation tools, financial institutions can quickly get a handle on the complex relationships between the people, processes, and content that are most impacted by recent events. This is the critical knowledge needed to set priorities for targeting automation to make an impact today.
Access webinar for North American audience