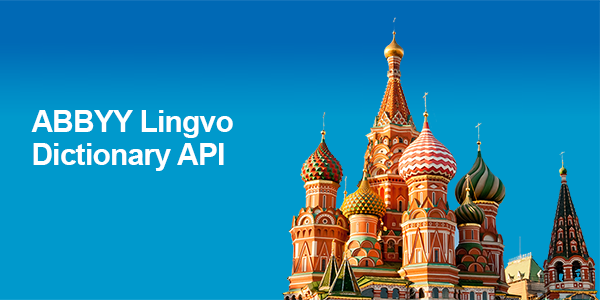 Lingvo dictionaries were ABBYY's first product 27 years ago. Over the past quarter of a century, the Lingvo brand has become synonymous with reliable dictionary content from high-quality dictionaries that are licensed from world-leading lexicographers and created by ABBYY's in-house team. With the launch of the Lingvo API, we've made Lingvo dictionaries available to third-party developers.
So what does the Lingvo API do?
The beta version of Lingvo API became available November 17 at https://developers.lingvolive.com. This version enables developers to integrate the following features into their products:
Full dictionary entries and their shortened versions
Entries from explanatory dictionaries
Spellchecking and spelling suggestions
Full-text search of dictionary entries
Articles from specific dictionaries
Inflected forms and recorded pronunciations of words
Which languages and dictionaries are available?
Lingvo API gives access to 140 dictionaries for 15 languages, including a wide variety of specialized dictionaries. These dictionaries pair Russian and Ukrainian with European languages (English, German, French, Spanish, Italian, Portuguese, Latin, Polish, Greek and Danish) and Asian languages (Chinese, Kazakh and Tatar).
Specialized dictionaries are available for the following subject areas: accounting and audit, law, programming and management. For a full list visit Dictionaries section.
Which platforms does the API support?
Lingvo API can be used in iOS, Android and web-based applications for free, but the amount of text that can be translated is limited to 50 000 characters per 24 hours. Lingvo API is server-based, so end users don't need to install any ABBYY applications.
What can Lingvo API be used for?
Lingvo API can provide many desirable features to developers of applications and services for learning foreign languages, other educational software, travel apps, reader apps, games and other products.
Some implementation examples
The Lingvo API can be used to integrate features that enable users to translate words and listen to recorded pronunciations into an e-book reading app. Users will not have to switch to other applications to look up a word or find out how it is pronounced.
The Lingvo API can be used to translate words and phrases in a language learning app. Users of the app will be able to learn words used in specialized areas such as law, programming and marketing.
To try our new API, register on the website and add you application. This will give your users  access to a ton of extremely useful features - just in time for the holidays!
Subscribe to our newsletter
Enter email and get FineScanner with 1 month premium for free!
Your subscription was successful! Kindly check your mailbox and confirm your subscription. If you don't see the email within a few minutes, check the spam/junk folder.
Your subscription was successful!