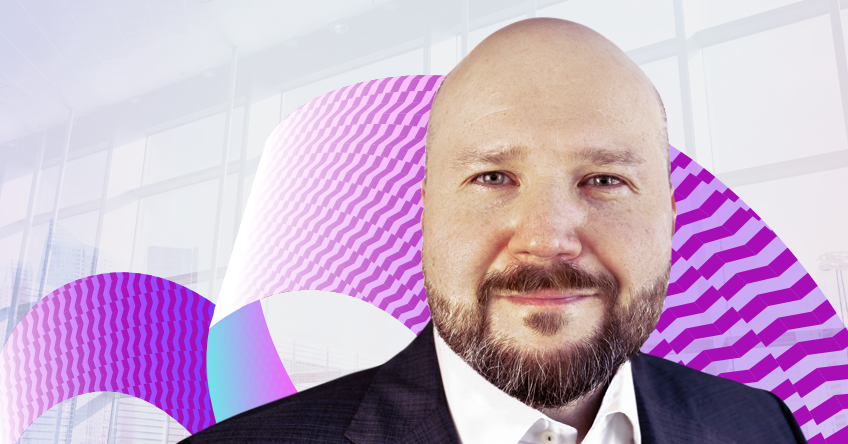 Paul Nizov has his feet firmly above ground with ABBYY—after a career as a Nuclear Submarine Officer. Skills honed from his time in the US Navy are certainly helping him with his role as ABBYY's Chief Information Security Officer.
Here, he tells us about his exciting past, his current position, and the hobbies that are now 'floating his boat'.
Follow us on Instagram and get to know the people at ABBYY
What attracted you to ABBYY, and what is your role?
I loved the thought of working for a company that is continually reimagining how people can work—it's like seeing the future before it happens. I was impressed to see the high level of innovation ABBYY has within its market-leading solutions while also making information security a top priority. And in my role, it means staying on top of the latest security and ISO standards to constantly transform our technology and help organizations across the world improve operations, revenue, and customer experience.
Related article: ABBYY Vantage Receives SOC2 Type II Certification
I am ABBYY's Chief Information Security Officer (CIO). I manage security risk, overseeing the strategic, operational, and budgetary aspects of secure software development, data privacy, and information protection. I ensure ABBYY solutions are designed, deployed, and delivered with state-of-the-art security practices in mind.
What was your previous experience before ABBYY?
I worked with Ernst & Young (EY), where I was the Managing Director of Cybersecurity for the Middle East and North Africa. During my four years in the region, I advised Saudi and Emirati clients on establishing cybersecurity capabilities to combat regional threats. Prior to that, I worked on securing critical infrastructure in North America through positions at the United States Nuclear Regulatory Commission and Booz Allen Hamilton. I designed and implemented enterprise-wide disaster recovery, business continuity, crisis management, and incident response capabilities.
As a military veteran, I served in the U.S. Navy as a Nuclear Submarine Officer. I graduated from Naval Nuclear Power School in Charleston, South Carolina, and Naval Nuclear Prototype in Ballston Spa, New York.
Your top advice to someone working in sales and business development?
No one cares more about your career than you. Never stop learning and remain curious about technology. Follow trends. And anticipate the next technological disruptor—be it quantum computing that threatens today's encryption standards or otherwise.
The CIO's effectiveness goes beyond roles and responsibilities. Having a good working relationship not only with your core teams but also across the enterprise is paramount to success. The success of the CIO depends on a shared focus on the business objectives. Be a team player willing to support the company's strategic objectives and core business.
What inspires you about your everyday tasks?
Exposure to different industries has allowed me to gain a broad perspective on risk and risk appetite, setting expenditure priorities, cultivating relationships with company leadership, and building InfoSec / IT functions that are both cost-effective and deliver maximum value to the core business. My role at ABBYY takes in all these aspects and I enjoy working with the leadership and product teams to ensure that ABBYY continues to maintain the most rigorous levels of security in both its products and infrastructure to support the demands of our multinational commercial and public sector customers.
My U.S. military service instilled in me a sincere appreciation for and commitment to hard work, teamwork, clear communication, and leadership responsibility. Those same values translate well into the business world, and I am cultivating them with my teams at ABBYY.
Do you have any hobbies or fun interests?
I'm a huge fan of historical non-fiction, so you'll often see me with my head in a book. I also enjoy woodworking and traveling with my family. We often go on hikes with our dog. In fact, my love for hiking led me to climbing Mt. Kilimanjaro, the highest mountain in Africa. It was a huge achievement.
What's your pet peeve?
Unpacking my suitcase after I get home from a trip.
Name any inspirational book/movie/music you have recently discovered
One of my favorite books is Boys in the Boat, an inspiring story about the 1936 Berlin Olympics. It's about to be made into movie directed by George Clooney. Also, Sandworm, an account of one of the most recent cyberwars which is written by Andy Greenberg. I totally recommend them.
Interested in joining the ABBYY team? Please check the vacancies below and apply!
Subscribe for blog updates
Your subscription was successful! Kindly check your mailbox and confirm your subscription. If you don't see the email within a few minutes, check the spam/junk folder.
Your subscription was successful!