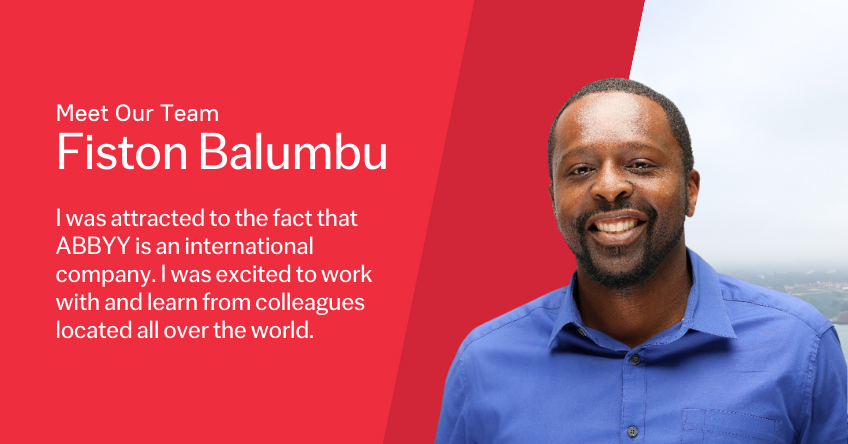 There aren't many obstacles that get in the way of fitness goals for Fiston Balumbu, literally! The ABBYY Team sales executive has a passion for obstacle courses to stay in shape, and you'll often find him training or competing. If he's not pursuing his love of outdoor sports, you'll find him watching it as a huge fan of his native Bay Area teams. Learn more about Fiston, including his role at ABBYY and some top pieces of advice, below.
Follow us on Instagram and get to know the people at ABBYY
What attracted you to ABBYY, and what is your role?
I was attracted to the fact that ABBYY is an international company. I was excited to work with and learn from colleagues located all over the world. I joined the company in 2017 and the relationships and friendships built during my time here has exceeded my expectations.
I am a Mid-Market Sales Executive. I manage the southwest region which consist of California, Arizona and Hawaii—I call them the vacation states. My role is to build new business for mid-market companies which we define as those with up to one billion dollars in annual revenue. The product focus is open to our entire portfolio. I sell ABBYY Vantage, FlexiCapture, Timeline, SDKs and desktop solutions.
I believe there is a lot of untapped potential in the mid-market region right now. Companies are climbing out of COVID pitfalls, looking for solutions to better prepare them for the future and the next pandemic. It's rewarding to close a deal that helps a company solve a pain point while saving money. This is what excites me about my day-to-day tasks.
What was your previous experience before ABBYY?
Interestingly enough, prior to joining ABBYY, I worked as an Associate Manager Site Merchandising for Walmart's women's department e-commerce website. I was responsible for the imagery and taxonomy of the women's clothing section. Prior to that, I also worked in e-commerce, but in a different role as a computer hardware and software sales manager.
Your top advice to someone working in sales?
I've learned that it is best to sell a solution to the customer's pain point rather than a product. Ask a lot of questions and listen to your customer. Seek the assistance of your colleagues as needed, as you may find more success when working as a team.
Do you have any hobbies?
I am a big sports fan and enjoy competing in obstacle courses. You can find me rooting for the San Francisco 49ers, Golden State Warriors and Oakland A's - my 3 major US sports teams.
I also enjoy kayaking, and love grilling on the BBQ, as well as many more outdoor activities. I'm lucky to live in San Diego, where the weather is always great. Also, I can't forget to include traveling with my wife Meagan, as we both love history, culture and arts.
What's your party trick?
I don't know if I can answer this as I am now married! Just kidding. I simply enjoy having a good time.
What keeps you awake at night?
I don't have any kids, so I would say the wellbeing of my extended family.
If you had one wish come true, what would it be?
That no-one goes to bed hungry by choice or has to sleep outside by choice. I would like those of us who have been blessed to do more to help our fellow human beings.
What's your pet peeve?
Selfishness. Whether it be knowledge, ability, monetary or anything else, we should share what we can with each other especially with those less fortunate. We need to be mindful that not everyone has been dealt the same cards.
Interested in joining the ABBYY team? Please check the vacancies and apply! We look forward to hearing from you.
Subscribe for blog updates
Your subscription was successful! Kindly check your mailbox and confirm your subscription. If you don't see the email within a few minutes, check the spam/junk folder.
Your subscription was successful!