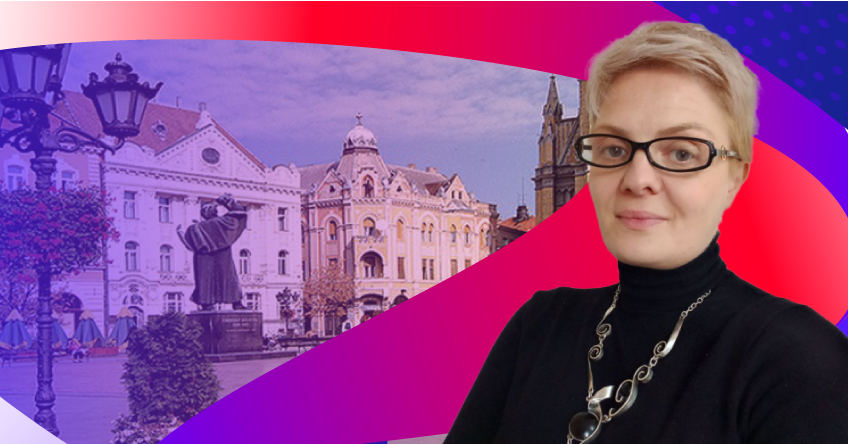 It's only been a few months since ABBYY opened a new tech hub in the heart of Serbia, and now we're delighted to announce further expansion. The team has already grown to 70+ colleagues attracting top talent, including specialist developers and engineers, from both outside of the country and within. And with more positions opening up in the coming months, we sat down with our colleague Milica V. to hear further details about the expansion plans and ask about life at ABBYY in Serbia.
Follow us on Instagram and get to know the people at ABBYY
When did you join ABBYY? What did your career look like before?
I joined ABBYY in August in the People Team as a Senior Talent Acquisition Specialist. Prior to ABBYY, I had 13 years' experience working in human resources (HR), mostly in information technology (IT), both in-house and as part of an agency.
Recruitment has always been the area of HR I enjoyed the most. Although I have always been based in my native country of Serbia, I've had the chance to work with multiple international teams, across global markets, which is something that I've tremendously enjoyed—hence I didn't think twice about choosing to become part of ABBYY when I heard there was an opportunity in Serbia.
It's been over four months since ABBYY opened an office in Serbia, how has the presence there changed since then?
The location is growing into one of our primary Product Development hubs, and we have quite a multi-national team here. It comprises some of the best local tech talent as well as colleagues who've relocated from other ABBYY offices, who were able to bring extensive knowledge with them.
We've already recruited more than 20 colleagues in the Product Development team across different levels of seniority. In addition, we've employed people for other business functions, such as roles within our Finance team, or, like me, in the People team.
As we develop our presence here, we want to make sure we are joined by top talent, hence we are working to provide an excellent employee experience across all our departments. Our benefits package is ever-evolving, we've just recently introduced FitPass as a sports subsidy and all our colleagues are now being provided with private health insurance.
What specialists are we looking for in Serbia?
In Product Development, specifically, which will make up the bulk of our new roles in Serbia, we are looking for a variety of profiles as we work with a vast portfolio of products. At ABBYY, we are always pushing the boundaries set by the tech market, and our developers are more than engineers. They are researchers, discoverers, and creators, and so we are looking for the "crème de la crème" as they say. But, as I mentioned previously, we have positions for various levels of experience, and the opportunity to grow and develop alongside some of the best tech talent in the world.
To be more technically specific, JavaScript and C++ are some of the core programming languages we're using here, but across teams, we use an extensive and sophisticated tech stack, including technologies and frameworks such as .NET, .NET Core, Kubernetes (k8s), Docker, DevOps, CI/CD, Azure, Grafana, ML&AI, NLP, TypeScript, React, Redux, iOS and Android.
Where is the team based?
Our office is in Belgrade, but the employees are mostly distributed between Belgrade and Novi Sad. ABBYY colleagues can work from anywhere in Serbia. You can collaborate with your manager to design a workday that works best for you, with flexible hours. At ABBYY, remote working really works! With so many employees working from home, we have put excellent systems and processes in place to allow our colleagues to find the perfect balance between work and life.
Why should candidates choose ABBYY Serbia over other companies?
As someone who has recently chosen ABBYY over other competing employers on the market, what sets ABBYY apart, in my view, is the fact that even though it is new to the Serbian tech landscape, it is an established company with over 30 years of experience and international recognition. Mind you, being established does not mean old school at ABBYY; we are at the forefront of technological innovation, giving our employees the opportunity to work for one of the most innovative companies out there, on exciting projects that have a global impact. What's more, ABBYY consists of over 1,000 colleagues from across the globe. We have staff in the US, UK, Germany, Singapore, and Japan, to name just a few, so the vibe is really an international one.
How do you spend your time?
Since I joined a few months ago, I felt that ABBYY has really helped me thrive in my role—from the benefits package which has been getting better with time, to the very supportive and collaborative approach I have found in my team, and across the wider company.
Time with family and friends is always a good time to focus on the truly important things in life. I also play in an adult league soccer team on the weekends and enjoy travelling and skiing when I can. Also, I'm an avid sports fan of baseball, soccer, and football and try to watch games when I can.
Why would you say now is an exciting time to join ABBYY Serbia?
When I heard about ABBYY choosing Serbia as a main location for Product Development, I said to myself, "Finally, a big, international tech company that chooses Serbia for their core R&D teams, and not just as an outsourcing destination, or to augment their IT teams with staff from here". This, to me, shows that the company sees the potential of the talent market here, and is looking to invest in its development in the long term.
Joining ABBYY now means that you can be part of the future success of a new tech hub—you'll have a lot of ownership and responsibility, but at the same time, you'll enjoy the support of many experienced ABBYY colleagues relocating from abroad and bringing with them scores of years of experience and expertise to learn from.
It is also a great moment to join and help shape the culture of ABBYY here in Serbia. Our leadership team always welcomes new ideas and supports employee initiatives, so joining now will enable you to influence how ABBYY Serbia will look like in years to come.
Interested in joining the ABBYY team? Please check the vacancies below and apply!
Subscribe for blog updates
Your subscription was successful! Kindly check your mailbox and confirm your subscription. If you don't see the email within a few minutes, check the spam/junk folder.
Your subscription was successful!