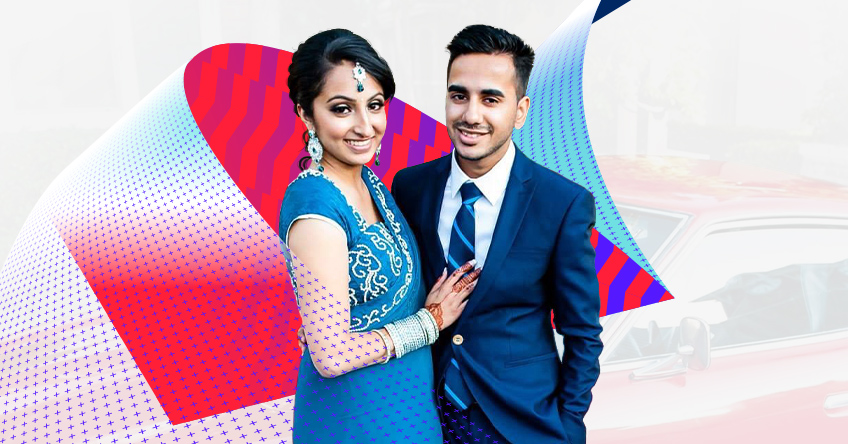 Globetrotter Saurabh Saini has a family photo album that looks more like a vacation brochure! However, the avid traveler has recently been keeping his feet firmly on the ground following the arrival of his first child, a baby girl named Mila. ABBYY Team's Senior Demand Generation Manager has no plans to give up his adventures yet, and along with fatherhood, the self-confessed petrolhead is currently keeping busy restoring his vintage sports car. Learn more about Saurabh, including his role at ABBYY and some top pieces of advice, below.
Follow us on Instagram and get to know the people at ABBYY
What attracted you to ABBYY, and what is your role?
It was mainly the people, collaboration and the overall culture at ABBYY that attracted me to join the company. Upon starting as a Demand Generation Manager in 2017, I immediately felt that the company always puts their employees first and continues to prioritize growth by enabling us with the right tools required to efficiently handle our responsibilities.
As Senior Demand Generation Manager, I am responsible for all of ABBYY's customer-facing marketing programs for the insurance and healthcare industries. In my role, I generate demand through various marketing programs ranging from webinars, content syndication, nurture streams, industry trade shows etc. Something that really excites me about my role on a day-to-day basis is working together in a team environment, where I get to cross-functionally work with several different teams to develop creativity and launch robust campaigns.
What was your previous experience before ABBYY?
I led the entire marketing efforts for Renovo.auto, an EV manufacturing/middleware organization. Over the last 10+ years, I have held both demand generation and marketing roles across the board for smaller to larger organizations including Apple, Ovesco AG, and Emerging Milestones.
Your top advice to someone working in marketing?
Treat marketing as people science. Understanding the customer journey involves putting yourself in their shoes and requires a proper evaluation of three key drivers:
Reason—we must understand the top few reasons why a customer is looking for a solution, so that we know how to be that solution when we approach them or are being approached.
Placement—as marketers, we must understand the top three to four places where our ideal customers would go and look for a solution to their problems. For example, focus groups, trade shows, media outlets, etc.
Creativity—we must understand how to be creative to stand out. By being creative, you are not only allowing yourself to take a different approach, but are also offering a fresh perspective for your target audience to grasp onto.
Do you have any hobbies or fun interests?
Traveling; my wife Jas and I are avid travelers. I am always hungry for new experiences and love to interact with different cultures, food, and people around the world.
Aside from traveling, I am also a big petrolhead with a passion for vintage memorabilia. I own a 1972 Datsun 240Z, that I love working on and restoring whenever I get a chance. When I am not working on the car itself, I am usually out on a drive near my home in the Bay Area, winding along our beautiful California coastal Highway 1.
What's your party trick?
A magic trick where I can guess what someone is thinking!
What keeps you awake at night?
World hunger, climate change and racism. There are a lot of people currently being impacted by it all. I know that tempers are running high, and I cannot help everyone, but I like to think of ways where I can be a part of the solution and make each day count.
If you had one wish come true, what would it be?
To end world hate and racism. There needs to be more kindness and more peace on earth given the current climate where hate is being fueled with more hate instead of love. If everyone would just respect each other, we can all come together to become a part of the solution.
What's your pet peeve?
People who are not true to their word and do not hold their end of the bargain.
However, here at ABBYY, I see that people are punctual, organized and always willing to lend a helping hand. Being here, I have never felt worried about asking for help because it's all-hands-on-deck whenever someone is in need. I personally feel that we, as colleagues and teammates, go above and beyond to lift each other up as we want to not only succeed as individuals but as an entire team.
Interested in joining the ABBYY team? Please check the vacancies and apply! We look forward to hearing from you.
Subscribe for blog updates
Your subscription was successful! Kindly check your mailbox and confirm your subscription. If you don't see the email within a few minutes, check the spam/junk folder.
Your subscription was successful!