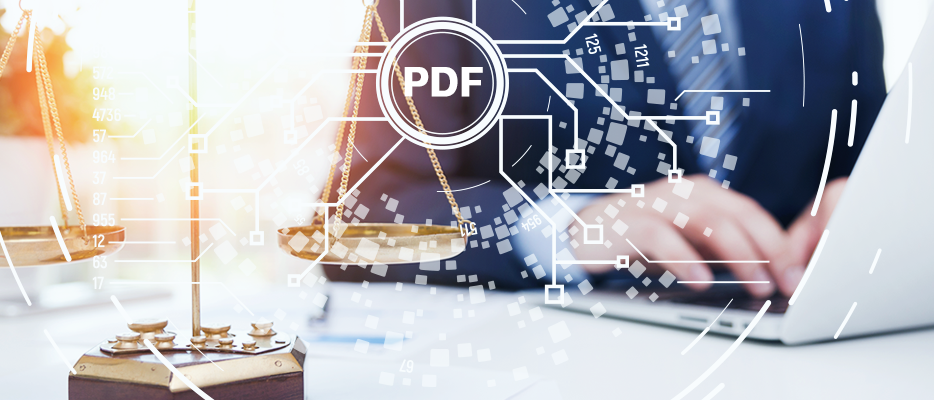 Until recently, reviewing piles of legal documents is one of the pain points of law firms. However, with the creation of the Portable Document Format (PDF) by Adobe Systems in 1993, the legal profession acquired a cross-platform solution capable of preserving both paper-based and electronic records in a consistent format, ideal for reviewing, exchanging and archiving of legal documents, contracts, and client attorney correspondence. As well as being an electronic duplicate of a document, PDF files provide the ability to limit changes and can be digitally secured and authenticated, making it indispensable for legal professionals.
However, according to the American Bar Association, "PDF has moved from being the de facto standard for storing and sharing electronic documents in the legal world to the de jure standard based on its adoption for use by federal and state courts and governmental agencies. Because electronic filing is required for lawyers in the federal courts and many state courts, understanding the tools available to create PDF documents is a necessity". Today's law firms require, in addition to the traditional capabilities of PDF which makes it an industry standard, an all-in-one solution such as FineReader that can handle all legal documents from start to finish.
Here are five ways an all-in-one PDF solution will help law firms drive efficiency, improve legal document analysis and facilitate litigation document management.
1. Solving multiple problems with a single solution
An easy-to-use, all-in-one PDF solution provides law firms with a single easy way to automate the creation, management and communication of PDFs without incurring extra costs for manual labor. However, legal practices have had few options: either PDF solutions that are easy yet underpowered, or feature-rich but complex and expensive. An all-in-one solution provides a 'one-stop-shop' functionality - from OCR (Optical Character Recognition) and data extraction to text editing and analysis -, which eliminates problems of slower workflows, security risks and compliance issues. FineReader has a comprehensive suite of PDF management tools and seamlessly-integrated text recognition for everyday work with legal documents.
2. Meeting today's challenges with tomorrow's technology!
To ensure absolute accuracy in legal documents, law firms need to use of top of the line PDF solution that precisely converts text and layouts from scans and image-only files into searchable PDFs. In addition to eliminating time-consuming manual retyping, such solution helps legal practitioners regain control of their document processing from start to finish. For instance, the award-winning FineReader automatically detects if the documents you open aren't searchable, and applies OCR if needed to make the text accessible. The software also enables fast extraction and reuse of text, easy editing and updating of documents and easy rearrangement of pages and combination of several files into one.
3. Enhancing Collaboration with PDFs
An all-in-one PDF tool is transforming the way legal professionals work and collaborate with PDFs. It enables legal teams to share, detect changes, comment on and annotate PDFs effortlessly by simplifying and speeding up document reviews and approval. For example, comments and markups can be made directly within PDFs, greatly enhancing document processing efficiency. Transparency among team members is improved by assigning status levels to comments including Accepted, Rejected, Cancelled and Completed. Legal teams also gain efficiency with exact knowledge of documents' status. All-in-One PDF solution also provide integrated collaboration tools for reviewing documents and adding stamps (incl. Bates stamps), comments and annotations to them. For example, FineReader enables users to annotate and stamp PDFs as they would paper documents.
4. Maintaining Confidentiality and Compliance
As well as producing accessible PDF/UA documents, quickly and efficiently, an all-in-one PDF solution enables users to create tagged PDF documents. Collaborating teams can also set security levels in PDFs to control what other do with the document. For example, restricting a user's ability to print the document, copy the document text, rotate or delete pages, add comments or extract pages. Teams can also password protect the document to control who can open it. In addition to helping to discover areas at risk of non-compliance, FineReader comes with advanced redaction tool for removing text and metadata from all layers of a PDF as well as support for digital signatures, Bates numbering and PDF/A formats.
5. Saving Lawyers Unnecessary Frustration
The Compare Documents feature found in ABBYY's all-in-one FineReader has raised the bar high for PDF solutions focused on the legal sector. When changes are made to a version of a PDF document, say a scanned, digital or paper-based legal contract, it is often very easy to miss it. With FineReader's Compare Documents tool, changes are detected swiftly, accurately and automatically. The feature compares text from two versions of the same document across different file formats. By identifying differences between versions, the tool eliminates time-consuming, line-by-line matching of text in paper documents or scans.
ABBYY will be exhibiting at the ABA Techshow 2019, February 27 – March 2, 2019 in Chicago. You can visit us at booth #1007 and hear more about FineReader and FineReader Server in the legal field.
Subscribe for blog updates
Your subscription was successful! Kindly check your mailbox and confirm your subscription. If you don't see the email within a few minutes, check the spam/junk folder.
Your subscription was successful!