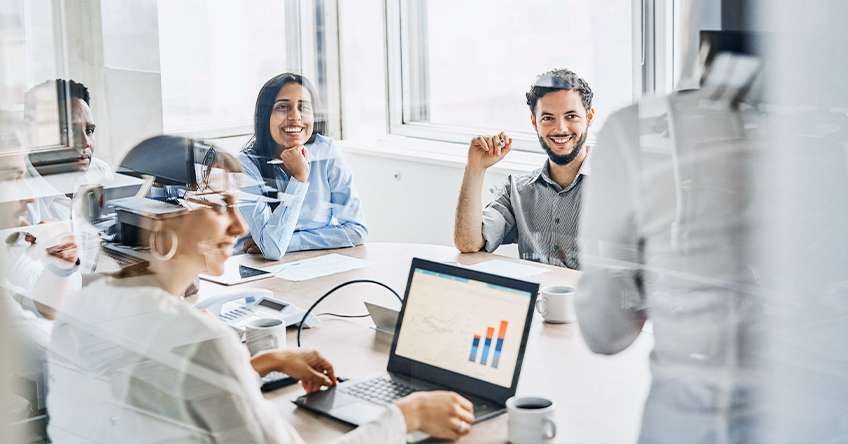 The year 2020 was turbulent, disrupting many industries and business models. Digital transformation became more important than ever, and according to leading management consulting firm McKinsey, COVID-19 pushed companies over the technology tipping point.ͥ 
Organizations today still face challenges in maintaining business continuity. Due to several issues, traditional patchwork approaches fail to deliver significant results. In turn, companies grow frustrated with the level of progress in their automation efforts because current automation solutions on their own can only automate simple tasks. To achieve a truly intelligent digital workforce, a combination of technologies is needed—or, as Gartner says, "hyperautomation." With hyperautomation, organizations can fully automate complex business processes and achieve a higher efficiency ratio, in line with higher accuracy. Organizations are expected to lower operational costs by 30% by combining hyperautomation technologies with redesigned operational processes by 2024. Hyperautomation was included Gartner's list of Top 10 Strategic Technology Trends for both 2020 and 2021.
With these dynamics in mind, we're excited to announce our new ABBYY Technology Alliance Partner (TAP) Program. This expansive ecosystem was built to add even more value to our Digital Intelligence platform, creating advanced cognitive skills for the enterprise. It allows ABBYY's partners to open new market potential and automate complex business processes with a combination of artificial intelligence (AI) technologies that empower more people and improve their productivity.
"Hyperautomation is more than just one set of technologies or services," said Neil Murphy, VP of Global Business Development at ABBYY. "The capabilities of hyperautomation can truly advance and scale automation efforts, and when implemented strategically, can be integrated into an organization's unified system to operate seamlessly and function in a way that addresses a wider set of use cases while meeting their digital transformation goals and simultaneously empowering their workforces to focus on high-value work."
According to Gartner, hyperautomation is applying automation technologies like robotic process automation (RPA) and process mining along with machine learning and other emerging technologies to increase the level of automation in companies. Unlike automation, hyperautomation is not only about products or services. It includes "significant changes in the company from IT infrastructure to designing approaches of business processes and decisions; therefore, it's a holistic approach to automation."
The idea is to automate anything that can be automated and engage the entire organization to contribute to the transformation.
There are three different partner levels available in the ABBYY TAP program, with the focus being key technology providers across the various automation categories, but it also encompasses organizations providing automation consulting services who look for a strategic alliance with the leading software vendors:
Elite Technology Alliance Partners collaborate closely with ABBYY in providing a powerful joint value proposition that has been proven to deliver highly repeatable automation at a global scale.
Premium Technology Alliance Partners drive automation initiatives on a global or regional level with ABBYY. In this tier, partners have strategic integrations with ABBYY's platform or utilize ABBYY technology as part of their client services.
Access Technology Alliance Partners provide vital solutions that help drive the overall hyperautomation ecosystem with integrations into ABBYY's Digital Intelligence platform.
Our customers are seeking best-of-breed intelligent automation software and services solutions to improve their customer experience journey. With analysts recognizing ABBYY as a leader in Intelligent Document Processing (IDP) and Process Mining and Blue Prism in Robotic Process Automation (RPA), we see ABBYY as a perfect fit for us and the enterprise market we serve. Together, we can broaden our offering and drive Intelligent Automation solutions for our customers.
Linda Dotts, Chief Partner Strategy Officer at Blue Prism
For more information about the ABBYY TAP program and to apply to be a partner, visit here.
---
ͥ McKinsey, October 2020, How COVID-19 has pushed companies over the technology tipping point—and transformed business forever
Subscribe for blog updates
Your subscription was successful! Kindly check your mailbox and confirm your subscription. If you don't see the email within a few minutes, check the spam/junk folder.
Your subscription was successful!