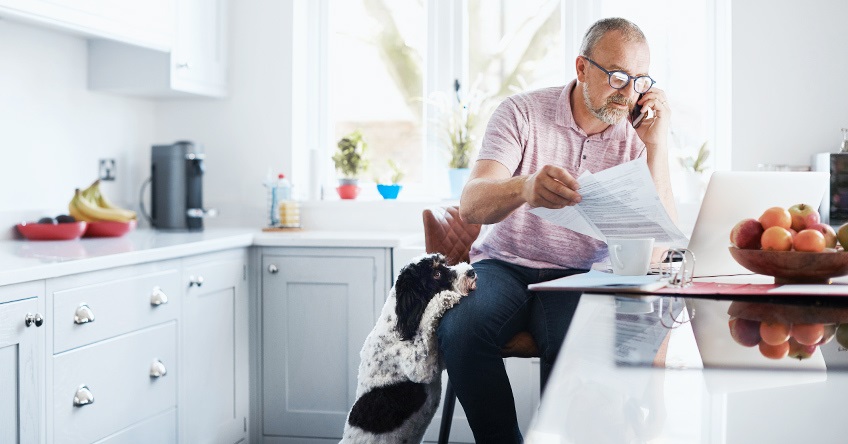 Almost overnight, millions of financial services employees, from traders to bankers to support personnel, transitioned to working remotely. While there has been historical hesitancy to adopt this operational approach, the virtualization of the financial services workforce and remote ways of working are here to stay.
View the infographic: How Financial Services Firms are Becoming More Resilient Than Ever
According to PwC's Remote Work Survey only 29% of financial services institutions had 60% or more of their workforce working remotely once a week or more, prior to the pandemic. Since the onset of the COVID-19 crisis, that number has jumped, and now 69% of financial services institutions expect 60% or more of their staff to remain remote for at least once a week, post-COVID.
Overcoming the challenges of collaborating remotely
There are obvious growing pains and obstacles that must be surmounted—internet connectivity issues, bandwidth limitations, security concerns, interoperability problems; yet, with the right technology partnerships, financial institutions can not only overcome these challenges but also thrive in this reimagined work environment. And the challenges are not just technology-driven. Working remotely under these circumstances means adapting to a new environment and battling a new set of distractions, as well as experiencing an unprecedented fusion of work and private life. In order to continue working efficiently and creating value under these new circumstances, financial institutions need to understand, accept, and support their employees' specific situations and needs.
Ensuring that business processes don't add to the challenges must be top-of-mind, and, according to ABBYY's Opinium Research survey, that has not been the case. An overwhelming number of workers, 58%, indicate that business processes have made their job more challenging, largely stemming from an inability to access to the information needed to complete tasks and not having the right tools available to work at home.
Workforce orchestration
According to our survey, 62% of financial services workers use digital workers (software robots), and of those, 56% believe they have been beneficial for sorting or classifying data, flagging issues or problems, digital data entry, paperless administrative tasks, prompting to respond to emails or follow-up tasks, and more.
Leading financial institutions are looking to apply intelligent automation across the business, beyond the low-hanging fruit of the motivation-killing work like monotonous, cut-and-paste data entry. They will focus on harnessing their automation expertise, incorporating sophisticated mobile technologies, Intelligent Document Processing, natural language processing, and other complementary technologies to automate their mission-critical business and create high-value workflows.
This mature approach to automation will enable financial institutions to intelligently assign the right worker, human or digital, to the right task at the right time, while maintaining total control over the complexity and cost associated with business processes. This foundation will lay the groundwork for future innovation and enable financial institutions to take advantage of more advanced AI technologies as they emerge.
Improving social and environmental outcomes
Environmental, social, and governance (ESG) factors have really taken hold as a dominant consideration across the financial services landscape. To thrive, leading financial institutions will need to prove to their clients and investors that they are delivering credible and scalable ESG strategies. This will become as significant as measuring and reporting how diverse and inclusive their work environments had become. Financial institutions are getting creative in finding ways to address this important issue.
For example, Bank of the West's 1% for the Planet account is a new checking account product that donates 1% of the net revenue to environmental nonprofits through the 1% for the Planet organization. Customers who use the account are able to see the impact that their purchases have on their carbon footprint, using an algorithm developed by fintech company Doconomy. A customer buying gas, for example, would see a heavier carbon footprint than a customer buying a subway ticket.
The focus on ESG is not only being applied to consumer products. For instance, the asset management industry is being driven by a greater focus on environmental and social impact as well as financial impact. The Global Sustainable Investment Alliance estimates that there is over $30 trillion in assets that fall under "sustainable" investment strategies.
Where is your financial institution on its journey to resiliency?
While there is no doubt that the recent global health crisis certainly created new challenges for financial institutions worldwide, the pandemic also created new opportunities for them to improve processes and embrace new technologies—efforts that position them better to handle future challenges and market changes.
See the full infographic: How Financial Services Firms are Becoming More Resilient Than Ever
Assess your readiness to achieve greater customer satisfaction, security, and agility
---
To assess the current technology and business processes landscape, ABBYY conducted a global survey among 4,000 office workers. Survey participants were from organizations with 50+ employees and were located in the US, UK, France and Germany. Respondents represented different industries including banking / financial services, government, insurance, healthcare / medical, logistics, and transportation / distribution. Opinium Research executed the survey in November 2020.
Subscribe for blog updates
Your subscription was successful! Kindly check your mailbox and confirm your subscription. If you don't see the email within a few minutes, check the spam/junk folder.
Your subscription was successful!