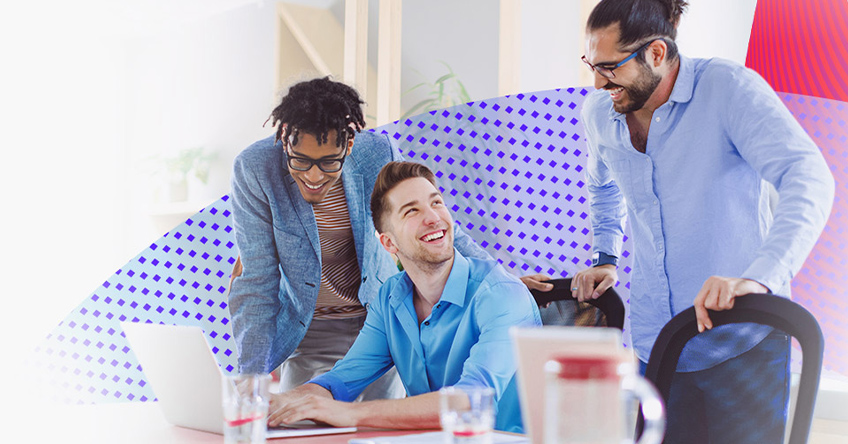 Whether you're new to our site or are just curious to know more about us, we'd like to take a moment to share a little more about what we do here at ABBYY!
Who we are
ABBYY's roots stem from the early 90s with a solution that allowed users to scan documents and translate them into a different language. Our development efforts were driven by our vision of the ideal optical character recognition (OCR) application, which included two features that became ABBYY's key advantages: support for all popular fonts and multiple languages. This is when a smarter solution was born—ABBYY FineReader, which now has more than 100 million users worldwide.
Today, we've evolved into a leader in both the Intelligent Document Processing (IDP) and Intelligent Process Automation (IPA) spaces. We help over 5,000 companies and government agencies make intelligent business decisions and drive significant impact where it matters most: customer experience, profitability, and competitive advantage. Whether you want to improve your customers' journey, achieve operational excellence, or be a catalyst for the future, we'll help you gain a complete understanding of your business processes and the content that fuels them with smarter solutions like ABBYY Vantage and ABBYY Timeline.
So, what does this look like?
First Home Bank
Last year, the U.S. government's latest COVID-19 relief efforts for small businesses included the SBA Paycheck Protection Program (PPP) with two rounds of funding, $349 billion and $310 billion respectively, allocated by Congress. It was designed to serve as a lifeline for small businesses with fewer than 500 employees until the economy reopened. First Home Bank knew that they needed to automate their loan applications during this time, as the daily demand for loans is more than the SBA processes in an entire year and loan applicants were frustrated with the amount of time it took to process the loan applications end-to-end, including filing and receiving timely status updates.
To keep up, First Home Bank partnered with ABBYY, Lateetud, and Blue Prism to automate the entire end-to-end loan application and submission process, helping them save around 85,000 jobs, secure $770 million in loans, and process 99% of the loans on the day of the application. They also used the technology to automate upstream and downstream activities like application validation and loan closures, respectively.
Additionally, some benefits the bank has received after automating their SBA PPP loan approval process included:
10 digital workers have the capacity to process up to 14,000 loan applications per day,
production is ready in less than two days,
it's 30x faster than completing the process manually,
they received enterprise security and scalability, and more.
Deutsche Post DHL Group
Global logistics company, Deutsche Post DHL Group, began their digital transformation journey in 2016 with the challenge to improve efficiencies. Ten percent of their incoming payments were not able to be properly allocated and needed to be automated.
They reduced transaction costs through standardized global accounts payable (AP) processes with an end-to-end solution using UiPath and ABBYY. This resulted in a 70% efficiency increase and, since 2017, they have been able to create an internal Center of Excellence and have completed more than 100 initiatives in this area.
Read more: How Global Logistics Company Deutsche Post DHL Group Reduced Transaction Costs Through Standardized AP Processes
California DMV
The California Department of Motor Vehicle's (DMV) two primary functions are to license California's 26.5 million drivers and register more than 34.7 million vehicles. It collects over $8 billion in revenue annually, records ownership of vehicles, and maintains driving records—including accidents and convictions—of licensed drivers.
The DMV will use ABBYY solutions for a digital mailroom that ensures Californian driving licenses are compliant with the Federal Real ID Act—and can be used to help people board flights and enter secure federal facilities in the United States. The deadline for REAL ID compliance is May 3, 2023, which is where ABBYY can help! Currently, applying for a REAL ID requires proof of identity, California residency, and a trip to a DMV office. We will help enhance the REAL ID experience and significantly reduce the need for California citizens to make an in-person visit to a DMV field office.
AOK-Association
The Department for Legal and Complaint Related Issues at the AOK-Association uses their "AOK Lecare" legal management system for digital archiving and processing of various legal files and court judgments. This system also allows users to easily issue legal letters and offers research possibilities across different AOK locations throughout the country. Previously, electronic searching of scanned documents was not possible in AOK's Lecare software and could only be performed manually.
The AOK-Association determined they would need an OCR solution that would turn document images into searchable electronic documents. It was of vital importance that individual passages of scanned documents stored in AOK Lecare could be easily read, quickly found, and that passages could be extracted and inserted into correspondence with clients.
ABBYY's technology significantly reduced the workload for the 800 employees of the department. Lawyers and complaint clerks can now easily and quickly search older court judgments using various search words. Furthermore, incoming documents sent via post do not have to be processed manually. In most cases, they can be received, scanned, and sent to the archiving systems automatically.
Read more: How Modern Technology is Helping Legal Solve Today's Challenges (Infographic)
While you're here, take a look at some of our other customer stories!
Use cases like these have helped ABBYY become recognized by several industry analyst firms, including being named a leader in Intelligent Document Processing (IDP) and Process Discovery and Mining by Everest Group, NelsonHall, and Quadrant Knowledge Solutions, as well as our products being named Top Trend-Setting Products two years in a row.
Today, ABBYY has helped usher in a new era of digital transformation, where we continue to re-imagine how artificial and human intelligence converge and empower humans and businesses with intelligence to achieve sustainable success. Over the years, we've evolved as an established company recognized for its technical acumen that constantly pursues potential and growth. We believe in putting our intelligence, creativity, and expertise to work so that other organizations gain a fresh perspective that drives business transformation and champions success.
Want to learn more about how we got here? Take a look at our About page to learn where we've been and how we aspire to reimagine how technology solves process and data challenges to help people and organizations thrive. For our latest news and press coverage, visit our Newsroom, and follow us on social media: LinkedIn, Facebook, Twitter, YouTube, and Instagram.
Subscribe for blog updates
Your subscription was successful! Kindly check your mailbox and confirm your subscription. If you don't see the email within a few minutes, check the spam/junk folder.
Your subscription was successful!