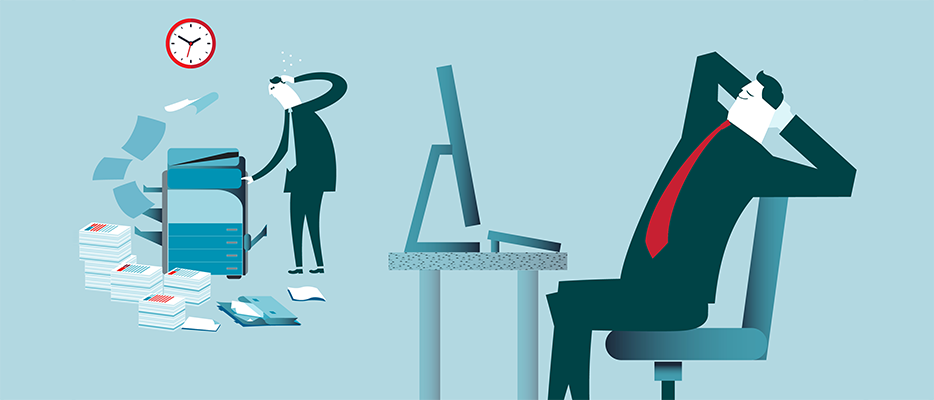 Latest advances in document processing technology sometimes compel us to cast a backward glance at office work. We would like to take our readers down the memory lane and relive the moments when we lived, worked and agonized without most of the modern high-tech solutions. Today, we scan, recognize texts and translate from one language to another with a little more than a click of the button. Even pressing buttons to trigger actionable technology may soon become a thing of the past with the advent of AI and Point&Capture technologies.
So, how did we manage before when there was no software to deal with PDFs?
Storyline: At least once in a lifetime, every professional has been faced with a situation when he/she urgently needs to correct a mistake or a typo in a PDF file, be it an advertising brochure, an invitation to a conference, a saved presentation in PDF format or any printed material.
THEN: You had tons of issues to contend with: long wait for edits from the original file creator; deleting errors or mistakes on PDF page took forever. Last resort is to print out the page, use plaster or piece of paper to cover the mistakes – and re-scan the document.
NOW:  It's just a couple of clicks. Open FineReader and press the 'Edit' button  and change the text or to erase an area – select 'Erase'  and delete the unnecessary area
Lesson learned:  Software saves nerves!
How did we manage before when we needed to rearrange pages in a PDF document?
Storyline:  There is a need to rearrange the page order or to remove one page from a large multi-page color PDF document.
THEN: You would need to print out the document on a color printer, remove the unnecessary page/pages and re-scan keeping to the correct order.
NOW: The structure of any PDF document can be changed as easily as in MS Word – just drag the required page and move it to the start, end or any place in the document. Delete the page by pressing the "Delete" key. It's also easy to flip one or several pages to any side: you simply need to go to the context menu.
Lesson learned: Software saves paper and money!
How did we manage before when we had to redact confidential information in a PDF document?
Storyline: The PDF document contains confidential information that you would not like to share – financial indicators, names, addresses, numbers – and the document should be sent for review.
THEN: You'd need to print out the file, black out with sticker or plaster over with a piece of paper. Or even draw a black rectangle over the error and then print out and rescan.
NOW: Two clicks and you're done: Press the 'Redact data' button and presto! All confidential information can be hidden without worrying that someone else will see it.
PDF files can also contain hidden data. With FineReader  it's quite easy to completely delete metadata, text layer, comments etc. – preventing you from unintentionally sharing sensitive information:
Lesson learned: Software saves time!
Subscribe for blog updates
Your subscription was successful! Kindly check your mailbox and confirm your subscription. If you don't see the email within a few minutes, check the spam/junk folder.
Your subscription was successful!