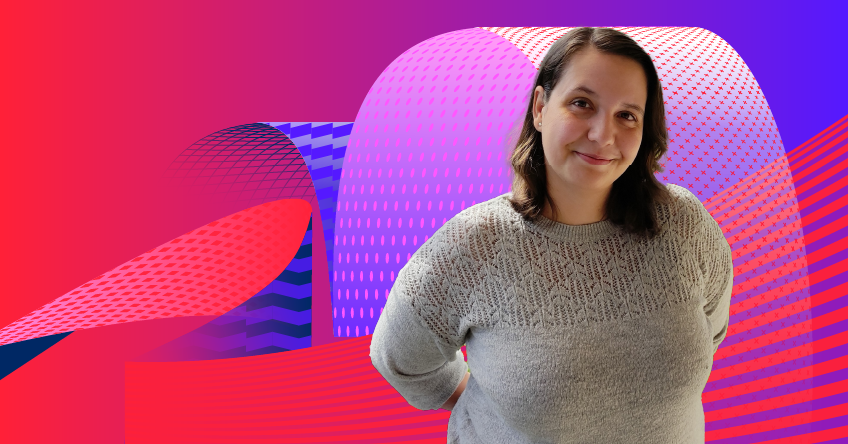 For International Women in Engineering Day, we'd like to mark the occasion by highlighting the diverse workforce at ABBYY and shining the spotlight on one of our female software engineers. At large global technology firms, women account for about 33% of the workforce in 2022, according to Deloitte Global, but at ABBYY, 40% of our employees are female.
One of our software engineers is Ildikó Gera, based in Budapest, Hungary. When she's not writing code for our leading Process Discovery & Mining platform ABBYY Timeline, you might find her using her computer for something more mischievous—slaying monsters and collecting loot! She spoke with us about her role at ABBYY and her love of online gaming.
Follow us on Instagram and get to know the people at ABBYY
What attracted you to ABBYY, and what is your role?
The first thing that really attracted me was that the ABBYY Timeline team planned to start using the React JavaScript library for development. At that time, I had just started to build an interest in learning it myself, so it was a big incentive for me to join ABBYY. Another attractive part of the job was that it's a full stack position, and previously I had only worked on the frontend. I felt like this would be a great steppingstone for my career, and I was right because I have learned more in the last two years than I did the entire time at my previous workplace.
I work as a software engineer on the task mining functionality of ABBYY Timeline. ABBYY Task Mining analyzes processes and user interaction data to help an organization realize any repetitive and inefficient tasks that are slowing their processes and allocate resources in the right places to resolve them. There are a few steps included, like recording these interactions and recommending the best automation blueprints, but I mainly work on the analysis side. We help the user define tasks, then analyze the results using built-in modules and tools. This is especially useful for companies that want to improve their processes, but may not know where to start.
What was your previous experience before ABBYY?
After completing my degree in molecular bionics, I transitioned my career to computer programming. I started at EPAM Szeged in a student program, which meant 20 hours of work while I was still attending university. First, I was on a team that was responsible for the landing page; we developed new features working with UX (user experience) designers and project managers from the customer side, while also maintaining the current feature set. Then I moved to Budapest, and I was transferred to a new team that worked on a library tracking user interactions site wide.
Your top advice to women working in software development?
I don't have specific advice for women because I don't feel there is much of a difference between how I work compared to my male co-workers. So, this advice is for everyone in the IT field. Don't be afraid to ask questions, this is how you will improve your skills! Also, if someone asks you a question, and you know the answer, then take the time to explain it in detail; chances are you only need to explain once, and it will make a huge difference.
Do you have any hobbies or fun interests?
I work from home and my three cats are always begging for attention, so I do reserve some time to play with them. After work, I like to meet up with friends or work in the garden. When I was in high school, I was heavily into online MMORPG (Massively Multiplayer Online Role-Playing Game) games such as LineageII and TERA, but as I got older, I realized it consumes too much time to be good at it, so I switched to MMO (Massively Multiplayer Online) games like Grim Dawn and Warhammer Vermintide—it's always great to end the day with friends killing monsters!
Recently, I picked up a new interest playing Dungeons and Dragons with my co-workers (we have gaming nights once a month in our office), and I really like painting my own miniatures, so I plan to continue this hobby.
If you had one wish come true, what would it be?
If I can ask for something that is not possible, then I would say that we don't need to sleep anymore. More realistically, I would like scientists to discover a cheap and more effective way to store energy, because that will solve a lot of problems humanity will face in the future.
What's your pet peeve?
When somebody tries to tell me how to cook or asks if I measured the ingredients. When I learned how to cook from my mother, we never really used recipes, so I don't need them now. Of course, there are exceptions. If I try something new, I usually follow the instructions, but after that I just memorize the ratio, and I'm good to go for the next time.
Name any inspirational book/movie/music you have recently discovered
I recently watched the movie 'Don't Look Up', and it had a real impact on me. It was really frightening to think how we ignore alarm bells from the scientific community, just like they ignored them in the movie. It was funny, but an eye-opener.
Interested in joining the ABBYY team? Please check the vacancies below and apply!
Subscribe for blog updates
Your subscription was successful! Kindly check your mailbox and confirm your subscription. If you don't see the email within a few minutes, check the spam/junk folder.
Your subscription was successful!