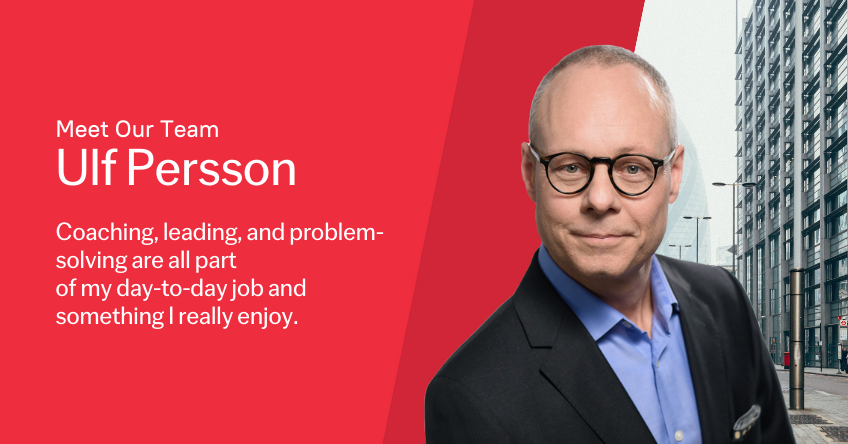 Several outstanding employees across global functions at ABBYY have been featured in the ABBYY Blog Meet our Team series. Now, the captain of our team—Ulf Persson, Chief Executive Officer (CEO) of ABBYY Group and Board Director—is opening up to reveal how he got to where he is today and where he's taking ABBYY in the future.
After leaving behind the countryside of southern Sweden, he has traveled, studied, worked, and lived across many parts of the world–and even picked up the Russian language, thanks to 15 months spent at the Defense Language Institute during his military service in Sweden.
Ulf took some time out of his schedule to tell us about his path to becoming the CEO at ABBYY, and his passion for business. During his career, he has invested in more than 20 different growth companies, so he knows a thing or two!
Follow us on Instagram and get to know the people at ABBYY
What attracted you to ABBYY, and what is your role?
My first interaction with ABBYY was as an investor back in 2002. After that, I went from being a board member to chairman of the board to CEO. It's an odd route to take (mostly it's the other way around), but one that has allowed me to gain a different perspective, which has helped drive change and development for the company. In my view, ABBYY has always stood out as a unique company, so when I was asked to take on the CEO role, it was an easy decision. A decision guided by two main factors: our amazing people and the tremendous growth opportunity. While it wasn't entirely obvious in early 2017 that there would be a market called Intelligent Automation, it was clear that ABBYY had the right technology ingredients to become a leading player in this field. I wanted to be a part of that and was intrigued to see how far we could go.
I'm based in London. One part of my role is to help ABBYY set ambitious goals and stake out a route to reach those goals. Equally important is my responsibility to foster the right environment for our people to thrive and help us achieve our ambitions. Coaching, leading, and problem-solving are all part of my day-to-day job and something I really enjoy. I need to make sure that as a company we don't stand still and are constantly improving all aspects of our business—to make our customers, partners, and people successful.
Your top advice to someone working in your field?
It's hard to give one single piece of advice. To me, it's all about trust and people focus. I always aim to have the best possible people around me. People who are much better at their roles than I could ever be, and then trust these people to do their job while making sure we all pull in the same direction. To do this, you first must understand your own strengths and weaknesses. While listening to other opinions before moving forward with a decision is important for the quality and subsequent acceptance, speed is also of the essence. Most of the time, we base decisions on imperfect information. Better to make a call and then correct if it was wrong.
Do you have any hobbies or fun interests?
When I was a boy, I wanted to be a professional athlete. I played ice hockey and football, but soon realized I wasn't good enough. However, I'm still an avid football fan, supporting Arsenal in the English Premier League and Richmond Park FC, where my daughter plays. My position on the football pitch was central midfield, and I was a goal-keeper when playing hockey. I can relate both those roles to my role as CEO at ABBYY; I'm there to direct the game and help others, not necessarily scoring the goals myself (I'll score some), and to make sure we are solid at the back.
Nowadays, to keep in shape and clear my brain, I go for a run. During the lockdown, I was working inside too much, as most of us were, and began walking a lot with my wife and our dog, sometimes ten kilometers or more. I also make family time a priority. We have three daughters, and the whole family enjoys good food, togetherness, and discussions around the dinner table. We also try to make use of the multitude of things that London has to offer.
If you had one wish come true, what would it be?
That we as humans were better at weighing short-term satisfaction and benefits with long-term effects and sustainability. This would help improve consumption patterns, drive different individual, governmental, and corporate behavior, and ultimately help us solve the big issues such as climate change and societal health.
What's your pet peeve?
I get really frustrated when we, for one reason or the other, don't live up to our customers' expectations, but I am not sure if that would fall in the pet peeve category, so here's another one: when someone shares a document or presentation with me, whether for internal or external consumption, that contains silly mistakes and spelling errors, my blood pressure builds up. To me, quality is not a selective game. You play it all the time.
What was the last book you read?
I am currently reading the first book in the Wolf Hall trilogy by Hilary Mantel. It describes life in London under Henry VIII and, specifically, the rise to power of the protagonist Thomas Cromwell from a modest family of blacksmiths to the king's closest advisor.
What's next for ABBYY, what does the future hold?
I am very proud of the team and what we have created in the last few years, but now we are on the cusp of something much bigger. At ABBYY, we have a real opportunity to lead in the Intelligent Document Processing and Intelligent Process Automation markets through innovation and a zealous focus on customer excellence. We have all the building blocks–products, people, and customers. It's now down to us to build on our growth and execute on a daily basis. Frankly, I have never been as excited about the company's prospects as I am now.
---
Want to work with a company at the forefront of technology that puts its people first? Take a look at our open vacancies. We look forward to hearing from you.
Subscribe for blog updates
Your subscription was successful! Kindly check your mailbox and confirm your subscription. If you don't see the email within a few minutes, check the spam/junk folder.
Your subscription was successful!