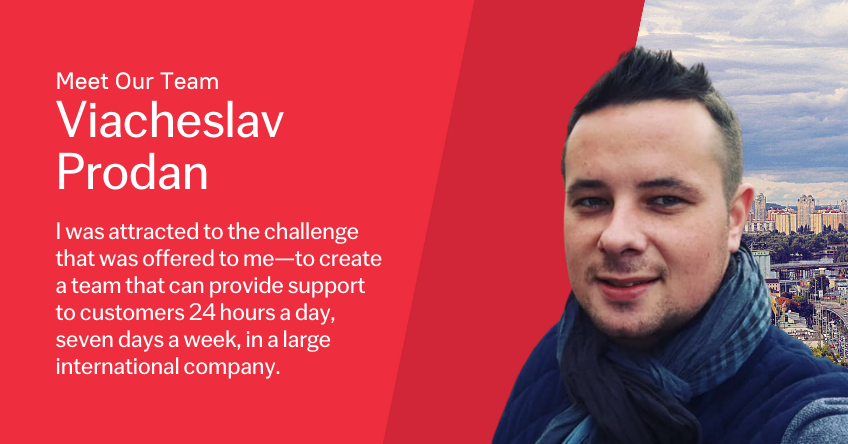 "Do what you love, and you'll never work another day in your life." - that's the motto of our Ukrainian colleague Viacheslav Prodan—and he's certainly practicing what he preaches.
Find out why he's so happy, and why, unlike most of us, he doesn't hate traffic jams.
Follow us on Instagram and get to know the people at ABBYY
What attracted you to ABBYY?
I was attracted to the challenge that was offered to me—to create a team that can provide support to customers 24 hours a day, seven days a week, in a large international company. ABBYY's profile in the market, the new challenges of the job, and stepping outside my comfort zone all motivated me to take a risk and demonstrate my skills. And I'm glad I took the chance.
Tell us your title and a bit about your role and journey at ABBYY so far
My career at ABBYY began five years ago in 2018, when I became Team Leader of the Incident Response Desk Team. I then progressed to Head of 1st Line Technical Support before going on to become Head of Customer Support EMEA (Europe, the Middle East and Africa) & the Enterprise Support Team. Luckily, I was moved up again and became Director of Global Customer Support Operations, then in September 2022, I had another promotion! I am now Director Customer Excellence (CEx) Systems, Processes and Automations. That's the great benefit of working at ABBYY—you have options for growth and can move up the ladder quickly.
My main role now is in the automation and optimization of processes and systems in our company. This requires meetings with people from different teams and departments. Also, I always need to have a complete picture of how everything works in the company so that changes do not affect the processes of other teams.
What does a typical day look like for you at ABBYY?
Every day I wake up with thoughts of 'what else can be done better' and fall asleep with thoughts of what I managed to achieve.
With a free schedule, my morning starts with deciding where I will work today—from home or in the office. Being responsible for processes, automation, and systems, I spend the first part of my working day reviewing current tasks, planning my work week, and considering possibilities for improvement. However, one of the most enjoyable parts of the working day is the team meeting when we all get together to discuss the current state of tasks and our plans. Constructive dialogues of various ideas and building a strategic plan is the key to successful implementation. I am lucky to have such a great team.
What keeps you going, and what do you enjoy the most in your role, any highlights?
I can honestly say that I love what I do and have confidence in my own abilities to do a great job. It's very fulfilling to see the results of our work and helping to improve the lives of employees around the world. I am also grateful for the support of my colleagues and manager. I'm certainly living by the phrase: "Do what you love, and you'll never work another day in your life."
What was your previous experience before ABBYY?
I was head of technical support at the largest private logistics company in Ukraine—working my way up from being a systems administrator. It was there that I discovered my love for automation and optimization. I saw the first results of automating repetitive manual tasks and was awestruck at how much time and effort it could save employees.
Your top advice to someone joining ABBYY in your function?
Sometimes you need to take a step back and look at what you're doing to determine if everything is right. Self-analysis, the desire to do something for people, and not be afraid to voice the most daring proposals are key attributes. And most importantly, enjoy what you do and how you do it. This is what I expect from an employee on my team.
How do you spend your free time?
In recent years, I have been trying to spend more time in nature and have been camping with friends. It's great to put up a tent in the woods and escape. I also like long drives exploring new places. For me, the drive itself and being on the road is a separate pleasure and adventure in itself, no matter what the traffic! My dream is to make a road trip in my car across Europe and see many different countries and landscapes.
When I'm not taking trips or camping breaks, I love to play board games with friends. I'm also guilty of spending hours online just looking for information about new technologies or breakthroughs in IT (information technology) or what tech companies are doing. I have a real thirst for tech news.
If you could have one wish come true, what would it be?
I would like people to have the opportunity to do what they want and what they enjoy. This applies to work, hobbies, and other areas of life. Basically, I just want everyone to enjoy life and be happy. And, of course, that everyone lives in peace, without war.
What's your pet peeve?
People who don't learn from their mistakes. This is important so that you can take those lessons forward to improve.
Name any inspirational book/movie/music you have recently discovered or are enjoying at the moment
The "Intouchables" movie—it's an incredible story.
Interested in joining the ABBYY team? Please check the vacancies below and apply!
Subscribe for blog updates
Your subscription was successful! Kindly check your mailbox and confirm your subscription. If you don't see the email within a few minutes, check the spam/junk folder.
Your subscription was successful!