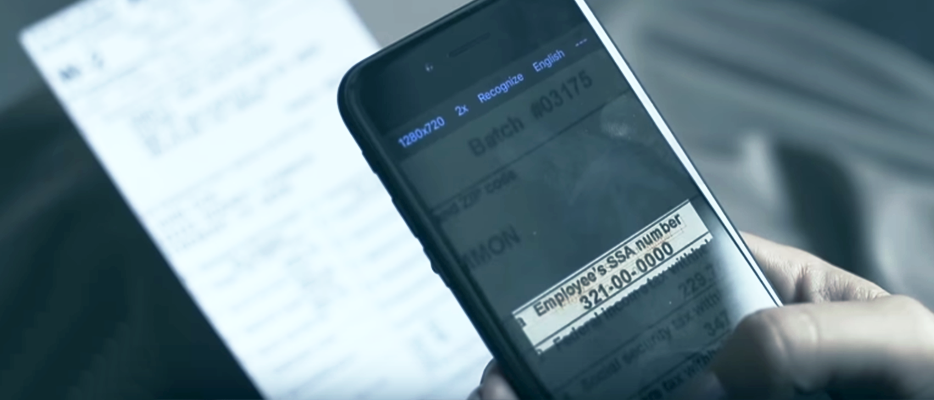 Computer vision has evolved quickly in the past few years. From Word Lens to Google Goggles, the ability to recognize text and objects speedily on any device is a far cry from the days of scanning documents and time-consuming OCR.
Document and content capture company ABBYY today announced the release of its new Real-Time Recognition SDK (RTR SDK), which promises to take text capture to a new level.
I saw the solution in action during AI Europe in London, and it is — in a word — impressive.
Using livestreaming video from a smartphone camera, the solution can instantly extract text and data from even the most complex documents and objects. For example, if you are developing an app that requires the user to provide passport data, ABBYY's RTR SDK allows you to incorporate instant capture of all the document details directly from the passport.
And when ABBYY claims it works in real time, it isn't wrong. I witnessed the solution grabbing information instantly from IDs, bank statements, driver's licenses, and more. What's even more impressive is that it can do this in 63 languages — a number that dwarfs Google's current roster of image translation languages.
"With real-time recognition, app users can effortlessly enter data from printed sources, documents, and bank cards," Jupp Stoepetie, CMO at ABBYY, told me. "In other words, real-time recognition transforms mobile user experience and customer-to-brand interaction."
The SDK helps developers incorporate real-world document data into their apps instantaneously.
"Virtually any application that requires data entry from a printed source can benefit from a faster, more accurate, and effortless text recognition and classification," Stoepetie said. "Integrated into finance, insurance, logistics, ecommerce, consumer, or government applications, the Real-Time Recognition SDK significantly speeds up complex identification, registration, or onboarding processes, such as opening an account, applying for a loan or entering bank card information, IBAN, or a promo code."
Importantly, it does this without any security implications.
"The technology is very well-suited for processes that require compliance with security and privacy rules, as no images are sent to the server or stored on the device," Stoepetie said.
So what's next for the RTR SDK, and what can app developers expect regarding future feature sets?
"At the moment, we are working with neural networks to improve the accuracy of recognition further," Stoepetie said. "We are also looking into the opportunities provided by the new AI chips in mobile devices. Apple iPhone's neural engine, Huawei Mate 10's neural processing unit, and other new-generation mobile processors power on-device AI and machine learning, which goes hand-in-hand with our on-device intelligent capture enabling continuous improvement based on the user's feedback."
ABBYY Real-Time Recognition SDK is available for integration into new or existing applications for iOS and Android apps from today. A developer toolkit is also available from today and supports easy integration with code samples and quick-start guides.
The original version of this article first appeared in VentureBeat of November 27, 2017.
Subscribe for blog updates
Your subscription was successful! Kindly check your mailbox and confirm your subscription. If you don't see the email within a few minutes, check the spam/junk folder.
Your subscription was successful!