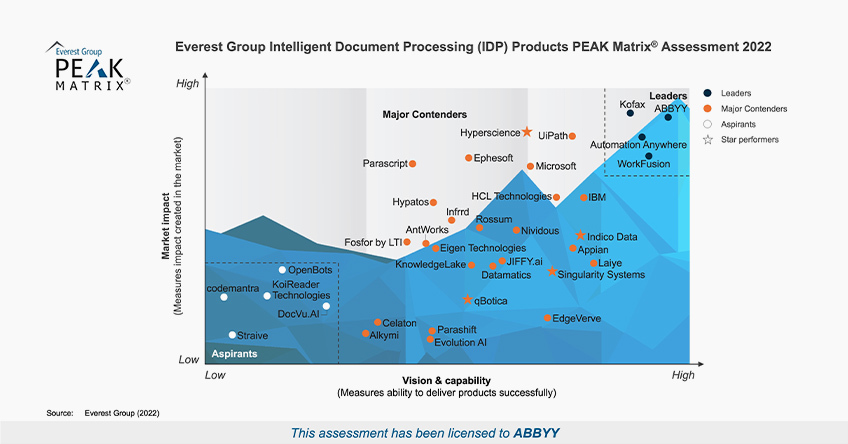 In the most recent Everest Group PEAK Matrix report on Intelligent Document Processing, Everest Group assessed the market success and overall capability of 36 service providers based on performance, experiences, ability, and knowledge including ABBYY. Each service provider was comparatively assessed on two dimensions: market success and delivery capabilities. ABBYY was recognized for the fourth consecutive year as a Leader in Everest Group's Intelligent Document Processing (IDP) Products PEAK Matrix® Assessment 2022.
Documents and the challenges that businesses face today in terms of processing the data contained within them is not a new problem. Rather, the history behind capturing a document, classifying it, and extracting the data from it has always been a complex undertaking, for even the most skilled technical users.
What has changed more recently is the availability of a more advanced approach to document processing using artificial intelligence (AI) and machine learning (ML) technology and delivered in a much easier form to train and use directly within customer experience applications (e.g., new account opening) and back-office applications (ERP). Today, industry leaders and analysts refer to it as Intelligent Document Processing, or IDP for short.
Intelligent Document Processing (IDP) is any software product or solution that uses AI technologies such as computer vision, OCR, Natural Language Processing (NLP), and machine/deep learning to capture data from documents (e.g., email, text, PDF, and scanned documents) for further processing.
Everest Group Intelligent Document Processing (IDP) Products PEAK Matrix® Report, 2022
Join the document processing revolution today!
Four reasons ABBYY leads in IDP
ABBYY is a Leader on Everest Group's Intelligent Document Processing (IDP) PEAK Matrix® Assessment 2022. Through its FlexiCapture and Vantage products, ABBYY is able to address a wide range of document processing use cases. Its online marketplace with many pre-built assets, extensive network of implementation and training partners, as well as strong portfolio of connectors for leading providers in complementary technologies, such as RPA and BPM are differentiators that have contributed to its success.
Ashwin Gopakumar, Practice Director, Everest Group
It's notable that ABBYY was the only provider that improved its position in the Leader Quadrant. We're not surprised. We've been hyper-focused on innovation, customer success, and partner collaboration. Here are four reasons why we believe we stood out.**
1. No-code / low-code, built for the citizen developer
A Center of Excellence automation team will have users with different skill sets; therefore, IDP must be delivered as a no-code / low-code platform, designed for non-coders and coders alike. Business users should be able to create trainable models that can demonstrate the business value from design time setup in a matter of 30 minutes while delivering unmatched 99.5% accuracy.
2. Ready-to-use skills available for all document types in a digital marketplace
ABBYY and our partners deliver trained Document Skills that break you free of managing templates and complex extraction rules. ABBYY Marketplace has hundreds of skills (trained models) and other assets ready to use today, and more being added each week. The result is the ability to achieve the business outcomes you have established between IT and business.
3. Trainable, fast, and deep machine learning that's always getting better and ready-to-go
ABBYY IDP delivers pre-trained ML models (Vantage Document Skills) that help unlock data from virtually any type of document, turning it into structured data that is delivered right into your process, or analytics tool. You quickly gain operational efficiency and insight into actionable data. Create your own document skills using ABBYY's fast and deep machine learning. Simply start with a few documents to begin the labeling and training process, and once the skill is trained and published, the online learning service continues to collect documents and statistical data and retrains the skill to create new and more accurate models.
4. Cloud-native architecture that is scalable, open, and can be deployed anywhere
In order to meet the IT and business needs of an enterprise, ABBYY's IDP platform is open and provides out-the-box connectors to all automation tools including RPA, BPM, Chatbots, mobile, and more. Furthermore, the platform can scale to handle millions of documents daily, running in the vendor's cloud or your own on-prem private cloud environment. Designed for non-technical and technical users alike, ABBYY continues to expand its IDP platform capabilities and features based on customer feedback and market direction.
Looking for details to assist you're your evaluation and selection? Checkout the 5 Steps to Intelligently Automating Document-Centric Business Processes.
Benefits of ABBYY's modern-age IDP platform
We've had enormous feedback from customers on the benefits they are experiencing with our modern IDP platform.
Many are replacing their legacy capture solution with Vantage because there was significantly less coding, they could train their documents much faster, and they could scale the solution through other departments easier. They immediately saw that there would be less admin and more quality and faster throughput when processing documents ranging from invoices, payments, bills of lading, and receipts.
Additionally, customers noted that IDP is required to make RPA perform better—even better than RPA vendors' own IDP solutions.
Get started today!
It's time to join the IDP revolution today! Request a demo today to access the leading ABBYY Vantage IDP platform and download the latest skills from the ABBYY Marketplace.
---
* Actual results may vary.
** The points listed are ABBYY's interpretation.
Subscribe for blog updates
Your subscription was successful! Kindly check your mailbox and confirm your subscription. If you don't see the email within a few minutes, check the spam/junk folder.
Your subscription was successful!