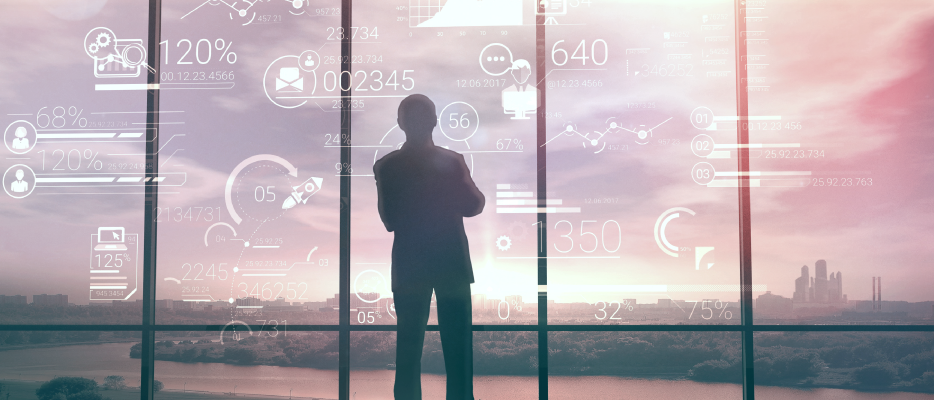 Many companies today are hesitant to adopt new technologies for fear of disrupting their existing business – sort of a "if it isn't broke, don't fix it" attitude. However, as new technologies change the way customers interact with companies, change becomes necessary for survival. Another imperative driving change is the newfound power of the customer - today's consumers have been digitally empowered through a proliferation of mobile devices and digital technologies.
Digitally transforming business processes
A novel challenge for many companies in the digital era is how to balance existing business practices with the introduction of new technological solutions. Yet, as technologies evolve, they provide businesses with previously unimagined ways to enhance the work environment, customer interactions, and the way they do business.
Digital transformation offers the ability to bring together an intuitive understanding of content and automatically extract all relevant information from documents. Add to that Robotic Process Automation (RPA), a technology that automates business process activities by utilizing software robots that mimic the steps human employees take to accomplish a wide range of tasks.
Latest advances in artificial intelligence (AI) are powering self-learning in RPA, transforming robotics into impactful cognitive platform. AI's ability to understand and act on unstructured data is critically important to planning and achieving new levels of process efficiency and profit, as well as, aid in the development of new and innovative products and services.
Digital Transformation Requires New Thinking and New Strategies.
It is a well-known fact that Digital Transformation can be a complex undertaking, especially at the outset, where large buy-in and investment is needed. However, the tools and technologies to make new solutions a reality are readily available. In fact, the core technologies for digital transformation may already be in-use in certain areas of your organization. In most companies, intelligent capture, Robotic Process Automation (RPA) and AI are the central building blocks of digital transformation – allowing for a constellation of new solutions to rapidly transform your business.
A Unique Approach for Every Company
For the purposes of digital transformation, not all organizations are created equal. However, regardless of the differences, the basics of application of digital transformation are the same. Transformation begins by applying new technologies to the processes a company has built – then building around its content to improve its processes through new applications and methods of doing business.
The most commonly used technologies behind digital transformation are intelligent capture, Robotic Process Automation (RPA), and Artificial Intelligence (AI). When working in concert, these technologies can automate a wide array of repetitive tasks along with the handling of both structured and unstructured content. By utilizing these technologies, you can connect legacy systems and other data sources to improve your processes. They allow your processes to identify and understand your content, which is key to the success of any digital transformation initiative.
Moving Beyond Traditional "Capture" with Intelligent Document Processing
In the past, paper-based documents were essential to a functioning business. However, with the advent of scanners and mobile devices, organizations are using scanning technology known as "capture" to digitize paper documents and data, and improve their operations through more efficient processing, searching and storage.
Today, "capture" has evolved into new AI-enabled technologies known as intelligent document processing (IDP), which determines how content is processed by automation tools like RPA. IDP is a class of enabling technologies that help digital workforces understand and create meaning from enterprise content. It provides the ability to automatically extract all relevant information from documents and breaks down processing of content into easy to use and consume technology that can be leveraged directly within an automation solution like RPA, enabling the digital to handle business problems like invoicing, new account opening, claims processing and more.
ABBYY's intelligent document processing platform automatically identifies the content, extracts and validates the data, and delivers the results to the digital robot for processing. It brings new meaning and opportunity for organizations to apply intelligence to their content and connect it to their business processes. IDP combines several technologies including OCR, machine learning, and other artificial intelligence technology to create structured information from unstructured content using the metadata within text, images, documents, and communications (e.g. email).
Understanding the role of content in the enterprise is key to improving processes and user productivity. Since businesses receive their information through a variety of channels including mobile, scanners, fax, and email, it is important to turn that content into usable information that can be fed into processes and systems regardless of its point of origin.
Next Phase of Automation: Adding Intelligence to RPA
When combined with RPA, intelligent document processing provides the skills required to assist in automating content-centric processes. It helps transform business at all levels of RPA starting with the most basic automation robots all the way to designing robots that automate tasks involving more intuition, judgement, and problem-solving. With ABBYY Vantage, ABBYY's IDP platform, enterprises will be able to expand the use of their digital workers to "intelligently" automate content centric processes involving images, documents, and text, to further enhance operations and create better customer experiences.
The technology can also be used to understand and derive meaning from content to provide detailed insights that can be used to better manage individual transactions, as well as, support formulating new business strategies for competitive advantage when implemented across millions of transactions.
Subscribe for blog updates
Your subscription was successful! Kindly check your mailbox and confirm your subscription. If you don't see the email within a few minutes, check the spam/junk folder.
Your subscription was successful!