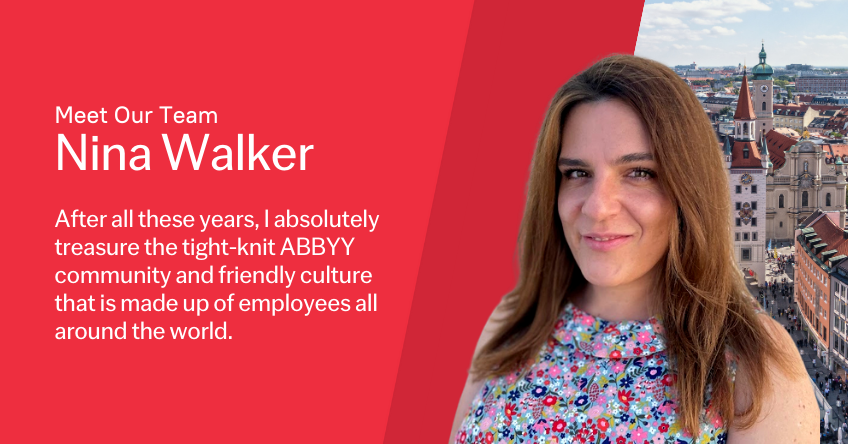 We never need a special occasion to celebrate women at ABBYY, but International Women's Month does give us another excuse to boast about our fantastic female colleagues! And as a tech company, we're particularly excited about this year's theme: DigitALL—Innovation and Technology for Gender Equality.
ABBYY is proud that 42% of our employees are women—way above the national average of 24% for females working in computing, according to DataProt. And this month, we're introducing you to a few of them.
First up is our customer experience guru, Nina Walker. Read on to hear how she grew her career at ABBYY and why it's important to step out of your comfort zone.
Follow us on Instagram and get to know the people at ABBYY
What attracted you to ABBYY?
When I first came across ABBYY I loved the idea of working in a cross departmental role with international colleagues. I was only familiar with ABBYY FineReader PDF, but thought the entire portfolio of products was impressive so was very excited to help grow market awareness by contributing and developing new B2B marketing programs.
After all these years, I absolutely treasure the tight-knit ABBYY community and friendly culture that is made up of employees all around the world.
Tell us your title and a bit about your role and journey at ABBYY so far
I joined ABBYY in 2016. Initially I started in marketing, then moved into an operations role in the Marketing and Sales department. One of the projects I worked on allowed me to transition into the Customer Success department, which at first made me a little nervous, but now I consider it to be one of the best decisions I ever made. As if by magic, my role naturally evolved into Customer Success Operations!
Last year I was given the exciting opportunity to become Head of Customer Experience at ABBYY. It is a brand-new role and a super interesting position that enables me to grow professionally. There is a lot of cross-departmental collaboration, analysis, and strategic input required. Some of my niche responsibilities include Voice of the Customer such as knowing our customers, their expectations, and how we meet them, as well as understanding how we can improve and operationalize the whole customer journey.
What does a typical day look like for you at ABBYY?
A typical day for me starts with an early morning coffee and checking emails and messages that have come in overnight. Next, I get my kids sorted, and off to school then it's back to my desk. About once a month, I travel to the Munich office, but most of the time I work from home. Typically, I'll have a mixture of meetings with colleagues, discussing and brainstorming new and existing initiatives, as well as having some set focus time, getting into the weeds, and moving existing projects along.
What keeps you going, and what do you enjoy the most in your role, any highlights?
Two things, firstly I love my job. I am happy where I am and with the responsibilities I have. I love solving problems, improving processes, and putting myself into the customers' shoes.
Secondly, I have a brilliant set of colleagues around me. From a very transparent rapport with my boss to unbeatable teamwork with my co-workers, they have taught me to appreciate the power of good support and collaboration. It's crucial to have a manager and mentor that can help you pursue your dreams.
What was your previous experience before ABBYY?
Before joining ABBYY I was a Sales, Marketing and Event Manager living in Oxfordshire in the UK. It has been a journey that I wouldn't want to miss. Every job I've held has taught me something that I was able to apply to the next position.
Your top advice to someone joining ABBYY in your function?
Giving one piece of advice is a bit tricky, but in principle I believe 'Nothing is more expensive than a missed opportunity'. It has been guiding me well and, in my opinion, comes with the attitude of being proactive, hands on, trying and sometimes failing, being open to explore something outside your comfort zone and willing to learn. Also, there is a lot of great knowledge among our colleagues that you can learn from and contribute to, which is a powerful asset for growing professionally.
Nine Customer Success Operations Questions Answered by Experts featuring Nina Walker, ABBYY | ChurnZero Blog
How do you spend your free time?
I really enjoy being outdoors with my kids, socializing and visiting new places.
If you could have one wish come true, what would it be?
That we, as human beings, stopped comparing each other, but instead started tolerating and accepting one another for who we really are. I believe it would lead to a much more colorful and peaceful life.
What's your pet peeve?
I find it hard when people complain a lot. There might always be things that do not go to plan, but in my opinion, it is all about perspective. Most of the time there is something positive you can find in any situation.
Name any inspirational book/movie/music you have recently discovered or are enjoying at the moment
One of my all-times favorite books is 'A Thousand Splendid Suns' by Khaled Hosseini. It is an eye-opening, educational, heartbreaking and at the same time heartwarming story about women during hardship in Afghanistan in the 2nd half of the 20th century.
Can you speak to any challenges you've faced as a woman in tech, and how you've overcome them?
I must be honest, there are no challenges that I can remember. There are the obvious issues that come to my mind such as being a working mother and therefore associated unequal growth opportunities, as well as unequal pay. However, I do not feel those have ever been a challenge for me.
Luckily, I have always had the privilege of experiencing equality. Right now, at work I see that in a great support system made up by some amazing mentors and a magnificent team and coworkers. I never feel out of place or unequally treated - quite the opposite. I always feel I'm given the highest level of respect and encouraged to share and stand up for my ideas.
Some advice I would like to give to female colleagues who might experience challenges at work though: do not underestimate your skills, be courageous and confident that you can succeed and excel in your career. Embrace being a woman in tech, I believe it can be a tremendous advantage, too. I am grateful and proud to be surrounded by quite a few inspirational, smart, and wonderful mothers and women at ABBYY!
Interested in joining the ABBYY team? Please check the vacancies below and apply!
Subscribe for blog updates
Your subscription was successful! Kindly check your mailbox and confirm your subscription. If you don't see the email within a few minutes, check the spam/junk folder.
Your subscription was successful!