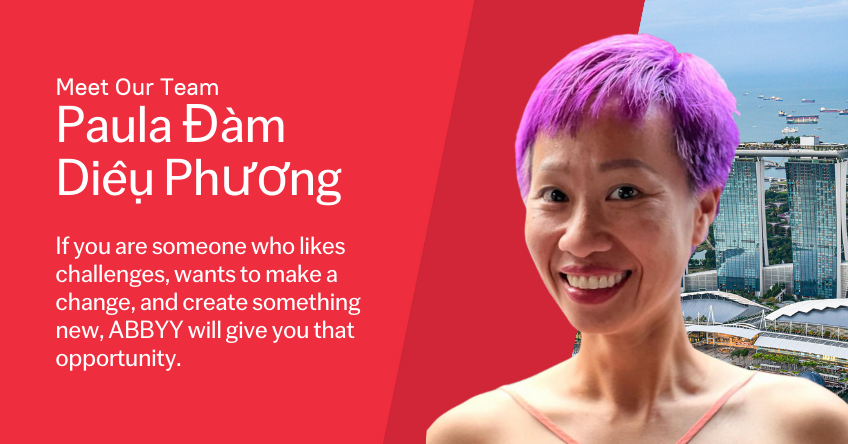 Flexible working was a deal clincher for Paula Dam when she joined ABBYY—and now we know why! The Senior Talent Acquisition Partner certainly has an active personal life—including running, cycling, canoeing, volunteering, and travelling, which only comes after her daily ritual of meditation.
And flexibility and remote working are not the only perks that attracted Paula to ABBYY. She says our team spirit and endless support from colleagues makes her feel appreciated and motivated. Here's what else she had to say about life at ABBYY…
Follow us on Instagram and get to know the people at ABBYY
What is it that you do at ABBYY and what is your favorite thing about it?
I am the Senior Talent Acquisition Partner at ABBYY's regional Asia-Pacific (APAC) headquarters in Singapore. We are the ambassadors of ABBYY when it comes to hiring. I work hand in hand with hiring managers on identifying and recruiting people from across the Asia-Pacific and Japan (APJ) region and I am usually the first person to interact and engage with those who will potentially become ABBYY colleagues!
What I like about my job is engaging with different candidates across the region, building a network and relationship with external stakeholders as well as the internal stakeholders, and more importantly, finding the right talent for our teams!
What does a typical day look like for you at ABBYY?
The most important thing I do to start my day is to practice Vipassana meditation for 30-45 minutes which helps me to have a strong and healthy mind throughout the day.
I then spend 10 mins writing a daily task list and prioritizing the tasks before kick-starting my workday. Generally, in the morning, I do talent searching, head hunting, job posting, shortlisting applicants, and arranging the first interviews with candidates. Late morning and in the afternoon, it's time for me to interview shortlisted applicants, send their details to respective hiring managers, arrange interviews between hiring managers and applicants, follow up on their feedback and complete other tasks.
In the evening, I have a catch-up meeting with my manager, Talent Acquisition (TA) colleagues, the People team, hiring managers, and others. Sometimes I join my colleagues in Singapore for lunch or go running and cycling in the late afternoon to take a break from work.
What was your previous experience before ABBYY?
I have more than 10 years of experience in recruitment, working on the agency side as a headhunter before moving to in-house recruitment in 2021. In the last six years, my recruitment focus has been in the technology space, taking care of the recruitment for both technical and commercial roles in tech across the APAC region.
Prior to joining ABBYY, I worked for Everbridge, a Software-as-a-Service (SaaS) based company specializing in critical event management and mass warning alerts. There, I was the recruiter for all hiring across the APJ region.
What attracted you to ABBYY, what made you join?
The reason I accepted the offer from ABBYY was due to the company's stance on flexible working. Thanks to my manager, Steve Bettini and ABBYY, I have a remote working agreement which allows me to manage my work-life balance. Another factor for joining the company was being the first TA partner in Asia. I could see my potential career growth in the future with ABBYY!
What keeps you going, and what are some highlights of your journey with ABBYY so far?
Besides what made me join ABBYY, I think another important factor is what's making me stay. For me, it's the people – my colleagues in the Singapore office, Japan, and across ABBYY worldwide.
We all work as a team, trying to help each other to achieve overall results, and taking care of each other—an internal motto is #OneABBYY. That makes me feel like I am part of a real community at ABBYY. Another important thing I appreciate is that my voice and ideas are heard, and my hard work is recognized.
I am blessed to be part of ABBYY and surrounded by great leaders in the region, such as Derek Poh, Mariko Maeda, Michael Lazarri, Steven Cronin, Liubomyr Poliarush, Uliana Kis, Kateryna Shykova, Alina Dernova, Natalia Volodko, Sundarraj Subramani, Dimitri Nefedov, Laura dell'Acqua, and other hiring managers that I have the opportunity to support and work with. Also, I am lucky enough to be under the guidance of Steve Bettini and Weronika Niemczyk, both of whom are great leaders!
Learn from senior executives and ABBYY customers on how to successfully adapt to contemporary challenges using innovative technologies | ABBYY's The Intelligent Enterprise
Your top advice to someone joining ABBYY, and for someone joining ABBYY in a similar role?
If you are someone who likes challenges, wants to make a change, and create something new, ABBYY will give you that opportunity. It's a place where you will enjoy taking the initiative and figuring out new ways to work as if this is your own business. You are part of ABBYY and ABBYY is part of you.
ABBYY has more than 30 years in the business yet, in many ways, it maintains a startup mentality. Your experience and ideas will be somehow utilized, and you'll be a great contribution to our organization. It's an adult working environment. You just need some principal guidelines, and then you can ride the boat as a 'captain' in your field.
We know that you are living an active lifestyle. Tell us more about it, how do you spend your free time?
I am committed to taking care of myself both physically and mentally. Physically, I try to explore different sports and enjoy running and cycling. The longest distance I ever ran was a full marathon, but I regularly jog between 5-10 kilometer (km). I sometimes join my friends biking around Singapore and on average we cycle 40-70 km. I also practice outrigger canoeing (OC) at Sentosa Island during the weekend and early in the morning before starting work (5am to 6.30pm is our weekday training session).
Other than sports, I do several volunteering activities. I am a regular volunteer with Waterways Watch Society – a Singaporean non-profit environmental organization. Our work is to foster appreciation and promote conservation of our environment. You might spot me cleaning the litter along Kallang River, Boat Quay and the Merlion area.
Besides my environmental and sustainability activities, I am also a regular volunteer with Team Nila, a national movement that promotes the culture of giving, citizenship, and social cohesion through sport. This year I am volunteering as team lead taking care of the Canoe Polo competition, which is part of the 2023 Singapore National Day, a sort of festival of sports.
For my mental health, I practice Vipassana mediation every morning. Travelling is also a big part of my life. I travel to learn, connect, and experience new things.
If you could have one wish come true, what would it be and why?
I don't really believe in wishes coming true or hypotheses. If you want something, work and find a way to achieve it instead of wishing. If we face challenges and tough times in our lives, we may be able to handle them with our own great courage and attitude.
What is your definition of work-life balance?
It's when I am excited about starting work in the morning, continue to enjoy it during the day and at the same time have my personal life fulfilled. It's when I am going to sleep happily knowing that I have had a fulfilled and meaningful, yet challenging day!
Lastly, could you recommend us a book/movie/series/ or activity you have recently discovered or are enjoying at the moment? What's so great about it?
Meditation: practice Vipassana Mediation! I went to the 10 days Vipassana Mediation taught by S.N Goenka in the tradition of Sayagyi last Christmas in Bali. It was a life-changing experience and I have had so much benefit from a mental health perspective.
It's the art of how to live our lives peacefully. For those curious, here is the link for more information.
There are two books I recommend:
The Power of Now by Eckhart Tolle
The Art of Communicating by Thich Nhat Hanh
Both books can be easily found on the internet and if you prefer audiobooks, they are available for free on YouTube!
Interested in joining the ABBYY team? Please check the vacancies below and apply!
Subscribe for blog updates
Your subscription was successful! Kindly check your mailbox and confirm your subscription. If you don't see the email within a few minutes, check the spam/junk folder.
Your subscription was successful!