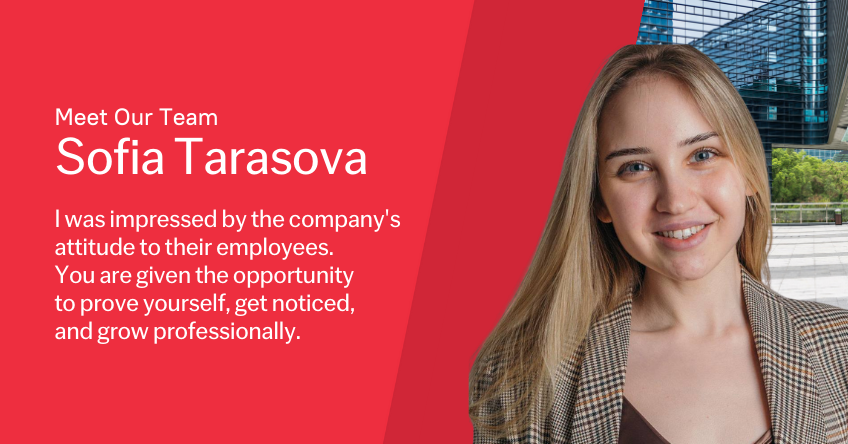 Sofia Tarasova had a premonition that one day she would work for ABBYY—and her crystal ball didn't let her down!
As a member of ABBYY's People team, she is living proof that following your instinct can be a powerful move.
Continuing our interviews to celebrate International Women's Month, we talk to Sofia about her path to ABBYY, and hear about her life hack for avoiding post-lunch slump!
Follow us on Instagram and get to know the people at ABBYY
What attracted you to ABBYY?
Primarily, it was the people who work here. I was impressed by the company's attitude to their employees. You are given the opportunity to prove yourself, get noticed, and grow professionally.
Tell us your title and a bit about your role and journey at ABBYY so far
My link with ABBYY began in early 2017, when I worked in my first job at an IT recruitment agency that had ABBYY as a client. My team and I were looking for IT specialists for the company and I had the opportunity to visit the ABBYY office to dig deeper into the specific needs of the organization, understand how technical interviews take place, and to get to know the hiring managers personally.
I had previously enjoyed interacting with ABBYY colleagues before my visit, from the internal People team to the technical specialists, and had found them all to be very competent and friendly people who sincerely loved their jobs and the company they worked for. However, after visiting the ABBYY office in person and getting to feel the atmosphere and culture of the company, I told myself that one day I would be part of that amazing team. Four years later, my wish came true, and I joined the ABBYY team.
Since then, my first two years with the company have lived up to my expectations—I have already had four different roles! I came in as a Talent Acquisition specialist, and within a short time grew into a Senior TA and became a mentor to a junior recruiter. When ABBYY underwent a relocation project, I was assigned to do operational tasks for the People team for about six months. Then, in September 2022, I was delighted to be appointed to my ideal role and became People Partner for the Research and Development and Product Development teams.
What does a typical day look like for you at ABBYY?
One of the things I love about ABBYY is having a good work-life balance and flexibility in my work schedule. I get up early, so sometimes start my working day at 7am. It's always a pleasure to start the day quietly sorting through emails while drinking a cup of fresh home-brewed coffee!
Usually, I go for a workout a few times a week at lunchtime, which makes me 2x more efficient at work in the afternoon (highly recommend this "life hack"!). Since I always have at least three work meetings during the day, I use my flexible work schedule to plan around this, which means I sometimes work late into the evening, with a nice cup of fruit tea on hand.
What keeps you going, and what do you enjoy the most in your role, any highlights?
My job and the variety of experiences this role gives me is what really keeps me motivated. When you work with great team members, you have the opportunity every day to learn new things and face different situations. It develops you not only professionally, but in all aspects of life.
What was your previous experience before ABBYY?
My whole career journey up to ABBYY has been as an IT Recruiter and HR manager of IT teams.
I had an opportunity to work with leading local and international FinTech companies and banks as part of an outsourcing company. Next, I worked in-house at QIWI for over two years, and built a development team to launch the company's international business. And after that, I worked at Yandex Eats (a Foodtech company), so my love of food is also reflected in my career.
Your top advice to someone joining ABBYY in your function?
The People team is about people—in every aspect. It's about the ability to listen to their needs, their concerns, assisting them in their personal development and professional growth. At the same time, it's about aligning those aspirations with the goals and strategy of the company.
Since it is International Women's Month, we also wanted to ask you: What do you think are the most important skills for a woman to have in order to succeed in the tech industry?
In my experience, the tech industry has become much more advanced in terms of the inclusion of women. Women in the tech industry and in any other business, in my opinion, should actively use their strong points, such as being able to motivate a team effectively, create an environment that encourages the team to succeed, build trusting relationships with colleagues that help in the partnership.
How do you spend your free time?
Most of my free time is taken up at the gym, and six months ago I took up power lifting.
Also, I really like walking. If you look at my Apple Watch, you will never see a day that I haven't closed all my activity rings. On average, I walk 20k steps a day (17-18 km). The gym helps me to switch off my thoughts and clear my mind, while walking does the opposite and helps me to think about ideas for various topics.
If you could have one wish come true, what would it be and why?
Once upon a time, I promised my mother that when I grew up, and when my parents are elderly, I would build them a house somewhere quiet and cozy with huge floor-length windows. But my wish is not for that house to suddenly appear. It is about me being able to make it happen through my own success.
Name any inspirational book/movie/music you have recently discovered or are enjoying at the moment
Recently, I discovered Anime. Throughout my life I had a rather preconceived opinion about this genre, but the post-apocalyptic manga "Shingeki no Kyojin" (Attack of the Titans) changed my mind.
So, if you're a skeptic of Anime like I was, I recommend watching it. I promise you'll be hooked!
Interested in joining the ABBYY team? Please check the vacancies below and apply!
Subscribe for blog updates
Your subscription was successful! Kindly check your mailbox and confirm your subscription. If you don't see the email within a few minutes, check the spam/junk folder.
Your subscription was successful!