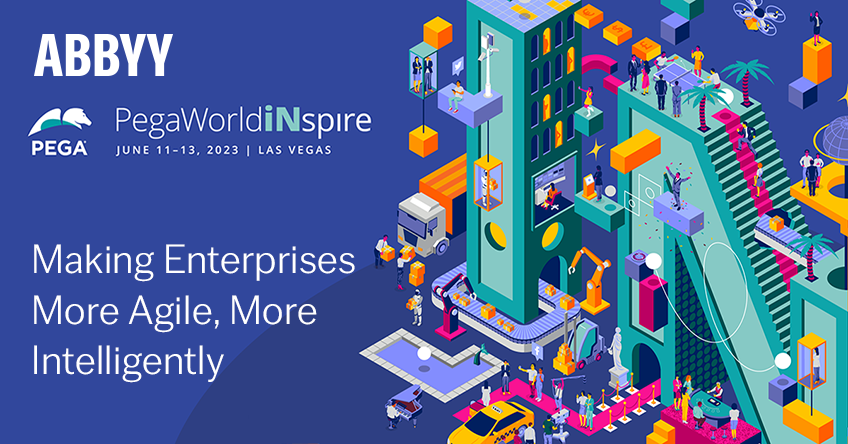 ABBYY is attending PegaWorld iNspire 2023, the annual conference of Pegasystems, the low-code platform provider empowering the world's leading enterprises to Build for Change®, held June 11-13 in Las Vegas, Nevada. Featuring the Pega Connector for Vantage, event attendees can visit ABBYY at booth #25 to learn how Pega and ABBYY are making enterprises more agile, more intelligently.
Will we see you in Las Vegas? Book a meeting with ABBYY at PegaWorld iNspire here.
Pega provides a powerful low-code platform that empowers the world's leading enterprises, using AI-driven decisioning and workflow automation to solve their most pressing business challenges. Since 1983, Pega has built flexible, scalable architecture to help enterprises meet today's customer needs while continuously transforming for tomorrow.
ABBYY Vantage enables the extraction of key data from documents of any format, type, or language, leveraging AI to improve straight-through processing and put valuable information to work. Pre-trained document skills and a low-code, cloud-native platform empower the citizen developer to personalize their document processes and augment other automation tools with the intelligent document processing (IDP) capabilities of Vantage.
PegaWorld iNspire attendees can visit booth #25 to observe a demo for the Pega Connector for Vantage and see firsthand how they can leverage the powerful combination of ABBYY & Pegasystems technologies to accelerate digital transformation. ABBYY's technology automatically classifies and extracts document data, turning content into structured, actionable information that makes Pega processes smarter – dramatically improving the customer experience and increasing operational efficiency.
Using Pega in tandem with intelligent document processing benefits users in a variety of industries:
Accelerated automation of claims processing improves user, process, and business outcomes for insurance carriers.
Automatic capture, validation, and authentication of data from trailing documents eliminates friction in onboarding processes for banking and finance institutions.
Accelerated document processing and data delivery streamlines revenue processes and ensures timely, accurate payments for healthcare providers.
Enhance Pega's intelligence with ABBYY's low-code no-code AI-based platform and see how pre-built AI models improve user productivity. Download the ABBYY Vantage Connector for Pega to reimagine your workflow automation with ABBYY intelligent document processing.
Are you attending PegaWorld in Las Vegas?
Schedule a meeting with ABBYY. We look forward to seeing you at PegaWorld iNspire 2023! Find us at booth #25.  
Book a meeting with ABBYY
Subscribe for blog updates
Your subscription was successful! Kindly check your mailbox and confirm your subscription. If you don't see the email within a few minutes, check the spam/junk folder.
Your subscription was successful!