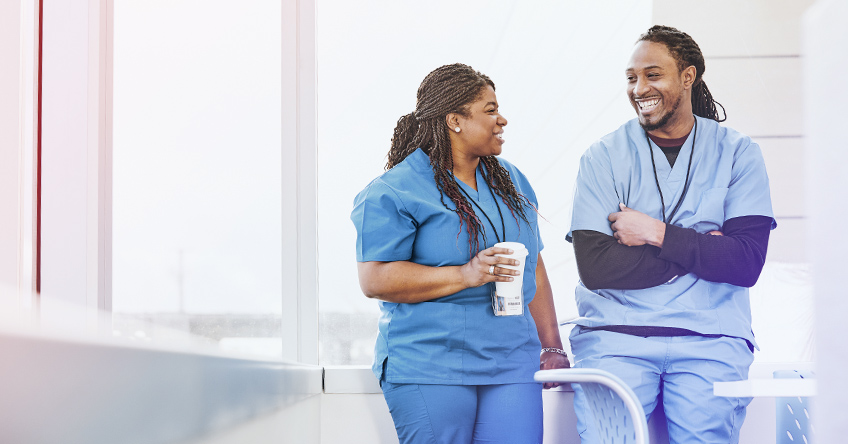 Cloud computing in healthcare enhances collaboration, improves cost control and flexibility, and enables better patient experiences.
Few industries have experienced such upheaval over the past couple of years than healthcare. The ongoing pandemic has forced healthcare organizations to radically rethink how they invest in technology to drive better patient care outcomes. However, easing the burden on capacity has not been the only challenge. Healthcare providers are also under greater pressure to offer remote consultations to enhance safety and the patient experience.
While solutions like electronic health records are already well-established, cloud computing in healthcare has undergone a major transformation in recent years. Moreover, the pandemic has accelerated the demand for more flexible and scalable technological solutions of the type that only cloud computing can provide. In this blog, we will explore some of the most important reasons why cloud computing in the healthcare industry is vital to its future.
Check out the ABBYY Marketplace for low-code/no-code skills ready to use in Healthcare.
1. Better scalability and flexibility
The basic premise of cloud computing is that it offers on-demand computing and data storage capacity. By contrast, traditional computing infrastructures rely on expensive hardware and in-house data centers that require regular maintenance and upgrades. In these environments, a sudden spike in demand can quickly overburden the system, sometimes even to the point it is no longer fit for purpose.
Cloud computing offers practically limitless scalability and flexibility by allowing organizations to create virtual machines and servers instead of investing in physical hardware. The software-defined infrastructure is entirely maintained and operated by a third-party service provider, so the burden on healthcare IT teams is also drastically reduced. Effectively, healthcare providers instead rent their computing resources on-demand, so they only pay for what they use.
2. Enhanced reach of healthcare
While not all computing workloads are a good fit for the cloud, that is not the case in healthcare. In fact, most healthcare providers can and should put almost all their workloads in the cloud. The main reason for this is that cloud-hosted resources are available from any location and any device. Not only does this facilitate working from home; it also means that field workers will have constant access to electronic health records and other essential resources.
Due to the decentralized nature of cloud computing in healthcare, practitioners can also offer their services from any location to patients in any location. This streamlines collaboration, processes, and simplifies communication between healthcare workers and their patients. For example, cloud computing makes it possible to provide telemedicine services, such as remote consultations using video conferencing solutions like Zoom for Healthcare. Remote document capture allows for onboarding your new patients from their home.
3. More informed decision-making
Like every other industry sector, healthcare generates vast amounts of data. This data comes from a myriad of different sources, such as practice management software, social media, and email. On top of that is industry-specific data, such as x-ray and MRI scans, including open-source data available for training artificial intelligence (AI) solutions. However, to unlock the value of such data, you need access to high-powered analytics.
Cloud computing makes so-called big data analytics far more accessible to smaller healthcare organizations. Thanks to the practically unlimited storage capacity and on-demand computing power, cloud computing can facilitate the seamless connection of all data sources and process massive data sets at scale. For decision-makers in healthcare, this means access to a wealth of useful insights that can continuously improve the efficiency and efficacy of your operations.
4. Simplified compliance and security
For a long time, one of the biggest barriers to adoption of cloud computing in healthcare was the concern around security. After all, the inherently sensitive nature of healthcare information understandably gives decision-makers the impression that it probably should not be placed in the cloud where anyone can access it. Fortunately, the reality is rather different now that cloud computing is now well-established as the new normal in healthcare IT.
Cloud providers that cater to the healthcare sector typically take security and compliance very seriously. Not only do they comply with data protection laws like the Health Insurance Portability and Accountability Act (HIPAA), the Health Information Technology for Economic and Clinical Health Act (HITECH), and the General Data Protection Regulation (GDPR), they can also offer advanced security measures that were previously only within the reach of big enterprises. For example, multifactor authentication and data encryption can make records practically impervious to attack. Newer technologies like blockchain are also proving promising for protecting healthcare transactions.
5. Reduced chance of downtime
Unscheduled downtime of mission-critical systems is a huge worry for any organization. But in the healthcare sector, downtime can quite literally mean the difference between sickness and health. Having consistent and reliable access to patient health records and other crucial data is vital for offering a dependable service. However, for healthcare providers still relying on in-house systems, ensuring round-the-clock uptime can be a huge burden.
While cloud service outages are certainly not unheard of, any reputable service provider offers proactive maintenance and automated rollovers for when a server goes offline. Data is usually stored in at least two different physically disconnected locations and automatically synced to keep it safe from threats like ransomware. Service providers also guarantee a minimum level of availability, such as 99.999% per year, which means a total annual downtime of only five and half minutes. 
Check out the ABBYY Marketplace for low-code/no-code skills ready to use in Healthcare.
6. Improved patient experience
Although the above impacts of cloud computing in the healthcare industry largely address the concerns of internal decision-makers, it is important to recognize how they are all beneficial to patients as well.
Better scalability and cost-control mean you can optimize spending and reallocate funding to things like better medical equipment and more practitioners. Enhanced reach means patients do not need to visit your facility in person every time they need a consultation. More informed decision-making allows healthcare organizations to continuously optimize their services to the benefit of their patients. Improved compliance, security, and service availability let you offer a more consistent and trustworthy service.
Together, these benefits can promote better patient outcomes and help the healthcare sector advance into the new era of digital transformation. Never has that been more indispensable than it is today in the wake of the most disruptive global pandemic in more than a century.
Reach the next level of digital transformation with Intelligent Document Processing.
Subscribe for blog updates
Your subscription was successful! Kindly check your mailbox and confirm your subscription. If you don't see the email within a few minutes, check the spam/junk folder.
Your subscription was successful!