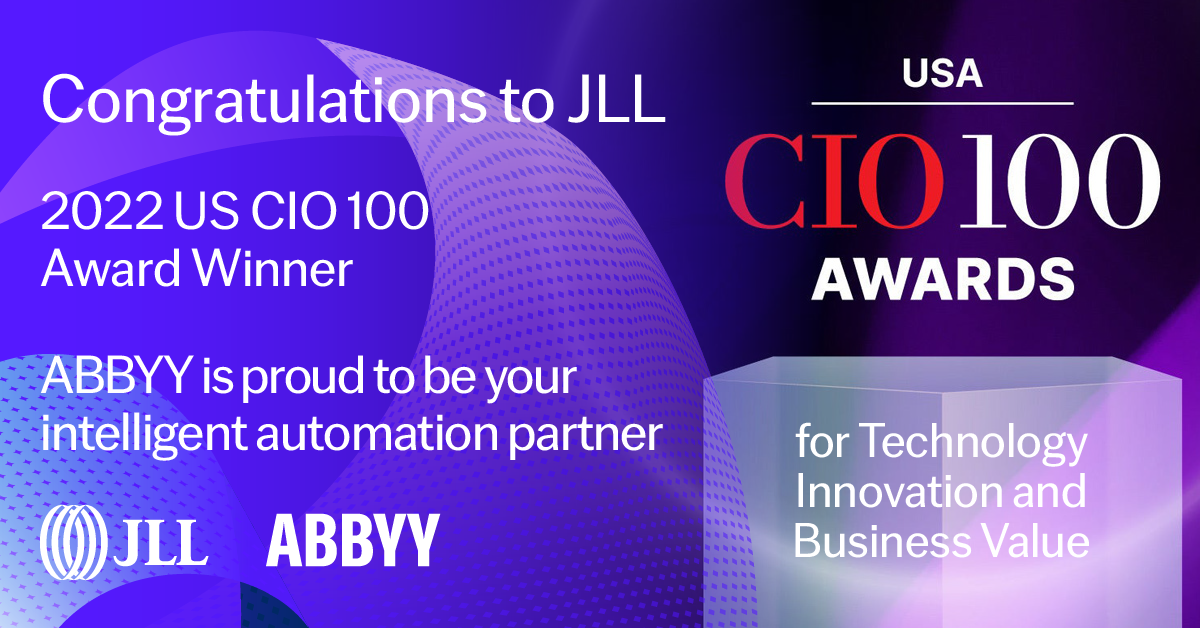 Helping the Fortune 500 company achieve organizational excellence has also won ABBYY recognition with CIO Magazine
Commercial real estate giant, JLL, saved millions by automating invoicing and payments globally by using ABBYY's cloud-based intelligent document processing solutions. Its S2P project led to this Fortune 500 company, with annual revenue of $19.4 billion, to be selected as a CIO 100 company by CIO Magazine for "Technology Innovation and Business Value driven by the Source-to-Pay Program."
ABBYY was also recognized by CIO Magazine as a "Solutions Partner to 2022 Winner USA CIO 100", for helping JLL drive digital business growth through innovation.
"Driving digital business growth requires working with trusted partners like ABBYY whose cloud-based intelligent document processing solution was instrumental to the success of our multi-year, global, source-to-pay program.

Automating our invoice and payment strategy and rolling it out globally in multiple languages resulted in significant savings. This project exceeded our business goals, and we are honored to have its success validated by the prestigious CIO 100 award."
Bruce Beck, CIO Corporate Functions at JLL
The 2022 US CIO 100 awards recognize 100 organizations for innovative use of technology in projects that furthered their organizational goals. Those recognized set a new standard for the use of enterprise technology in achieving organizational excellence.
"We have partnered with JLL on their source-to-pay program since 2019, and together we built a global program that accelerated their business processes across the globe using our intelligent process automation solutions.

It was an enormous project that achieved high automation goals and improved their payment strategy resulting in millions in saving. We are thrilled to see how our contribution to their digital transformation strategy enabled JLL to receive such high accolades as a CIO 100 winner."
Bruce Orcutt, SVP of Product Marketing at ABBYY
Let Intelligent Process Automation Work for You
ABBYY's intelligent process automation platform includes industry-leading intelligent document processing (IDP) and process mining and task mining solutions. These include ABBYY Vantage, the industry's first low-code/no-code platform that applies AI to understand your documents in a fast and simple way. Vantage makes today's digital worker and processes smarter by delivering skills that read, understand, and extract insights from documents, helping enterprises accelerate digital transformation.
ABBYY Timeline features advanced process mining and task mining technology using the latest artificial intelligence (AI). It enables businesses to automatically build an interactive digital twin of their processes, analyze them in real time to identify bottlenecks, and predict future outcomes to facilitate decision-making of technology investments.
ABBYY Accounts Payable Solutions
View the infographic on how to finally achieve procure-to-pay. Ready to get started? Fill out the form and tell us more about your project.
Subscribe for blog updates
Your subscription was successful! Kindly check your mailbox and confirm your subscription. If you don't see the email within a few minutes, check the spam/junk folder.
Your subscription was successful!