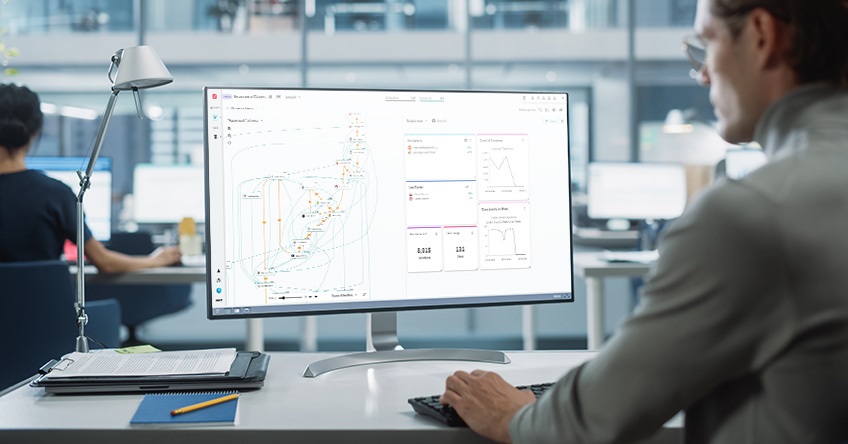 In the current competitive business environment, streamlining and optimizing business processes is crucial for an organization's success and long-term advantage. However, as the landscape is inundated with promises of digital transformation, many process mining and task mining tools alone fall short of their promise to solve all process-related challenges. These limitations in the first-generation offerings have led to the emergence of comprehensive process intelligence platforms designed to fully meet these demands and go beyond surface-level issues. A true process intelligence solution must fully support five key pillars, which are essential for a holistic approach to process transformation.
Jump to:
What is process intelligence?
What are the benefits of process intelligence?
Use cases
Pairing process intelligence with IPA
Frequently asked questions
What is process intelligence?
Process intelligence is a combination of data-driven capabilities dedicated to the analysis and enhancement of business operations. It uses the data from a business' own information systems to uncover patterns and insights that point the way to new operational efficiencies. The five essential pillars for sustainable process intelligence are process discovery, process analysis, process monitoring, process prediction, and process simulation. Organizations can use these insights to discover, understand, and manage execution of their processes more effectively.
The five pillars of process intelligence
1. Process Discovery
Process discovery is the foundational step in understanding how a process actually operates, comprising process mining and task mining. Process mining is used for reconstructing processes from events recorded in logs, while task mining fills process gaps by mining user desktop activities. For example, a healthcare provider may use process mining to reconstruct the patient admission process by analyzing the electronic health record (EHR) system's event logs.
Simultaneously, task mining can be used to observe and analyze the actions of administrative staff on their desktops to fill in any gaps in the process not captured by the event logs. This comprehensive approach is essential for identifying bottlenecks, redundancies, and deviations, ultimately leading to improved efficiency and patient satisfaction.
2. Process analysis
Process analysis involves using specialized tools to visualize and analyze process data. For example, an insurance company may use these tools to identify bottlenecks or inefficiencies in its claims processing system. Making these tools accessible to both technical and non-technical users ensures that all stakeholders can participate in the analysis and decision-making process. This fosters a culture of continuous improvement and accountability, leading to faster claims processing, reduced operational costs, and enhanced customer satisfaction.
3. Process monitoring
Process monitoring allows the user to define specific process patterns that should be detected either when they occur or when they are deviated from, and then either alerts the organization or triggers an action in another system to automatically respond. For example, a bank may define a specific sequence of steps that must be followed when approving a loan. A process monitoring tool will automatically detect whenever this sequence is not followed, allowing the bank to quickly identify and address any deviations. This proactive approach helps minimize risks associated with non-compliance, reduce processing times, and ensure a consistent, high-quality customer experience.
4. Process prediction
Process prediction uses historical execution patterns to train an artificial intelligence (AI) engine to predict the likely outcome of a process very early on. For example, an insurance company may use this approach to predict the likely outcome of a claim based on historical data. This proactive approach allows the company to address any potential issues early, leading to faster claims resolution, reduced costs, and improved customer satisfaction.
5. Process simulation
Process simulation provides a mechanism for utilizing process histories to automatically configure a simulation. This model can then be adjusted to reflect any proposed changes to the process or resource allocation, with the goal of understanding the impact of those changes before they are implemented. For example, a bank may use this approach to understand the impact of changing staffing levels in its loan approval department. This helps leaders make informed decisions regarding resource allocation and process changes, ultimately leading to optimized operational efficiency and customer satisfaction.
What are the benefits of process intelligence?
Traditional approaches to business process improvement rely on manual observations, interviews, and surveys, all of which can be subjective and time-consuming. Process intelligence accesses data from the business' own systems to drive process optimization and automate the monitoring that enables continuous improvement.
By leveraging process intelligence, organizations can realize a broad range of benefits, including the following.
Improved efficiency and productivity. Process intelligence helps organizations identify bottlenecks, inefficiencies, and redundant steps. By using these insights to optimize their processes, businesses can streamline operations, reduce manual work, and enhance overall efficiency and productivity.
Data-driven decision making. By providing valuable insights into how different process execution patterns correlate with specific outcomes, process intelligence enables organizations to make informed choices based on real-time and historical data.
Enhanced compliance and risk management. Process intelligence can detect compliance lapses early on and provide tools to rectify issues, reducing the risk of penalties and legal consequences.
Continuous process improvement. With process monitoring and analysis, organizations can continuously monitor their processes and identify areas for improvement. This iterative approach allows for ongoing optimization and adaptation to changing business conditions.
Cost savings. By identifying and eliminating process inefficiencies, organizations can reduce operational costs. Process intelligence enables cost-effective resource allocation and helps avoid unnecessary expenses associated with manual intervention or errors.
Use cases for process intelligence
In any industry, incorporating process intelligence in a digital transformation strategy enables organizations to assess the future impact of proposed changes, manage the transition more effectively, ensure the performance of the implemented automation steps, and provide a feedback loop for continuous improvement. Businesses across industries are using process intelligence to drive results in a variety of use cases.
Healthcare
Hospitals and other healthcare providers can leverage process intelligence to improve patient experiences and clinical effectiveness, maintain quality standards, and avoid compliance risks. They can facilitate compliance by monitoring clinical operations in real time, while proactively alerting staff when protocols are not followed, or process deviations are detected.
Banking
Process intelligence enables banks and other financial institutions to drive digital transformation and support risk and regulatory compliance priorities. They can analyze transaction data in near-real time to improve customer service, increase reporting accuracy, and reduce the risk of costly errors. Process monitoring helps them ensure that SLAs, compliance mandates, and legislative requirements are maintained, reducing the risk of costly mistakes that might otherwise be overlooked.
Insurance
Insurance companies can use predictive analytics to drive risk evaluation, risk selection, and underwriting decisions. They can improve compliance with automated monitoring and remediation while also realizing productivity gains by enabling straight-through data processing. Process analytics deliver business value for internal staff, contract adjusters, third-party support organizations, and other partners.
Pairing process intelligence with intelligent process automation
Digital transformation is the integration of digital technology into all areas of a business, fundamentally changing how it operates and delivers value to its customers. Successful efforts involve a radical rethinking of how an organization uses technology, people, and processes to fundamentally change business performance. Intelligent process automation (IPA) is at the heart of this transformation. It combines artificial intelligence (AI) and automation to create smart business processes that can adapt and evolve over time.
Let's consider a real-world example of a global manufacturing company's digital transformation journey to improve its operational efficiency and customer satisfaction. The company identified its order-to-cash process as a critical area for improvement.
Before implementing automation, the company used process mining tools to analyze the current state of order-to-cash processes. The analysis revealed several bottlenecks and inefficiencies in the process, such as manual data entry, multiple handoffs between teams, and lack of standardization in the execution of tasks.
Insights, all based on hard data that reflects how the company actually operates under real-world conditions, enabled optimizations in the process such as:
Eliminating unnecessary steps
Reducing handoffs
Standardizing the execution of tasks
After implementing these optimizations, the company implemented an intelligent process automation solution, which included robotic process automation (RPA) bots for data entry and extraction, AI algorithms for decision-making, workflow automation for orchestrating the end-to-end process, and process intelligence tools to monitor performance of the automated process and identify further areas for improvement.
A holistic approach to process intelligence
While many process mining or task mining tools claim to offer comprehensive solutions, they often fall short in addressing the complexities and nuances of real-world processes. A truly effective solution must fully support the five pillars explored above. Only by adopting a holistic approach that encompasses all these aspects can organizations hope to achieve meaningful and sustainable process transformation.
Organizations worldwide are automating time-consuming, routine business processes to enable workers to concentrate on more important tasks that help grow revenue. With ABBYY Timeline, our process intelligence platform, you can improve the future of work. Build on the foundation of process mining, understand the process with advanced analytics, and utilize machine learning to improve and optimize your processes. No other solution offers the same amount of process insight and analytics on one platform.
Frequently asked questions
Process intelligence strategy refers to a systematic approach that organizations use to (1) gain insights into how their business processes execute and (2) use those insights to improve efficiency, optimize operations, and make data-driven decisions. It involves the use of AI-driven technologies and analytical tools to collect, analyze, and visualize business process data so that it can fuel strategic decision making.
Process intelligence focuses on gaining insights into existing business processes, with the goal of understanding how processes execute and identifying bottlenecks, inefficiencies, and opportunities for improvement. Intelligent process automation (IPA) focuses on automating and optimizing business processes using advanced technologies such as artificial intelligence (AI) and robotic process automation (RPA). Whereas process intelligence is more concerned with understanding, IPA aims to enhance process efficiency, reduce manual effort, and improve accuracy.
Process mining and task mining play important roles in process intelligence but can only deliver raw data concerning how a process flows (process mining) or activities performed by users as they move the process forward (task mining). Process intelligence uses data from both process mining and task mining to create a complete picture of the process and deliver insights regarding optimal flows, deviations, and inefficiencies.
For a process to be automated successfully, it must first be understood and streamlined. Process intelligence provides the insights decision makers need to understand how their processes execute and resolve inefficiencies before automation comes into play. This first step ensures that time and resources are not wasted in an attempt to automate processes that are inherently inefficient.
Subscribe for blog updates
Your subscription was successful! Kindly check your mailbox and confirm your subscription. If you don't see the email within a few minutes, check the spam/junk folder.
Your subscription was successful!