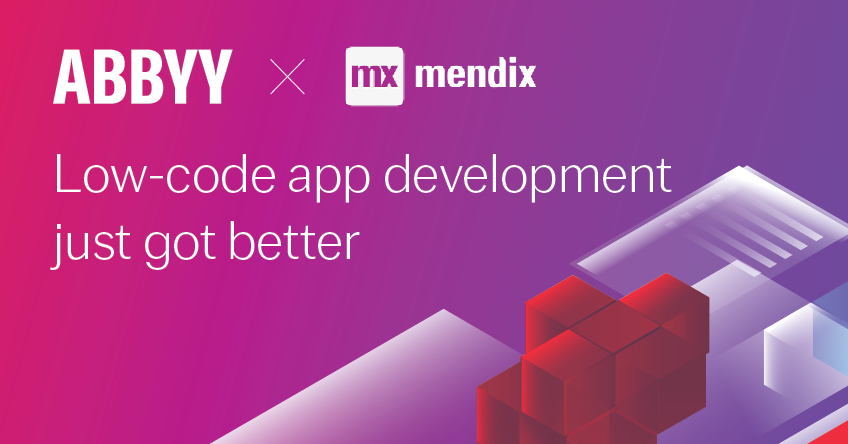 Low-code platforms have enabled enterprises to rapidly accelerate outcomes and improve customer experience. As organizations continue to digitally transform internal processes in pursuit of agility and efficiency, they must consider democratizing development and empowering employees outside of the IT department. According to Gartner, citizen developers will account for at least 80 percent of users of low-code tools by 2024, which indicates a need for organizations to embrace the decentralization of technology in order to expedite development and outcomes.
ABBYY Vantage connector for Mendix facilitates enterprise-wide digital transformation
ABBYY has partnered with Mendix to continue elevating the citizen developer with ABBYY's leading intelligent document processing capabilities and Mendix's best-in-class, low-code development platform. Leverage an agile, adaptable development interface and AI-driven optical character recognition (OCR) to say goodbye to manual data entry, tedious paperwork, and inefficient processes. With ABBYY Vantage and Mendix, you can unlock the full potential of your data and accelerate digital transformation across the entire enterprise landscape.
Leader in the 2023 Gartner® Magic Quadrant™ for Enterprise Low-Code Application Platforms, Mendix empowers seamless collaboration and digital transformation of development processes with an intuitive and visual low-code approach to building apps. Mendix is an established and widely trusted partner among more than three hundred thousand active developers, helping thousands of customers streamline development and provide exceptional end-user experiences.
ABBYY Vantage's powerful document processing capabilities enable the extraction of valuable data from any type of document with unmatched accuracy and speed. From processing forms and invoices to contracts and emails, Vantage is a cloud-native low-code platform built for the citizen developer. Combined with Mendix, businesses can leverage intelligent document processing (IDP) during development to streamline document-related processes and deliver higher value scalable solutions even more efficiently.
By enhancing Mendix with data provided by Vantage, this jointly built solution empowers businesses to innovate faster, reduce manual workloads, and improve customer experience. The ABBYY and Mendix marketplaces are vibrant developer communities where customers of either provider can rate assets, ask questions, contribute skills, and try connectors that link enterprise platforms together.
ABBYY is excited to deliver more value with Vantage through our partnership with Mendix, and further contribute to the decentralization of tech and the empowerment of citizen developers.
Download the ABBYY Vantage Connector for Mendix and start your digital transformation with best-in-class solutions for application development.
Subscribe for blog updates
Your subscription was successful! Kindly check your mailbox and confirm your subscription. If you don't see the email within a few minutes, check the spam/junk folder.
Your subscription was successful!