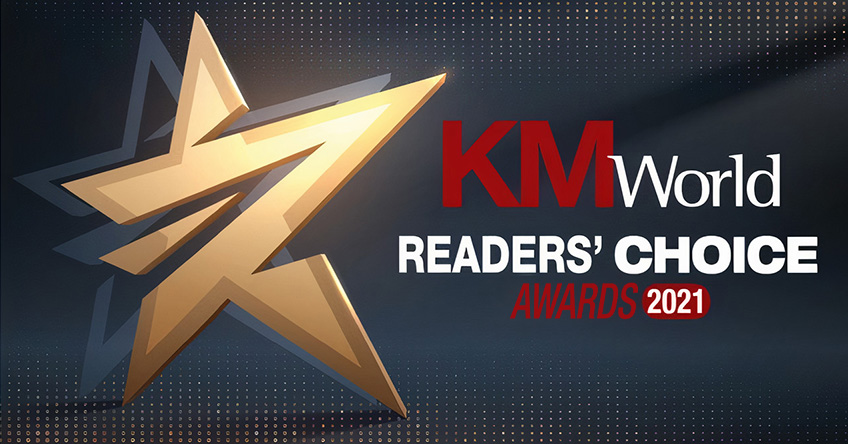 We're excited to announce that ABBYY Vantage has been nominated for the "Cognitive Computing and AI" category for KMWorld's Readers' Choice Awards!
The 2021 awards put the spotlight on the innovative and useful products and services that their readers depend on. Products and services were nominated by and will be chosen by the people who matter the most—readers who use these products and services every day.
What is ABBYY Vantage?
ABBYY Vantage is the first no-code, cloud-first platform that enables businesses to quickly design, train, and deploy skills that handle the complexities of understanding content, without being an OCR or capture or machine learning expert. Vantage puts the power of advanced Intelligent Document Processing technology into the hands of more people.
Vantage solves the challenge that many businesses face when their process-critical data is locked within documents (emails, PDFs, forms, images, and chatbot and text conversations), and it cannot be released for business value without AI technologies. Legacy solutions for this problem require users that are technology experts, and are cumbersome to deploy and slow to extend throughout the company. This is unacceptable in today's business environment, where agility is paramount to success. 
To offer clients additional options, Vantage can be integrated with intelligent automation platforms including Blue Prism, UiPath, and Automation Anywhere, and delivers cognitive skills for robotic process automation (RPA) robots, automation systems, chatbots, and mobile apps. It also connects seamlessly with line of business applications, including ERP systems. It's simple—you have a document processing requirement, and we have a skill for it. Skills are pre-trained and apply AI to digitize and pull relevant data from any type of document running through an organization and send it to critical business processes. 
For insurance companies, it means simplifying the claims process in a five-star mobile experience. For small businesses, it means enabling lenders to process Small Business Administration (SBA) Payment Protection Program loan applications 30 times faster. For vaccine and drug approvals, it saves thousands of hours annually throughout the review process to get critical medicine to market faster.   
Why should you vote for ABBYY Vantage? 
In a world where everything is within reach, one thing is always missing: time. Time gives us more chances to develop the world around us, to focus on what is truly valuable, and to reimagine the future.   
That is why ABBYY reimagined how Intelligent Document Processing, OCR, NLP, and ML can be used within the enterprise. Vantage was developed with a new kind of knowledge worker in mind—one who is looking for a faster way to consume and leverage data contained within documents. 
Vantage reimagines how software can understand and process documents in the same way that humans do. Its combination of pre-trained neural networks and online machine learning delivers the recognition of unstructured data in the form of document skills, quickly adapting to changing input and generating an accurate, reliable result.  
Through empowering individual knowledge workers, Vantage allows business leaders to accelerate automation strategies, improve customer experiences, lower risk, and increase productivity. Companies like Cognigy, EXL, Kryon Systems, Micro Focus, NICE, Pegasystems, PwC, and RoboRana are already integrating the technology with their platforms.  
Here's how to vote for ABBYY Vantage 
We wouldn't be where we are today without the ABBYY community and support you give us. We're honored to be recognized with this nomination and would love to bring home a win for ABBYY Vantage. 
Anyone interested in voting can visit this link to vote for ABBYY Vantage. Voters can only vote once and must do so by July 31 at 11:59 p.m. EST. While there are other categories available on the voting form, you are not required to vote for them all. 
Once you've voted, please help us reach more voters by posting to social media—follow and tag us in your posts on Facebook, LinkedIn, Twitter, and Instagram! 
Winners will be showcased in a special section on the KMWorld website and in the November/December 2021 edition of KMWorld Magazine. 
Subscribe for blog updates
Your subscription was successful! Kindly check your mailbox and confirm your subscription. If you don't see the email within a few minutes, check the spam/junk folder.
Your subscription was successful!