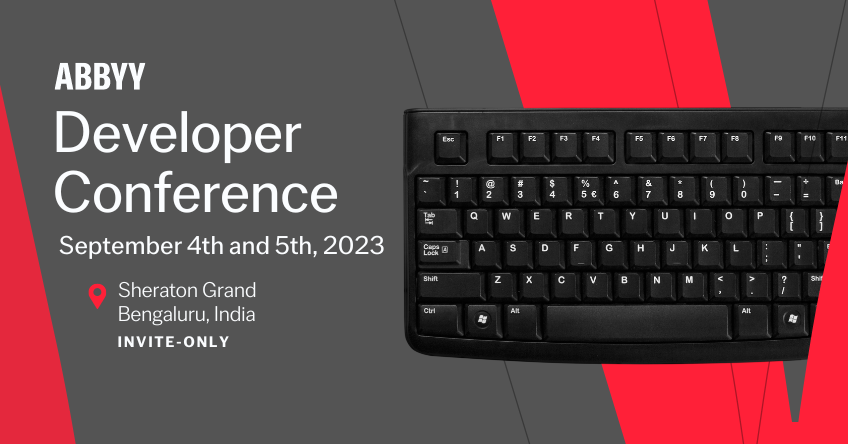 As part of Intelligent Automation Month, ABBYY is hosting an invitation-only developer conference, ABBYY DevCon 2023, September 4-5, 2023, to bring together developers, technologists, and industry experts to explore the latest trends, innovations, and insights in the world of Intelligent Automation.
To request an invitation to ABBYY DevCon, visit ABBYY DevCon India.
During the two-day event in Bengaluru, India, global system integrators, regional business partners and customers' developer community will learn about the latest advancements with ABBYY Vantage, the industry's only artificial intelligence (AI) low-code/no-code intelligent document processing (IDP) solution that is ranked by several analyst firms as a leader in its category. Developers will gain advanced developer concepts with hands-on exercises using APIs, connectors, mobile input, and advanced designer tools that make it easy to transform any unstructured document and add them within business-critical processes.
For more insights, download the Everest Group report here.
Attendees will also receive a demonstration of ABBYY Timeline and experience using its advanced features including primary path analysis, process simulation, and real-time monitoring. Recognized by as a leader in process mining and task mining by NelsonHall and GigaOM, developers will see the power of using process intelligence within ad hoc processes to give business analysts the insights they need to identify new automation opportunities and make necessary process changes to improve operational efficiency.
For more insights, download the ISG Provider Lens™ report here.
ABBYY DevCon holds Hackathon leveraging intelligent document processing
The conference will also give developers the opportunity to apply what they learned and participate in an exciting hackathon. Teams will be challenged to create proof of concepts with ABBYY Vantage in scenarios using various APIs, unstructured documents including handwritten, identity-related use cases, and integration with mobile devices.
Stay tuned to a future ABBYY blog to see details of the winning teams' POCs.
To request an invitation to ABBYY DevCon visit ABBYY DevCon India. If you have questions, please contact ABBYY Sales via email.
Subscribe for blog updates
Your subscription was successful! Kindly check your mailbox and confirm your subscription. If you don't see the email within a few minutes, check the spam/junk folder.
Your subscription was successful!