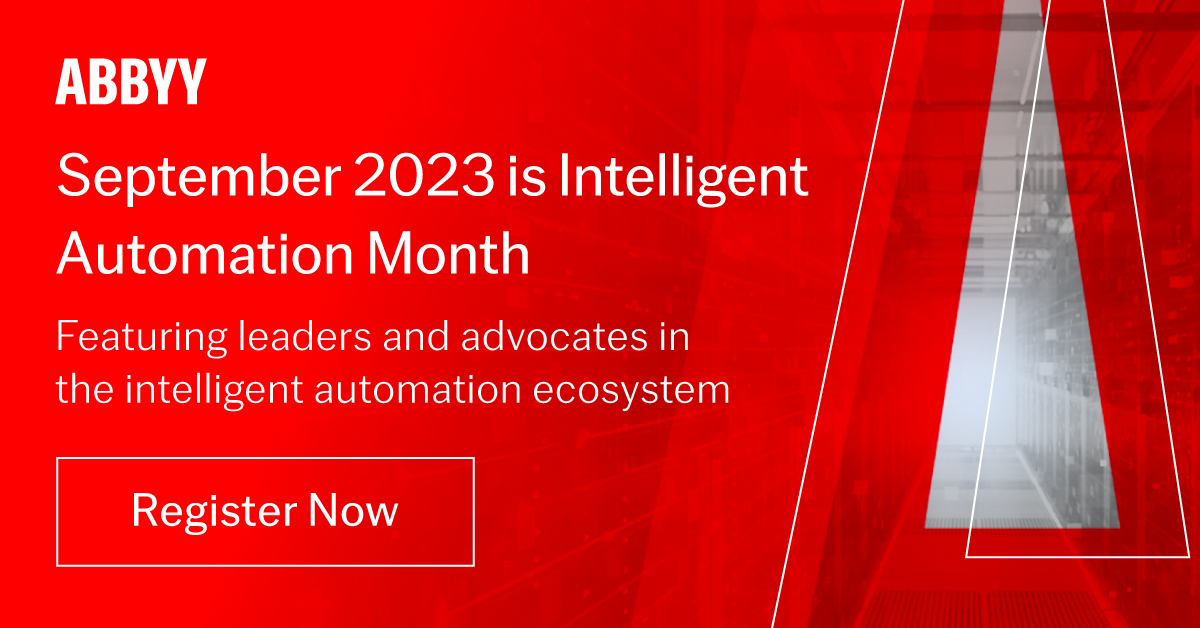 There's no denying that artificial intelligence (AI) is talked about everywhere. From the launch of ChatGPT to software robots replacing jobs, the high volume of recent media attention has been creating both excitement and confusion among business leaders.
There's fear of being left behind, worries about jumping in too quickly, and concerns about investing in the wrong technologies. Which path should you be taking?
ABBYY is here to help. We've decided to dedicate the entire month of September to explaining how AI is being used to automate business processes and guide successful intelligent automation.
Welcome to Intelligent Automation Month
We've joined forces with other industry influencers and advocates to highlight how AI solutions such as intelligent document processing (IDP), robotic process automation (RPA), process intelligence, and generative AI are putting your information to work, so you can achieve operational excellence and accelerate business outcomes.
You'll gain market insights that will help you focus your digital transformation initiatives, learn how to make a business case for C-suite buy-in, and get tips for championing workforce adoption. Additionally, innovation leaders who are currently spearheading transformation within their companies will candidly share their best practices and lessons learned. These are online sessions that you won't want to miss.
September is Intelligent Automation Month
Join us for a series of expert-led webinars to learn how the latest AI advancements are powering intelligent automation and changing the future of work globally.
Register here
Keep an eye on the ABBYY blog throughout Intelligent Automation Month for unique perspectives from partners and ISVs who are in the trenches alongside major corporations, healthcare organizations, and the public sector. They will share stories on how they use a variety of AI solutions to improve productivity, customer experiences, and ROI.
Lastly, ABBYY will release its latest State of Intelligent Automation Report with an emphasis on the economy's impact on IT and business priorities and budget allocation. The analysis will enlighten you on where you can explore opportunities within your organization and equip you with the data to justify your investment.
We hope you'll join us at these upcoming industry-wide online events. Register today.
Subscribe for blog updates
Your subscription was successful! Kindly check your mailbox and confirm your subscription. If you don't see the email within a few minutes, check the spam/junk folder.
Your subscription was successful!