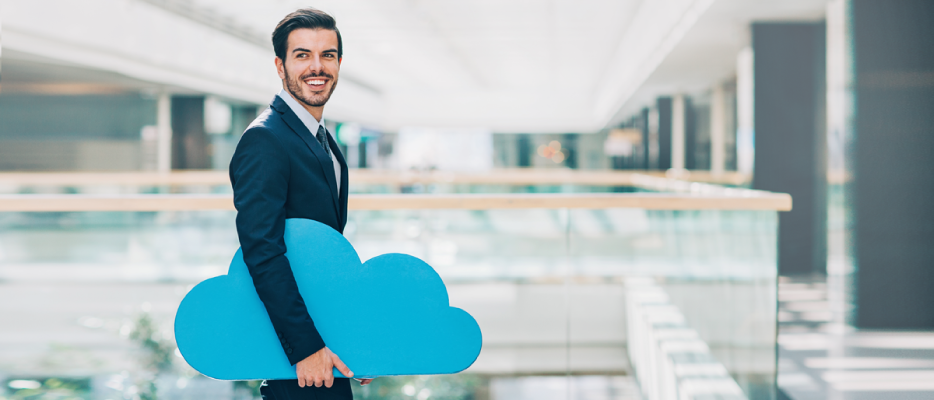 Here's a tech prediction experts need no crystal ball to make: sooner rather than later, most organizations will move most of their IT to the Cloud! The cloud is hot these days. The vast majority of software vendors are moving away from "building generators" and are more and more becoming "suppliers of electricity", operating on premise is no longer enough in today's dynamic business environment where customers clamor for faster, more streamlined services. Every day, everywhere, businesses are gravitating to cloud-based models as they provide a radically new way of delivering, consuming and adopting IT services in a far more agile, efficient, and cost-effective manner.
Each year, the global adoption of the cloud is accelerating at a dizzying rate and the potential for further growth remains huge. Gartner predicts the worldwide public cloud service market will grow from $182.4B in 2018 to $331.2B in 2022, attaining a compound annual growth rate (CAGR) of 12.6%. Spending on Infrastructure-as-a-Service (IaaS) is predicted to increase from $30.5B in 2018 to $38.9B in 2019, growing 27.5% in a year. Software as a service (SaaS) continues to remain the largest segment of the cloud market, with revenue expected to grow from $94.8 billion in 2019 to reach $143.7 billion in 2022. In not too distant past, developing a cloud adoption strategy was a matter of choice for an enterprise, but not anymore. If you are still pondering whether your business must join the cloud crowd or stay on-premise, consider this:
Here are a few reasons to expect the Cloud to evolve into a technological arms race between enterprises in the near future:
Cost reduction: Cost is a key consideration for many businesses when making an investment decision. As cloud technology matures, forward-looking enterprises are turning to it to generate cost savings through reduction in spending on equipment, infrastructure, maintenance and software. A survey conducted by Datometry among 166 IT leaders shows that 61% of respondents considered cost savings as the top reason why their enterprises choose to adopt the cloud. Moreover, since cloud service providers pool together resources such as networks, servers, storage, applications and services on a massive scale, the savings of economies of scale are passed on to businesses.
Consuming technology without IT: Moving to the cloud is one way enterprises have been able to free IT staff from routine maintenance to focus on more strategic projects. With the cloud, IT resources including software, storage, networking, virtual machinery, and applications, are available as utilities that businesses only pay for as and when they use them. The cloud also enables business partners and customers to plug into a company's cloud via APIs thus minimizing and in some cases eliminating any additional work for internal IT departments.
Fast time to value: The goal of any business is to improve Time to Value (TtV) - the time between a business request and the initial delivery of that request - in order to realize some level of business value as quickly as possible. The cloud offers the quickest way to deliver on business requests, thus helping customers to realize much faster Time to Value.
Opex vs Capex: Going Capex-free means businesses can leverage new equipment, capabilities, and software as an operating expense (OpEx) rather than spending to acquire and maintain assets. This type of approach allows businesses to invest more into their core assets for business growth while easily catering for that growth through scalable consumption of cloud services.
Customer Experience: Even in the Cloud, the customer is still king. More than any time in the past, customers today expect services to be available anywhere, anytime they need them, hence their preference for agility and flexibility of the cloud over traditional technology ownership model. Up to 71% of the over 1000 business leaders surveyed by IBM globally said that cloud has influenced the customer experience. As well as delivering frictionless customer experiences, the cloud enables enterprises to quickly develop, deploy and update new products and services tailored to their customers' preferences.
This really becomes a "no-brainer" when your organization needs to consume more electricity do you go out and purchase an electrical generator, hire a team of engineers to install it and maintain it?  Or, do you not even think about it and consume more electricity when and how you need it from your utility provider?  Why should IT be any different?  Cloud is a utility, and the faster organizations understand this and embrace it, the more benefit there is to be gained. ABBYY, the software vendor where I work, has fully embraced the notion of Cloud as a utility.  Not only do we internally utilize mainly Cloud based tools (MS Office 365, SalesForce, Facebook Workplace, Confluence, etc.), but we also offer most of our software in the Cloud as well.  This ranges from our Content Intelligence developer tools, like OCRSDK.com, to our Content Intelligence end customer consumable services for processing of a broad range of business documents (invoices, purchase orders, forms, delivery notes, time sheets, etc.)  via flexicapture.com.
Our commitment to cloud does not stop there, our new focus on Process Intelligence has a Cloud First approach with ABBYY Timeline.
Subscribe for blog updates
Your subscription was successful! Kindly check your mailbox and confirm your subscription. If you don't see the email within a few minutes, check the spam/junk folder.
Your subscription was successful!