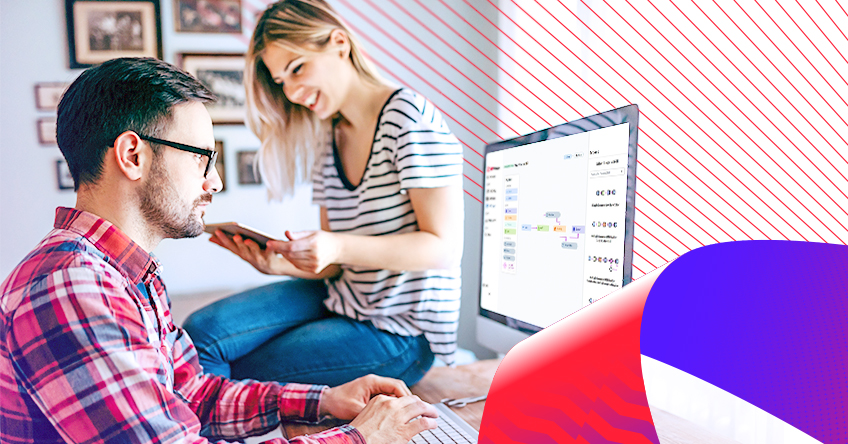 Features and new innovative technology to make business user, developer, and partner experiences simpler, faster, and more valuable
Back in August, ABBYY Vantage 2.0 took the market by storm by offering the first ever low-code / no-code design approach to intelligent document processing. Currently, over 400 businesses and partners have signed on for a trial. In addition to Vantage being a new cloud-native platform, we introduced the ABBYY Marketplace and several pre-trained document skills (models) that brought instant value to any enterprise looking to automate processes involving invoices, purchase orders, remittance advice, tax forms, and many other documents.
Learn more about ABBYY's low-code / no-code solution for Intelligent Document Processing.
Now with the release of Vantage v2.1, we are introducing more than 50 new enhancements touching Vantage in all areas. Today's announcement represents a giant leap forward in solving complex document processing challenges using best-in-class no-code intelligent document processing powered by ABBYY's leading artificial intelligence (AI) technology.
Let me walk you through some of the key highlights.
Putting the power of AI into the hands of all end users, developers, and partners
The Vantage v2.1 release includes a variety of enhancements focused on making it easier for developers to build, for end users to find and use simple automations, and for partners to grow revenue streams while serving their clients better.
For citizen developers, we added several new point-and-click activities into the process skill designer for importing emails and attachments, and to handle transactions involving several different documents as part of one transaction. There's also a new activity that can be easily configured to split documents by classification, combine all pages into one document file, or classify each document as its own type. These new features meet the needs of several processes that call for processing documents together, such as onboarding a customer, processing a loan, or handling multi-invoice financial transactions.
Training a skill and then reviewing the results got a lot easier with a redesign of the results screen. Results now show more granular field accuracy information after training, including recognition issues (low confidence), field located incorrectly, or field not detected. In the case of  field located incorrectly, the user interface (UI) displays the reference label, prediction, and difference between the reference and prediction. It makes it much easier for training and perfecting the accuracy of a skill.
For developers, we added two new activities to connect to external AI services, and for creating custom export scripts to connect directly to applications. These new activities provide the flexibility to integrate third party AI services and applications via a script to call an application or service has a REST API. The custom activity makes it easier for developers to incorporate AI into a Vantage process flow, which covers any number of services.
For end users, we've added enhancements for reviewing tables to speed up the process where you no longer must be concerned about a table where values are not filled because the tables are not present in the document. Vantage automatically detects and only shows the table columns that are relevant to the document being reviewed. This is extremely useful when you have many variations of a document, but the table columns are not always the same for each variation.
To get started, users of Vantage can access the FREE online training and certifications courses.
New supply chain document skills
No release of Vantage is complete without introducing a new set of pre-trained machine learning (ML) models delivered as document skills. In Vantage v2.1 we've added new out-of-the-box, production-ready skills for several documents that are common in supply chain.
Those include:
A new set of framework skills for processing tax documents including 1098 and 1099 (DIV, G, MISC, INT, NEC, and R) are available in the ABBYY Marketplace for users to try out.
What's important to point out about the trained skills is that these document skill models can be further trained by users based on their own customer documents. The power of continuously collecting documents and data and retraining the model is built into the Vantage human-in-the-loop capabilities. Once you publish a skill(s) into production and enable online learning, every time a human operator validates exceptions or makes corrections, that information is stored and used to update the learning model. Eventually, your document processes achieve a higher degree of accuracy and straight through processing.
ABBYY Marketplace growing momentum
We first launched the marketplace in August 2021, and since then, 30 more assets have been added by ABBYY and our partners. New assets include pre-trained skills, connectors, and solutions that are simple-to-use and accelerate the deployment of IDP projects. Expect this marketplace to lead the way into the future on how enterprises will want to start every document automation project.
For ABBYY partners, the marketplace is open for your contributions. ABBYY partners like oAppNet, WizeTREND, User Friendly Consulting, Incture, Jobes Technology, and several others are contributing regularly.
Technology alliance partners like Pipefy, Toca, NICE, and Cognigy have developed connectors to their applications as well. In the marketplace, we have added a way for registered users to comment on your assets, search for solutions that match their needs, and inquiry directly with partners about your assets.
Calling ISVs and Partners: Upskill Your Business Solutions to Intelligently Process Documents
Advancing document skills training for the developer
In this release, we have something for every type of user, including the skilled expert who understands the fine art of machine learning, natural language processing (NLP), and named entity recognition (NER). We are pleased to introduce the new Vantage Advanced Skill Designer (available in controlled release), a point-and-click design studio that opens the door to building out the processing pipeline of a trained document skill model.
The Advanced Skill Designer includes a set of activities for parsing address fields, training NLP for segmentation, or leveraging trained NER to extract entities like names, address, business, dates, and currency. An activity for defining data extraction for edge case document variations that machine learning is unable to pick up at a high degree of accuracy is also possible for a skilled user to create rules.
All this means that no document is too challenging for Vantage to solve. If you have the human skill set, the new advanced designer will give you the tools to show off your expert skills and further developed trained document skills for your business groups.
Building out the delivery of a Cloud native platform with flexibility
Native Cloud and all the buzzwords associated with the next wave of automation platforms can be mind-numbing for a business user, but have special meaning to the IT architect. To the IT architect team, the platform design is key to any purchase decision. The IT team wants to know they are not locking into any delivery model or working with a platform that is closed off and difficult to integrate with all their other cloud native apps.
Not to worry, Vantage was built from the very beginning around microservices and containerization. This modern technology approach gives the flexibility for enterprises to choose how or where they want to run their platform. Furthermore, IT architects can be rest assured they don't need to learn some new deployment model when in fact what is being delivered can fit into their standard operating procedures.
Today, organizations are looking for both enterprise software as a service (SaaS) to on-premise deployment models that are not going to turn things upside down and will fit into the new delivery modes that they are adopting. That is why in the v2.1.1 (due out end of December) we are making Vantage deployable in on-premise environments using Red Hat® OpenShift®.
Get started today!
As you can see, ABBYY has accomplished a lot since August 2021. Going into 2022, expect to see much more innovation, with our release cadence being once a quarter. We will continue to focus on advancing our core AI technology while lowering the cost of implementation by focusing on delivering the best low-code / no-code IDP platform.
If you have a trial of Vantage in the Cloud today, you already have access to all these incredible capabilities. If you are just learning about Vantage now and have a project in mind, contact us today for a personalized meeting and demo and then get started with your trial.
Subscribe for blog updates
Your subscription was successful! Kindly check your mailbox and confirm your subscription. If you don't see the email within a few minutes, check the spam/junk folder.
Your subscription was successful!