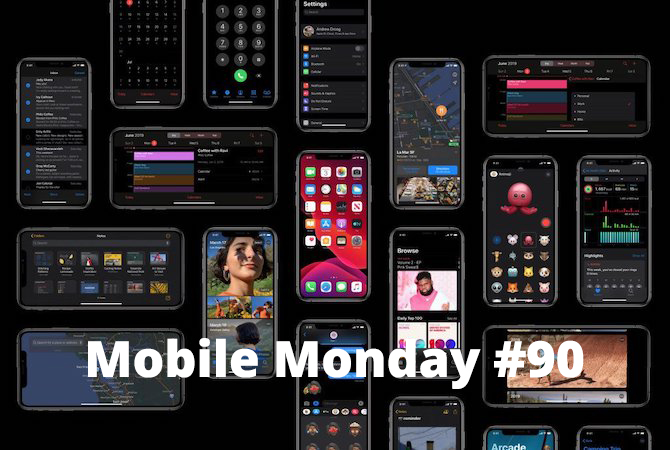 With each new version of iOS, users around the globe have to familiarize themselves with many new exciting features. This is particularly true for iOS 13, the biggest update in years. We provide an overview of the most important additions.
Dark Mode
Dark Mode is a long-awaited option that allows you to use your phone comfortably in the dark without being blinded by the glaring bright themes. Apple's own apps and many third-party apps like Facebook Messenger, for instance, already support the new mode. Switching your phone to Dark Mode gives the operating system a completely new look and feel, which you may find a tad unusual at first. To select Dark Mode, tap Settings > Display & Brightness. You will also be prompted to choose this mode when you first turn on your iPhone after updating to iOS 13. You can set up your phone to transition between light and dark automatically by specifying a custom schedule or by choosing the Sunset to Sunrise option.
New Emoji Button
Owners of bezelless phones, rejoice! There is now a dedicated emoji key on the keyboard, so you won't have to switch between languages in order to add an emoji to your message.
Revamped Files App
The Files app was first introduced in iOS 12 and was so ridiculously inept that many users opted for third-party alternatives instead. In iOS 13, however, Apple has overhauled the Files app, adding lots of new capabilities. Among other things, you will now be able to zip and unzip files directly in the app, and access files stored on external SD cards and USB drives (a special adapter is required).
Download Manager
Now you can download files in Safari just like you do on a desktop or laptop computer. There's no limit on the size of downloaded files. By default, downloads will be stored in iCloud to save space, but you can also specify a local folder on your phone.
Safari itself has also received a face lift. The browser now sports new sleek buttons and allows you to set up viewing and reading modes separately for each website you visit.
Wi-Fi and Bluetooth Settings
The Wi-Fi and Bluetooth settings can be accessed directly from Control Center, but you need to know where and how to tap. In Control Center, long-press in the middle of the Wi-Fi/Bluetooth widget and then long-press the Wi-Fi or the Bluetooth icon. A new window will open and the corresponding settings button will appear at the bottom of that window.
Shortcuts
The Shortcuts app has been redesigned and can now be used to control smart home gadgets, launch routines on your phone, and trigger various actions under certain conditions (e.g. when you come home). We were so much impressed by these new automation capabilities that we integrated Shortcuts into FineScanner and Business Card Reader.
Gestures
Until recently, gestures have been available exclusively on iPads. With the release of iOS 13, iPhone users will also be able to play around with use gestures.
Swiping left with three fingers put together will undo the latest action—you no longer need to shake your phone to  recover a deleted fragment. Conversely, a three-finger swipe to the right will redo the latest undone action. To copy a selected text fragment, select it and pinch up with three fingers. To paste text from the clipboard, pinch out (i.e. expand) three fingers on the screen. To bring up the clipboard menu, simply tap and hold on the screen with three fingers. Our verdict: quite convenient, but takes some getting used to. (These gestures will also work on the iPhone SE, but not as smoothly as on the newer models.)
Photos and Videos
Apple has greatly expanded the photo and video editing capabilities offered by its iOS, so that a majority of users will most likely not need any third-party software to edit their multimedia content.
While viewing photos or videos, tap Edit to bring up the editing tools. For videos, iOS 13 now offers crop, exposure correction, filters, and perspective adjustment. You can also flip a video or change its aspect ratio.
The same filters are available for photos as for videos. There are also fourteen different adjustments to correct brilliance, saturation, vibrance, and other photo parameters.
You no longer need a battery of third-party apps for editing your photos prior to posting them on Instagram. The built-in Photos app has learnt lots of new tricks. The photo editor shares its effects with the video editor (but, naturally, not the trim tool). Straightening horizonal perspective, for example, has become a matter of seconds.
The Photos tab now uses machine learning to hide duplicates and screenshots, so that you can see only your best shots. You can also easily sort your photos and videos by day, month, and year. Videos and Live Photos will play automatically as you scroll and the media library itself has become much more responsive.
A new portrait lighting effect called "High Key Light Mono" has been added . You can also change the portrait lighting as if by moving the light source closer or further away from the subject.
Swipe to Type
Swipe-typing is currently only available for the English keyboard. Simply trace the necessary keys without lifting your finger. We tried this method and were quite pleased with the results. Expect the feature to be added for other languages soon.
Updated Reminders App
On the whole, the standard Reminders app did what it said on the tin, but it needed some updating badly. Luckily, Apple realized this and has seriously overhauled the app. The main screen is now divided into four sections—Today, Scheduled, All, and Flagged. When typing in a reminder, a toolbar will appear above the keyboard with shortcuts that let you quickly create geo-tagged reminders (these will pop up when you get into a car or arrive at a specific location), flagged reminders, or reminders for specific time spans (e.g. today, tomorrow, this weekend).
Siri will now monitor your plans and offer reminders based on your chats in Messages. Generally, the Reminders app will try and make sure that you don't forget a thing. For example, if you create a note to buy yourself a pint of milk tomorrow, the app will remember this and prompt you to create a similar note in two days' time.
Multiple reminders can be grouped together with a simple drag-and-drop. A to-do item that you drag and drop on another item will be added as a subtask. This may be useful when creating shopping lists, for example. Lists can be created in different colors and marked with various icons. You can even add images to your tasks!
Karaoke Machine
In the Apple Music app, the lyrics now scroll in sync with the music. This may seem a small thing, but it is a nice touch nonetheless.
Find My
The Find My iPhone and Find My Friends apps have been fused into one powerful tool that you can use to track down a missing device or share your location with your family and friends. If someone sends you an invitation from Find My on their device, you will be able to see their current location under their name and create a route to get there. You can also set up Find My to notify you when a person's location changes.
Naturally, you will still be able to try and find your lost phone or erase your data remotely. Most importantly, now you can attempt to locate a missing device even if it is offline or in sleeping mode or has no SIM card installed. Your missing iPhone will be sending out a specially encrypted Bluetooth signal that can be picked up by another nearby Apple device and relayed to you. This should greatly improve your chances of finding a stolen or misplaced phone. Is that cool or what?
There's a lot more new features in iOS 13—we have described just a few that we think you would like to try first.
And you, have you already updated to iOS 13?
Subscribe to our newsletter
Enter email and get FineReader PDF Mobile with 1 month premium for free!
Your subscription was successful! Kindly check your mailbox and confirm your subscription. If you don't see the email within a few minutes, check the spam/junk folder.
Your subscription was successful!