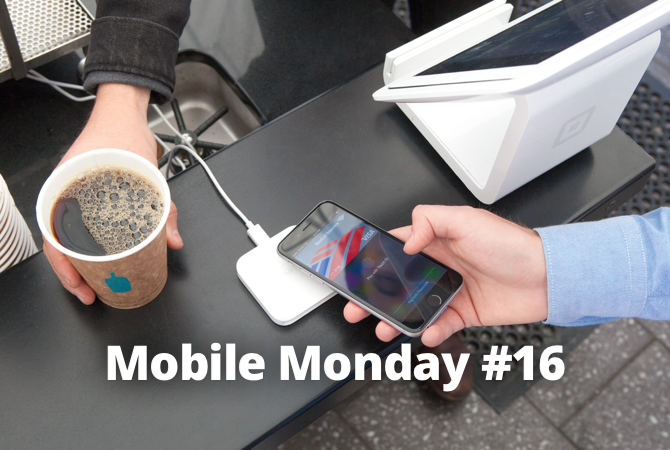 Dreaming of finally being able to leave cash at home? Then Apple Pay and Android Pay is the right choice for you! Also in the news: OCR languages in BCR and editing photos on your phone like a professional.
iOS Tip: How to Use Apple Pay
Let's start with compatibility. Apple Pay is supported by iPhone 6, iPhone SE, and newer models, as well as by Apple Watch. Apple's high-tech wearable also allows you to pay with iPhone 5 and 5S.
So how do you go about paying with a smartphone? All you need is just to take these three simple steps: choose a bank card in the app, rest your finger on Touch ID, and hold the top of your iPhone near a reader screen. With Apple Watch, double-press the power button to pay without any additional authorization. Neither Apple Pay nor third-party services charge commission, which is nice.
All your bank cards are stored in Wallet. The system automatically adds cards that are associated with your iTunes account and allows you to add a few extra debit or credit cards. You can enter data both manually and automatically — simply take a picture of your card and all the relevant info will be recognized in no time. To pay with Apple Watch, enter the card info in the Watch app that is located in the Wallet and Apple Pay section. It is worth mentioning that the wearable also allows you to pay with different bank cards.
Let's see how to add a card to Wallet:
Go to Wallet and tap +.
Scan a card with your camera. If you're asked to add the card that you use with iTunes or different cards, choose them, then enter the card security codes.
Tap Next. Your bank will verify your information and decide if you can use your card with Apple Pay. If your bank needs more information to verify your card, it'll ask you for it. When you have the information, go back to Wallet and tap your card.
After your bank verifies your card, tap Next. Then start using Apple Pay.
Still not clear? Watch this demo. As of now, Apple Pay is supported by the following banks and partners.
Android Tip: How to Use Google Pay
Android Pay has been working for more than two years now and Android users are pleased with how practical it is. The payment system can be configured on devices with an NFC chip that run on Android KitKat (4.4) or newer—that would be Lollipop (5.0, 5.1), Marshmallow (6.0), Nougat (7.0, 7.1), Oreo (8.0, 8.1) and Pie (9). Yet, there are a few important reservations: your phone should have an official firmware installed, the device should not be rooted, and bootloader should not be unlocked. These actions are generally performed while changing a firmware.
To use Google Pay, download it from Google Play. When you first launch the app, it suggests that you add a card. To do this, place a card in view of the camera so that the service could read its number and its expiration date or enter this info manually. You will also need a CVV code from the back side of the card and a user's address. While connecting the card to the service, your bank will send you a verification code to confirm the operation. If you already have cards added to your Google account (for example, the cards that you pay with in Google Play), Google Pay will suggest using one of them. To add a card to the app, simply enter a CVV code—it's this simple.
To pay with Google Pay, unlock the device and hold it near a reader screen for several seconds. If the operation is successful, the device will show the message and the card that was used. How do you know whether a payment terminal supports contactless payments? Simply look for the following signs:
If you have added several cards, select one of them to be used by default. To pay with a different card, simply select it in the app before the payment. You will be able to mark it as the default one at any time.
Google Pay is currently supported by the following banks.
We believe that Samsung Pay is also worth mentioning. Apart from a built-in NFC chip, it also features a proprietary MST feature which stands for Magnetic Secure Transmission. It allows you to use your Samsung with virtually any terminal that accepts bank cards. Samsung devices that are compatible with Samsung Pay and support MST produce magnetic field that is similar to the one of a bank card's magnetic stripe. Even shop assistants may not be aware that this is possible, but it works.
Here's a list of banks that support Samsung Pay.
ABBYY Tip: How to Support Languages in Business Card Reader
People are constantly asking us about the number of languages supported in Business Card Reader. At the moment, BCR recognizes 25 most spoken languages. We'll try to explain why the app supports less languages that other ABBYY solutions and why it is still quite impressive.
All language libraries for BCR are developed by so-called onto engineers, text and image processing specialists, and machine learning specialists. The whole process for one language takes hundreds of man-hours. To support these libraries, we need to add words that fall into different groups. For example, a street may appear on a business card as "Street" or "St." and a boulevard may be printed as "Boulevard" or "Blvd.", which definitely doesn't make it easy. On top of that, we need to update our recognition engine, train it to both recognize a language and work on a mobile device with the limited memory. And that's the way we work with every language.
European languages are a bit easier to work with as most of them use Latin alphabet. But Hebrew, Arabic or Vietnamese, for example, are a whole different story. The process of their incorporation may be two or three times longer. While deciding to add a language, we need to be sure that it will be used by a large number of people and companies.
By the way, if you want to help us compiling libraries for BCR, drop us an email at mobile@abbyy.com and we will definitely get back to you.
App of the Week: VSCOCam
In the age of Instagram, Tumblr, and Facebook, mobile photography becomes essential. The market of photo apps is oversaturated, but still it lacks truly user-friendly and intuitive solutions designed specifically for the creative industry. VSCOCam, we believe, is one of the best in photo processing.
There is more to VSCOCam than just taking and editing photos—it is like a private Instagram. It allows you to take brilliant photos and fine-tune them, it also features a weekly selection of the best photos and other exciting perks. The app is divided into several tabs: Camera (to take photos), Library (to view all photos), Store (to buy filters), Discover (to discover the latest VSCO news and photos), Profile (your profile), and Settings (well, it speaks for itself).
VSCOCam has features abound. It enables you to take photos using Camera Grid, allows you to fine-tune the white-balance, contrast, and filters, and many more. By the way, the app has both paid-for and free filters. For those who wish to be Instagram wizards, a collection of free filters is more than enough. To stand out even more, opt for paid-for ones, it will cost you $1 to $15.
The app is available on iOS and Android.
First-Hand Experience: Advice From a Colleague
Shared by Catherine Kharchenko, presale specialist
Have you ever thought of writing a poem? Do you consider yourself a creative personality? In any case, even if it never crossed your mind it is never late to give it a try and discover something new. I've noticed that a person might not take interest in poetry or prose because they haven't found something that agrees with them. School is filled with classical literature but it doesn't mean teenagers love it.
Therefore, if you want to give poetry a go, find a poem that triggers emotions and try to feel each and every word of it. Looking for a poem will be your first step. But where do you find one? Poetry of the silver age, good rap or LiveJournal blogs will do the trick. For those who fancy reading poems in Russian, here's a nice website with contemporary Russian poetry. You can also try looking for poetry contests on the Web.
When you start learning poems by heart, they will become your second nature. Now the time has come for the second step: express your emotions through a poem. Even if a rhyme or rhythm is simple, don't worry, this is not of vital importance now.
See? You are getting better! Now it's time to express your thoughts, images, and feelings with words. Step three: express yourself.
Take some me-time: gaze at the city lights or grab a cup of morning coffee.
Think about what worries you and what you've been longing to share.
Write as if no one will see, because, let's face it, its only up to you to share or not.
Love, grieve, laugh, feel those words. Because all of it is a part of you and only you.
And it doesn't matter what you will come up with—clumsy phrases, a story, a confession—if you try, you may find yourself in it.
That's all for today, guys. See you in the same place, at the same time. 
Subscribe to our newsletter
Enter email and get FineReader PDF Mobile with 1 month premium for free!
Your subscription was successful! Kindly check your mailbox and confirm your subscription. If you don't see the email within a few minutes, check the spam/junk folder.
Your subscription was successful!