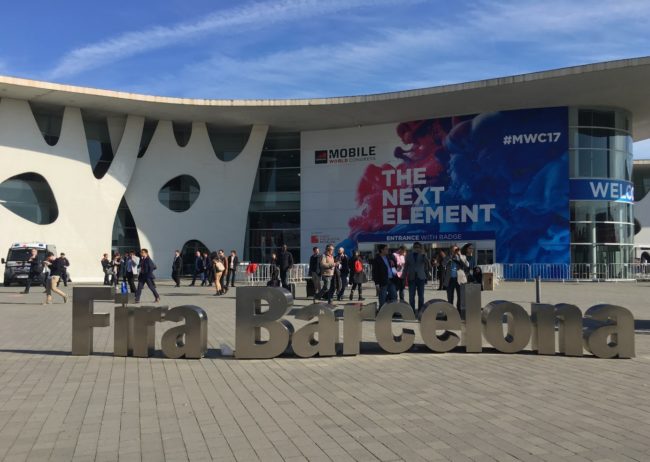 Mobile World Congress, held annually in Barcelona in late February – early March, is one of the biggest and most spectacular international tech events. As mobile technologies made their way into every aspect of our lives, MWC evolved from a mobile industry event into an exhibition with a much wider scope, where leading technology companies show off their latest products and users, developers, salespeople and advertisers gather to get a glimpse of the future. MWC is a must-go event if you want to be among the first to see technologies that will soon be changing the way we live, and meet developers, investors, entrepreneurs, clients, partners and tech-obsessed people from every corner of the globe.
This year, our PR manager Catherine Matantseva attended the event, and we asked her to share her thoughts on this year's event and tell us about its major trends.
"My mission at MWC this year was to meet with international journalists and show them a new technology within one of our OCR apps. I can't tell you about it in more detail right now because the technology is still in development, but we are about to announce it very soon, so stay tuned.
I met with media representatives from the UK, US, France, Spain, Italy, Japan, the Netherlands, Greece and Poland, but also took some time to examine the impressive halls, pavilions, stands and booths, try out the newest gadgets and tune in to the latest trends.
The media has already covered all the smartphones, tablets, smartwatches and other gadgets that were displayed at MWC, so instead of rehashing the news that is readily available from other sources, I would like to talk about trends that will be critical to businesses in the near future.
Customer experience
The market is ruled by customers who are bombarded with information on a daily basis. If you want to get them to notice your brand, you have to create powerful and unique personalized experiences for them. This is very hard to do: when customers interact with brands and products, every little detail affects their experience and every mistake you make has lasting implications. On top of that, human emotions are quite hard to measure or rather very little progress has been made in this direction. However, ignoring the customer experience trend is not an option, so brands commit their creative talent and resources to evoking our feelings and making our hearts beat faster. This can mean creating a futuristic experience or a nostalgic one, but the overarching goal is always to elicit positive emotions.
On the nostalgia front, the definite winner was Nokia, who took us back to the early 2000s with their updated Nokia 3310. The reboot created more hype than all the new releases put together with attendees lining up to play Snake on it. The updated Indestructable 3310 will become available in the second quarter of 2017 at a price of around $50.
Virtual Reality (VR) and Augmented Reality (AR)
In addition to their obvious potential for creating unforgettable experiences, virtual and augmented reality have become stable trends that are slowly working their way into our daily lives. One indication of this was the huge queue of people who lined up in front of Samsung's stand. The Korean giant decided to hold off the much-anticipated announcement of its next flagship smartphone, but presented the new Galaxy Tab S3 and five versions of Samsung Gear VR Experience. Those with enough patience to make it to the front of the line were invited to put on a headset and participate in a space race, pilot an airplane and take a look at the human body from the inside.
Artificial Intelligence (AI)
AI-powered virtual assistants, big data and machine learning have been in the news a lot over the last several years, and for good reason: AI is set to become the driving force behind technological progress, with analysts predicting a major breakthrough in big data and a three-fold increase in investment in AI this year. It is safe to say that companies who will be able to create and sell these technologies are bound to pull ahead of the competition.
For instance, at their MWC press event, Motorola announced that Alexa (Amazon's virtual assistant) is going to be embedded natively into the majority of their smartphones and their new snap-on mod coming out later this year. With AI integrated into everything from robots to drones to cars (both autonomous and non-autonomous), Motorola is far from being an exception. IBM even managed to hint at applications in fashion with their Cognitive Dress, which combined AI, user experience and show: visitors had their social media analyzed by Watson (IBM's AI-powered cognitive system), causing the dress to light up in colors reflecting their mood and personality.
Internet of Things (IoT)
There were plenty of interesting exhibits in the internet of things category, from large-scale city infrastructure projects to user-oriented devices like smart cars and smart clothes. Korea Telecom partnered up with clothing manufacturer Kolon to design the jacket on the photo below, which senses the wearer's movements and notifies their contacts in case of emergency. It is also equipped with LED lights and acoustic sensors to help rescuers locate the wearer.
The first place in MWC's Mobile IoT Innovators Showcase went to Veolia with their solution utilizing smart containers to make the collection, transportation and processing of urban waste much safer and more efficient.
Cloud
Cloud-based solutions already form the backbone of a wide variety of business processes in many companies and this trend shows no signs of slowing down. Huawei delivered an especially compelling demonstration of its 'full cloud' model, showcasing a grand total of seven brand-new products.
Digital transformation
Digital transformation was the dominating topic in B2B. Exhibitors in this segment spared no expense to create some truly impressive stands that wooed potential clients with promises of speed, efficiency and painless transition. Discussions about the need for digital transformation are a thing of the past: the exponential benefits of a successful transformation are a generally excepted fact, and the association between the failure to transform and stagnation into irrelevancy has become thoroughly entrenched in people's minds.
Security
In a world where billions of remotely controllable devices are interacted, mind-boggling quantities of data are stored in the cloud, and the capabilities of AI grow with each passing day, digital security is paramount. With security analysts predicting that software vulnerabilities will soon be bringing down whole companies and threatening government infrastructure, the general consensus at MWC was that investment in this segment will grow while trust and data security will become primary concerns for users and businesses alike.
Everything I mentioned here is, of course, just a small part of MWC. I could go on and on about 5G, robots, drones and a whole lot of other interesting things. In fact, the constantly growing scale of MWC is a reflection of the rate at which technology is changing our existence. Even after hearing quite a few well-reasoned arguments to the contrary, I remain confident that this change is for the better.
These discussions about the future are one of the reasons to come to Barcelona, as MWC is not only about tech, it is all about people – passionate, talented, absolutely unstoppable.
Subscribe to our newsletter
Enter email and get FineReader PDF Mobile with 1 month premium for free!
Your subscription was successful! Kindly check your mailbox and confirm your subscription. If you don't see the email within a few minutes, check the spam/junk folder.
Your subscription was successful!