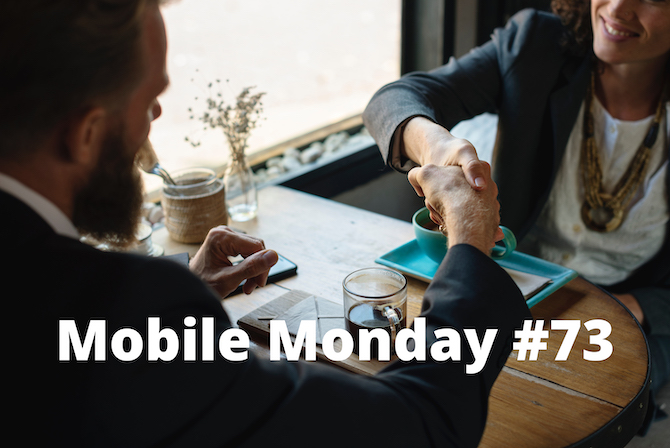 Editorial note: FineReader PDF Mobile for Android, Business Card Reader for Android, and Text Grabber for Android & iOS have been discontinued since September 2023. You can learn more about that here.
---
Sometimes you need to put your phone call on hold. Today, we'll tell you how to pause calls without ending them. We'll also show you how to turn Business Card Reader into a contact-managing hivemind and do some memory training.
iOS Tip: Placing a Call on Hold
Back in the day, most phones had a "place call on hold" button, which was removed from iOS 7. Today you might think that calls can no longer be put on hold, but the reality is that people just don't know such an option still exists. We will be showing you where to find it and also tell you about a couple of features you might not have been aware of.
For starters, we need to either dial a number or receive a call.
The picture above is what you usually see. If you need to pause your call, you normally tap the mute button, and the person on the other end has his speaker go silent until you unmute your phone. But if you keep holding the mute button for 5 seconds, the call will actually be placed on hold.
The person on the other end will hear something like "your call has been placed on hold, please wait" or some piped music, depending on your carrier.
You will then see a message that says "HOLD".
Note however, that you will still be charged normally for the time your call was on hold.
Some additional features become available when you place a call on hold.
Tapping the plus icon while you have a call on hold lets you dial another number. This may be useful when you need to keep two people on the line.
Now you can either start a conference call by tapping merge calls or switch between your calls by tapping swap.
Android Tip: Placing a Call on Hold
For Android phones, there are as many ways to place a call on hold as there are phones.
Look for a pause symbol or a Hold button. This feature can sometimes be found in the overflow menu that is accessed by tapping the More options icon (the three vertical dots).
You can also start conference calls just like on an iPhone (if your phone supports this feature). To do this, place the call on hold and tap either Add call or plus icon, followed by Merge.
ABBYY Tip: Joint Use of Business Card Collections
Did you know that Business Card Reader can be set up to be used jointly with your colleagues? All you and your colleagues need to do is log in to the same ABBYY Cloud account, where you can access your existing business cards and add new ones. Importantly, BCR is a cross-platform application and can be used on many different devices. You can also manage your business cards from a desktop or laptop computer with the help of BCR Web. Read more about it here.
Business Card Reader is also an excellent tool that company directors  may use to tap into the information gathered by their managers when negotiating contracts, generating leads from trade shows, etc.
For example, a manager can make new contacts at a trade show or business conference, describing the proposed deal in the comment section. The director can then log in to that manager's shared BCR account, choose the best offers, and forward the contact details to the appropriate department — all in a couple of taps.
Contacts can be e-mailed either straight from the app or from BCR Web. The app will automatically attach all the relevant information, including the comment section containing the costs, timeframes, terms, conditions, etc.
Contacts that you or your colleagues have found to be unreliable can be placed into a separate group so that you all know who is not worth contacting in the future.
Similarly, you can create a group for good business partners. This way, you can be sure that no impoartant contacts will ever be lost .
Download Business Card Reader and make your business contacts work for you.
App of the Week: Memorado
In this day and age, people don't use their memories as mush as they used to. Instead, they use smartphones for writing down memos and have and Google anything they need or want to know. Like it or not, we are living in a digital age. On the other hand, you can now use your smartphone to develop your memory and cognitive ability.
Try Memorado,  a tool that helps you train your cognitive skills, logic, attention span, and, of course, your memory. The training takes the form of games and audio sessions that last 5-10 minutes. Just don't  overdo it and tire your brain out. You can alternate between the different exercise types and then finish off with a relaxing audio lecture.
Our favourite part of the app is the statistics. As you complete different exercises, you can track what you are good at and what you need to improve on. There is also a competitive side to the app, as it allows you to compare your results to those of other users.
You can train your memory on either iOS or Android.
That's all, folks, see you next time!
P.S. You can find the previous issue of this newsletter here.
Subscribe to our newsletter
Enter email and get FineReader PDF Mobile with 1 month premium for free!
Your subscription was successful! Kindly check your mailbox and confirm your subscription. If you don't see the email within a few minutes, check the spam/junk folder.
Your subscription was successful!