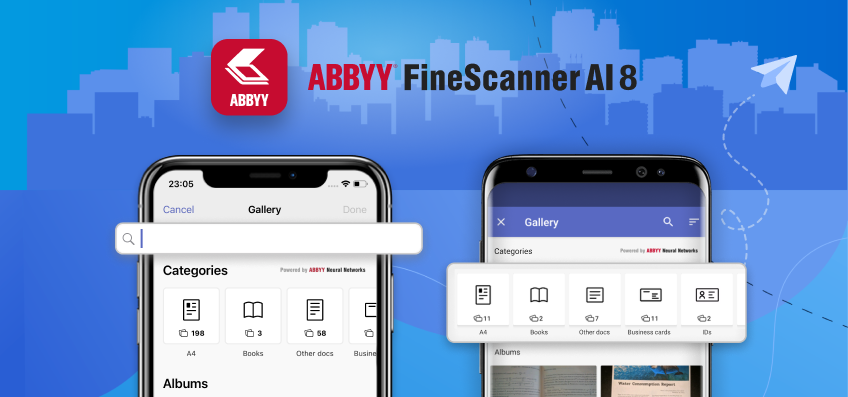 Editorial note: FineReader PDF Mobile for Android, Business Card Reader for Android, and Text Grabber for Android & iOS have been discontinued since September 2023. You can learn more about that here.
---
We are proud to present the newest generation of mobile scanners from ABBYY Mobile – FineScanner AI 8. Now, FineScanner will not only scan and store your documents but will also become your personal smartphone archivist. FineScanner can now automatically sort all of your photos into seven different document types, help you find specific photos using the search feature, and precisely measure your documents' size using augmented reality.
A new generation of smart galleries
Our first-generation AI gallery automatically scanned your smartphone's photo archive for documents with text. This meant that FineScanner could quickly single out your most important documents among a mix of your photos of cats and sunsets, letting you concentrate on your work without any distractions. However, this was only the beginning, and now the time has come for the biggest FineScanner update yet.
FineScanner 8.0 comes with a new and improved smart gallery. Have a look at the following video to see the updated version in action:
Let's look in greater detail at what this update has in store for you. The latest FineScanner version boasts its own open-source machine learning library called ABBYY NeoML. Thanks to neural networking, FineScanner is now able to automatically sort the photos in your gallery into the following 7 document types:
A4
Books
Business cards
ID's
Handwritten
Receipts
Other
Having your documents in ideal order ensures a seamless work process. The latest update will not only let FineScanner detect photos with text but will also classify them into different types. This means that you will be able to find the correct picture without having to scroll extensively through your gallery. Whether at home or at the office, FineScanner will act as your personal archivist and automatically sort your photos into different folders for you.
Sections for the various document formats will be displayed at the top of the Gallery screen.
"Training" our neural network involved studying tens of thousands of photographs provided by a multitude of ABBYY employees. Artificial intelligence, like any diligent student, requires a wealth of knowledge to learn from. As part of this process, ABBYY developers meticulously marked out each provided photo by hand. This was how the AI was "taught" the difference between books and A4 documents, business cards and ID's, and so on. We decided to implement seven distinct sections for the most popular document types uploaded to FineScanner. This data was obtained by means of a questionnaire answered by our users.
According to testing results, the accuracy of classification is approximately 90 – 95%. But it depends on the quality of photos in your gallery.
Find photos using text search
Moreover, we want you to be able to find the photos that you need even quicker than you are able to at present. To accomplish this, we have implemented a unique text search feature. Now, all you have to do is input some text from the appropriate photo into the search bar and FineScanner will find that photo. This means that as long as you remember the text on your photo, you won't even have to scroll through your gallery — simply enter the text into the search bar and FineScanner will display the search results and highlight the detected keywords.
Simply begin typing your search phrase into the bar at the top of the Gallery screen. You can also search through documents from a specific category (e.g. A4) by navigating to the appropriate document category folder and searching there. Doing so will restrict your search to that specific document type.
Activating the new smart gallery and the search feature
And now for some technical details – let's have a look at how it all actually works. Once you have updated FineScanner, you need to activate the smart gallery and text search features.
1) When launching FineScanner for the first time after the update, click "Try" on the onboarding screen. This will initialize the sorting and recognition process for the photos in your gallery.
2) Alternatively, if you've already skipped through the onboarding screen, navigate to the FineScanner camera and tap the gallery button in the lower right corner. Once in the Gallery screen, clicking "Try" will begin sorting your photos and will also activate the search feature.
FineScanner needs to recognize the text on your gallery photos in advance in order to immediately display the results for later searches. This process is completely confidential and localized to your smartphone — no data will be sent online whatsoever, so rest assured your data is secure. However, first-time recognition will take a little bit of time. All in all, FineScanner will require anywhere from 5 to 20 minutes to sort and recognize your whole gallery (depending on your device hardware and number of photos).
It is imperative that you select the correct recognition languages in order for the text search feature to work properly. You can select up to three languages at a time. To select the appropriate languages, do the following:
1) Navigate to "Settings" in FineScanner;
2) Open the "Smart Gallery" section;
3) Tap the "Choose up to 3 recognition languages" button;
4) Select the appropriate languages;
5) Tap "Apply".
We have good news for you regardless of your device platform — FineScanner 8.0 is available on both iOS and Android on the same day.
Measuring document size using augmented reality on iOS devices
We also have a little surprise for our Apple users. According to our research, more than half of all FineScanner users send the documents they create to their e-mail or messenger apps, which they do by either saving the documents on their PC or by printing them out. In previous FineScanner versions, printing a document straight from the app would stretch out the image over the entire page, which was just not good enough. In the new iOS version of FineScanner, we've added a feature that allows you to measure the size of your documents using augmented reality. This tool will let you determine the size of your particular document (e.g. passport, driver's license, business card) in order to correctly scale the document onto your printing paper. Now you won't have any distortion issues when printing your documents directly from FineScanner.
To measure your document using augmented reality, do the following:
1) On the "My Documents" screen, swipe left on the appropriate document and open "Properties";
2) Select "Paper size";
3) Tap "Measure in AR";
4) Follow the instructions on your screen.
If the size of your document corresponds to one of the standard sizes (e.g. A4 or driver's license), FineScanner will ask you whether you want to set the document to be treated as a document of that particular size. For documents of non-standard size, you can choose to save the detected size for later use. To do so, tap the detected document measurements and switch "Save to list" to "On". Once that is done, specify a name for your new format, for example, "Flyer".
The sooner you update your FineScanner app, the sooner you'll be able to try out all of these new features! We look forward to reading your feedback and requests on the application page in both the App Store and Google Play.
ABBYY FineScanner AI is a mobile scanner application that uses AI to create PDF and JPEG files of your scanned documents. The application can recognize text in 193 different languages and create files in 12 different formats, preserving the formatting of your original text. When offline, you can still detect text in 63 languages and convert it to TXT format. Usually, photographs of documents made using regular smartphone cameras end up with poor focus, contrast, and perspective. FineScanner significantly improves the quality of your photos and turns them into ideal scans by removing unnecessary backgrounds (like desks or tables), fixing perspective, shaping the image into a rectangle, and applying sharpness and contrast filters. To make working with your documents easier, you can also leave comments and highlight text on the image itself directly in FineScanner using the "PDF Tools" feature (only available in the iOS version). Once you are done, don't forget to add a "Siri Shortcut" to your document so that you can open it by voice command (only available on iOS).
To learn more about key updates for other ABBYY mobile apps that have been implemented throughout 2020, have a look at this article.
Subscribe to our newsletter
Enter email and get FineReader PDF Mobile with 1 month premium for free!
Your subscription was successful! Kindly check your mailbox and confirm your subscription. If you don't see the email within a few minutes, check the spam/junk folder.
Your subscription was successful!