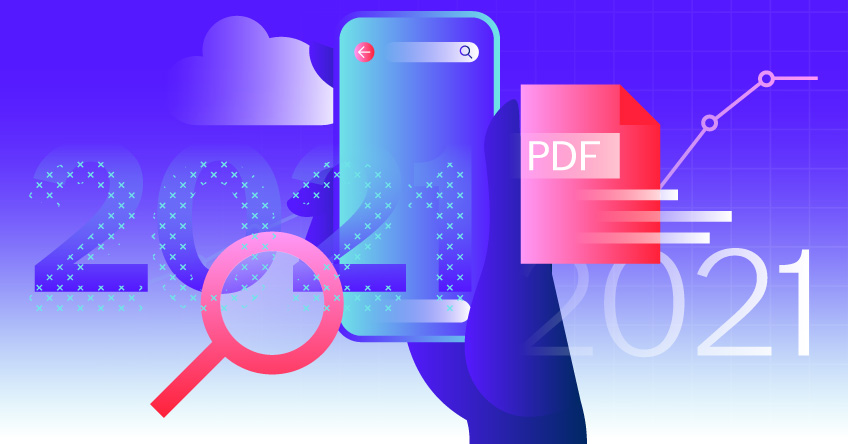 Editorial note: FineReader PDF Mobile for Android, Business Card Reader for Android, and Text Grabber for Android & iOS have been discontinued since September 2023. You can learn more about that here.
---
The year 2021 made us rethink how we live and work. In this new world of constant change and high levels of uncertainty, many of us have adapted to work remotely, shifting away from our regular 9-to-5 schedules. We have become a truly mobile society, with professionals requiring mobile tools to be able to work from anywhere, anytime. Mobile scanners are one such tool, and, unsurprisingly, 2021 has seen a rising demand for mobile scanning apps.
Well aware of this trend, ABBYY's Mobile Team has channelled its creative efforts into the development of the formerly known FineScanner now renamed FineReader PDF for Mobile, ABBYY's intelligent scanning app. Let's review the evolution of the app in 2021. This festive season, we are also offering a small gift to all our readers—you will find the download link at the end of this article.
Mobile scanner app revamp
In 2021, we introduced a number of important changes in FineScanner—the most important of them all is the metamorphosis into FineReader PDF for Mobile, which is more than just a name change, as we explain below.
The beginning of the year saw a major new release of the app for both iOS and Android platforms. The January 2021 release included a completely retrained neural network that is now capable of sorting document snapshots into seven categories:
A4 / US letter
Books
Business cards
IDs
Handwritten
Receipts
Other documents
As a result, only photos containing text now make it into the gallery, with each photo placed in its appropriate folder so that you can easily find what you need.
We also added text search capability, which allows you to search through the text on your photos. Simply type a string of text in the search bar (e.g. "Agreement"), and the app will instantly display all the photos containing your search query.
Augmented reality (AR) is entering our lives in a big way, so the January release for iOS included an AR document measuring tool. The tool allows you to determine the exact paper size on a photo in order to scale the document correctly for printing or when viewing it on larger screens.
For more information about FineScanner 8.0, please read this blog post.
In April 2021, FineScanner was integrated into the popular ABBYY FineReader PDF set of products and its name changed to FineReader PDF for Mobile. As the new name suggests, users of the mobile app can now easily transfer their scans to the Windows version of FineReader PDF running on their PCs. We are planning an even tighter integration between the mobile and desktop versions for seamless user experience.
To learn more about the integration of the two versions, read this blog post.
Later in the year, a number of important new features were announced by Apple at the 2021 Worldwide Developers Conference (WWDC 21), and we added support for those features to coincide with the release of iOS 15 and iPadOS 15. See our blog for a brief overview of the WWDC 21 announcements, or visit this page on Apple's website for further details.
As iOS 15 for iPhone now supports Drag & Drop, we also added Drag & Drop support in FineReader PDF for iPhone (at this time, the iPad version of the app had already received Drag & Drop support upon the release of iOS 11). Users can now drag-and-drop images and PDF documents from the Gallery or Files folders into FineReader PDF for Mobile. Likewise, users can move scans or recognized documents from FineReader PDF into any other app that supports Drag & Drop.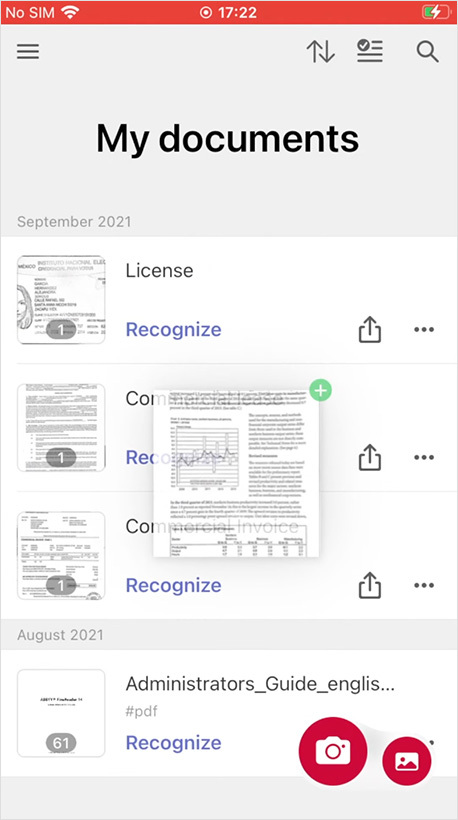 Keyboard shortcuts for FineReader PDF for iPad
Users of iPadOS 15 can now benefit from keyboard shortcuts—provided, of course, they have a keyboard attached to their iPad. FineReader PDF for iPad supports the following most frequently used key combinations:
cmd + up/down = Navigate documents on the My documents screen.
cmd + F = Find documents on the My documents screen based on their names or associated tags.
cmd + delete = Delete a document. To delete multiple documents, first select them and then press cmd + delete.
cmd + P = Print a document.
Other handy features introduced in 2021:
Ability to export multiple files at once in both FineReader PDF for iOS and Android versions
A quick access button that takes you from the My documents screen directly to the gallery on your iOS or Android device
Document sorting feature and custom naming templates in the FineReader PDF for iOS version
To learn more about these new features, see this blog post.
2021 in figures
In 2021, we conducted a global survey of ABBYY FineScanner users. We wanted to better understand the most popular features, usage scenarios, important purchase criteria, and where we have room for improvement. Here are some insights we found.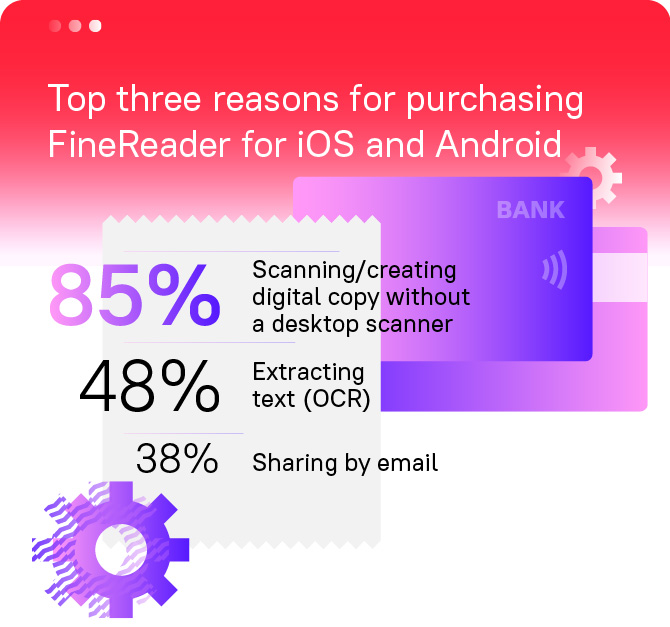 We asked you to let us know the top three reasons for purchasing FineReader PDF for iOS and Android. These are the top three answers: scanning/creating digital copy without a desktop scanner (85 percent), extracting text/optical character recognition (48 percent), and sharing by email (38 percent).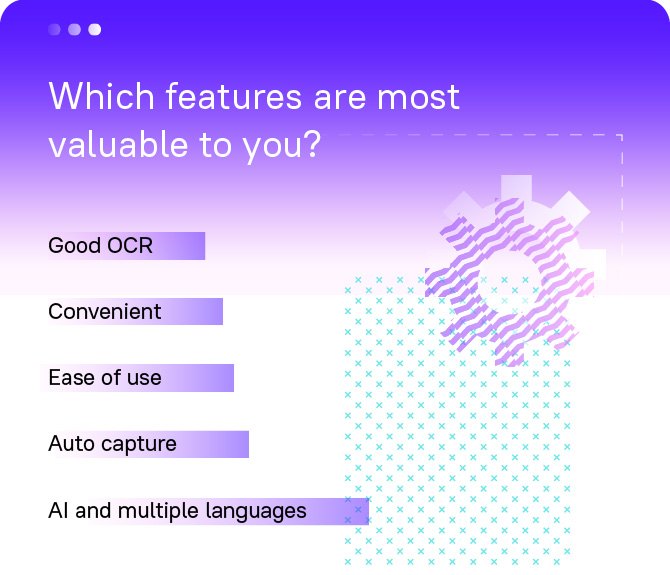 We asked you what, in your opinion, are the main advantages of using our mobile scanner. The top answers included good optical character recognition (OCR), convenience, ease of use, auto capture, and artificial intelligence (AI) and multiple languages.
Other notable statistics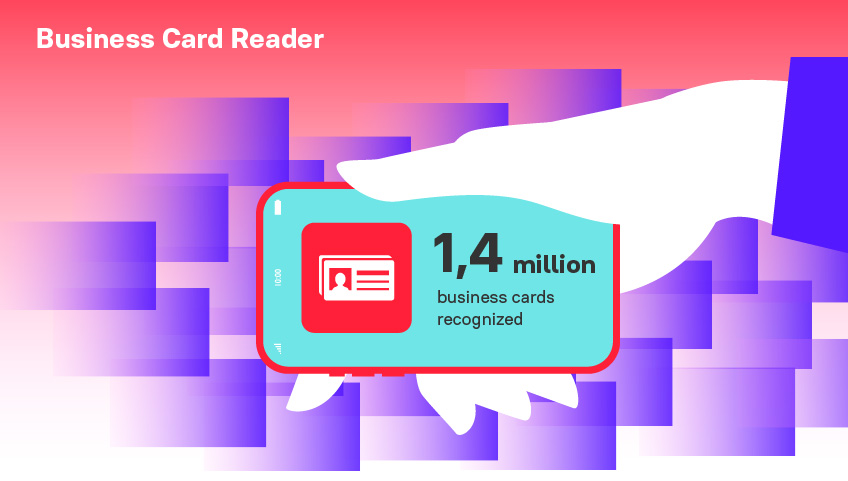 Scan and manage all your business cards and contacts in a flash. Over 1.4 million business cards have been recognized with ABBYY Business Card Reader.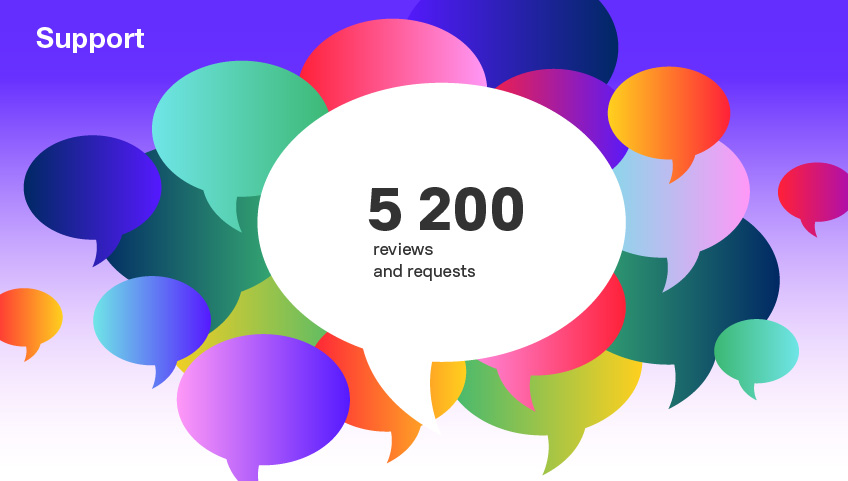 Providing excellent customer service is one of our core values, and the ABBYY Mobile Team appreciates your feedback. We are listening and have provided support to 5,200 reviews and requests.
Our gift to you
Thank you for reading this far. Below, you can find a gift code which gives you 3 months of free access to a Premium FineReader PDF for Mobile account. Just follow the four easy steps below to claim your free gift:
Install FineReader from the App Store or Google Play using this link: https://go.onelink.me/vZjj/bfab2d19
Open the app and tap the left sidebar
Tap the [More…] menu
Tap and hold a few seconds menu [About the application], until you are asked to enter a code
Enter this code: FRNY22
That's it! Now you can enjoy all of the premium features.
The gift code must be activated before January 31st, 2022.
We wish you a very happy 2022
Although 2021 has not been easy, this year made us think about the value of time and what is truly important, about our daily choices, and priorities that we should keep in focus.
We are very grateful to have you as our customer! We hope that our apps free you from routine tasks, so that you have more time to spend with your family and friends, to create new things, and to discover new inspirations.
See you in 2022!
ABBYY Mobile Team
Subscribe to our newsletter
Enter email and get FineReader PDF Mobile with 1 month premium for free!
Your subscription was successful! Kindly check your mailbox and confirm your subscription. If you don't see the email within a few minutes, check the spam/junk folder.
Your subscription was successful!