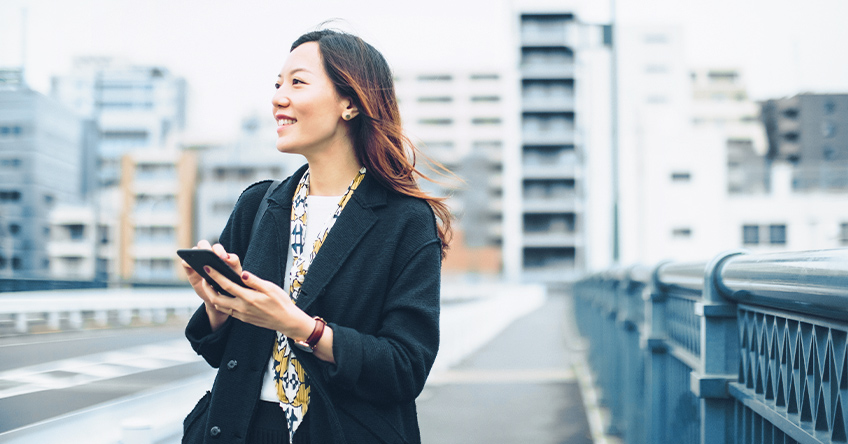 This summer, Apple's annual Worldwide Developers Conference was held entirely online for the second year running. Apple, however, has been able to make full use of the advantages offered by this format and treated its fans to a truly immersive experience. In this blog we're mostly interested in mobile tech, so here's a brief overview of the latest goodies from Apple.
iOS 15
FaceTime
Apple has invested a lot of effort into FaceTime to make video calls even closer to real-life conversations. With the new spatial audio technology, your friends' voices come exactly from where they are positioned on screen—you no longer need to constantly scan all the participants to see who is talking right now. Now that's cool!
Naturally, video calls are as much about picture as they are about sound, and Apple has something to offer in the visual department as well. Portrait mode, which first appeared in the Camera app, is now also available in FaceTime. This mode blurs your background, making you the focus of the image. Granted, a similar feature is available in many other video conferencing apps, but let's see what Apple has in store on this front.
There's also a new Grid view, which allows you so see all the participants at once, while new microphone algorithms will minimize background noise and spotlight your voice.
Another big feature is SharePlay, which can be used to watch videos and listen to music together with friends during FaceTime conversation. We're not quite sure if people will spend hours on FaceTime watching a long movie or listening to a music album together, but the very ability to share your screen with others is definitely a welcome new feature with lots of possible uses.  
The browser version of FaceTime will work across different platforms, so that users will be able to make calls between iOS, Android, and Windows devices.
Focus on what is really important
Focus is a new feature that can be said to be an enhancement on Do Not Disturb. It intelligently filters notifications and displays only those that are of relevance to you at any given moment. When you are at work, for example, your phone will only show you work-related notifications and app events, and if you're taking a vacation, it will make sure nothing disturbs your peace of mind.
Your phone will analyze your habits and adjust Focus to your pace of life and schedules. You can choose from a number of preset focuses or customize Focus to suit your personal habits.
Improved notification Center
Apple has also enhanced the notification screen with larger icons for apps and the ability to add photos of your contacts. The system will intelligently shield you from digital distractions. For example, low-importance notifications may be deferred until the evening or delivered at a time that is most suitable to you, with high-priority messages shown at the top of the list. And at long last,  you will be able to mute notifications from certain apps for the next hour or for the entire day.
Customizable Safari
The search bar has been moved down to the bottom of the screen, where it is more accessible to users of large phones who like to tap the screen with their thumbs. To switch between tabs, simply swipe left or right on the tab bar. Tabs can also be saved and easily accessed from your other Apple devices. The start page is now fully customizable, and you can also personalize Safari with web extensions— just like on MacOS.
Apple continues to add more protections to safeguard your privacy—Safari in iOS 15 won't let third-party services profile you by tracking your IP address.
Enhanced privacy
Mail has also received a number of privacy protections. Senders won't be able to find out if you have opened their marketing e-mail or your IP address, and so won't be able to profile you for their marketing campaigns. Moreover, you can view detailed privacy reports to see which apps have accessed your private data during the last seven days. Such private data includes your location, photos, videos, camera, microphone, and contacts. Naturally, apps can only access this data if you explicitly give them permission to do so.
Vivid Memories
Memories has been given a new look and a number of new interactive features, including the ability to add music from the Apple Music library. Song suggestions are based on your preferences and what's in your photos. If you have never used Memories, you definitely want to give it a try, even before the new iOS becomes publicly available. Memory mixes can be quite comforting at times, particularly those with pets or snapshots from past travels.
Siri will work even if you're offline
In many scenarios, Siri can now work even without an active Internet connection. In earlier iOS versions, all your requests were processed remotely, even  if you simply asked Siri to set a timer. And Siri was quite picky as to the quality of your online connection, becoming pretty useless where Internet speeds were slow. Starting from iOS 15, any requests that do not require an online search will be processed on-device. This will not only make Siri more responsive but will make your personal data more secure.
By the way, ABBYY FineReader PDF can also run without an Internet connection and recognize text on document images in 63 languages and export it to TXT. All processing is done entirely on your device and no data is sent to remote servers.
iCloud+
iCloud has been renamed to iCloud+ and got some new features. These are mainly about privacy and data security. And all this at no extra cost to subscribers. Existing iCloud subscribers will be automatically migrated to iCloud+.  The most notable new feature is encryption of all your outgoing traffic, so that even Apple won't be able to read your requests.
In iOS 14, Apple added a very useful security feature that replaces your actual e-mail address with a randomly generated one when you need to register with your Apple ID. In iOS 15, you will be able to manage these prop addresses and use them more widely. For example, you can specify such a random address in the "From" field of your e-mail messages. Replies will be forwarded to your inbox, but the recipients won't see your actual address. This is a great way to keep away spam and other unsolicited mail, as you can easily prohibit mail forwarding from any of your randomly generated addresses.
If you are using HomeKit security cameras, all your footage will be encrypted and uploaded to the cloud but won't count against your cloud storage. Thank you, Apple!
Smarter collaboration in Notes
The standard Notes app now allows you to use an @ sign to mention people directly in the text of your notes to notify them about important updates. There's also a new Activity view that provides a summary of all the updates since the last time the note was opened. You can also organize your notes by adding tags.
Beautiful search results in Spotlight
Spotlight now allows you to search across multiple content sources, such as Apple Music, Apple TV+, and others. When you type a query, a visually stunning results page will be displayed, with detailed information about the actor, performer, or movie you searched for. It looks very likely that many streaming services will add support for Spotlight searches as the feature is really very handy and attractive.
ABBYY's mobile apps also support Spotlight searches. For example, you can use Spotlight to find contacts in Business Card Reader, to search for documents in FineReader PDF by their names or tags, or to carry out full text searches in your TextGrabber notes.
Tighter integration with AirPods
AirPods will notify you with a tone if they are too far from the connected device.
AirPods can also be used as a hearing aid by hearing impaired users. They will detect human speech and automatically amplify the sound. Additionally, AirPods have been taught to announce incoming notifications (depending on the settings of the Focus feature).
iPadOS 15
Updated Split View
Split View has been enhanced to make your simultaneous work with apps even faster. You can now simply swipe down from the top of the app that you want to close and immediately replace it with another one from your Home Screen. An upward swipe will open a list of apps currently running in Split View. FineReader for iPad also supports Split View and allows you to drag and drop scans (e.g. onto your Mail screen).
App Library now also available on iPad
The App Library, which first appeared in iOS 14 on iPhones, is now available on the iPad. Conceptually, it is identical to the App Library in iOS, displaying all the apps available on your device. The apps are sorted by category for easy access. There will be an icon for the App library in the Dock.
Quick Note
If you are suddenly struck by an idea, you can easily jot it down by calling a Quick Note window with an upward swipe in the bottom right corner of the screen. Notes can be typed from the keyboard or using  Apple Pencil.
Widgets on Home Screen
Widgets have long been available on the iPad, but they were stashed away on additional screens. Now you will be able to place then anywhere you wish on the Home Screen, just like you do on the iPhone. You can even have them all over your Home Screen :-).
To find out more about the new features and capabilities announced by Apple at WWDC 2021, visit this page.
Subscribe to our newsletter
Enter email and get FineReader PDF Mobile with 1 month premium for free!
Your subscription was successful! Kindly check your mailbox and confirm your subscription. If you don't see the email within a few minutes, check the spam/junk folder.
Your subscription was successful!