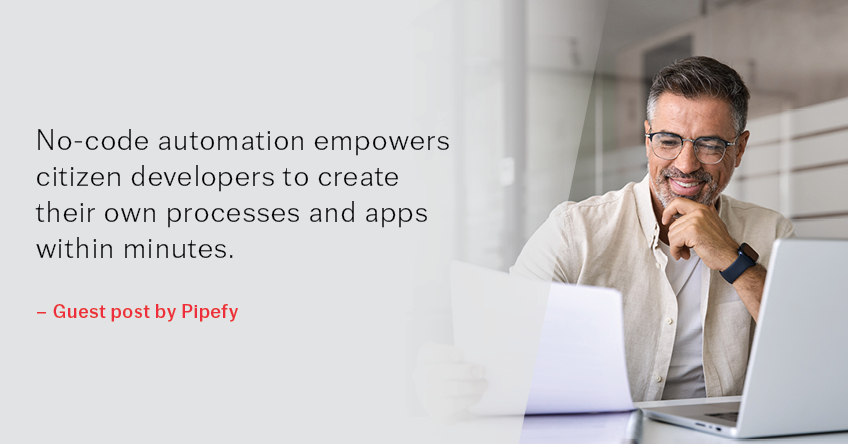 Business process management (BPM) is not exactly new, and advancements in BPM technology have been relatively few and far between. While the BPM's framework has remained mostly intact, the most significant improvement in BPM could be seen with the arrival of process management and automation software.
These platforms offer businesses new tools for modeling, assessing, and optimizing their processes, uncovering new efficiency gains through their ability to automate processes and integrate them with existing tech stacks. Now, the combination of no-code BPM with artificial intelligence (AI) technologies like OpenAI's GPT-4 is rapidly transforming the way companies create and optimize their processes.
What is no-code automation?
No-code automation refers to software that empowers business teams to build and automate their processes and workflows without requiring coding skills or coding experience. Instead, their visual interface makes building and optimizing processes an intuitive endeavor. As a result, no-code automation speeds up development cycles and accelerates scalability.
The term no-code automation may be used interchangeably with no-code process automation, no-code workflow automation, and also no-code business process automation (BPA) solutions.
Unlocking efficiency with robotic process automation (RPA)
RPA takes automation to the next level by automating rule-based, repetitive tasks within AP processes. By mimicking human interactions with various systems, RPA bots can perform tasks such as invoice processing, data entry, and vendor management swiftly and accurately. This allows finance departments to achieve enhanced efficiency, reduce operational costs, and redirect their workforce towards more value-added activities. RPA not only improves accuracy but also ensures compliance with regulations and reduces the risk of fraud.
What is AI?
Artificial Intelligence (AI) represents a field that blends the principles of computer science with the power of data, all in pursuit of unraveling intricate challenges. Additionally, AI encompasses the realms of machine learning, natural language processing, deep learning, and algorithmic prowess, harnessing each to dissect data intricacies and reveal predictions. Generative AI also has the capability to learn and emulate coding languages.
The use of artificial intelligence has spiked recently, having gained significant notoriety in early 2023. In March, OpenAI launched GPT-4, a multimodal large language model that replaced the previous version, GPT-3.
Like its predecessor, GPT-4 "learns" by processing and analyzing vast amounts of data. GPT-4 is capable of generating text, producing data analytics, predicting outcomes, and completing an array of complex operations. Users interact with the model by giving it commands in natural language, making it accessible to the citizen developer.
Why is AI and no-code BPM so powerful?
Put simply, they combine the powerful task automation that AI can execute with the easy process automation enabled by no-code BPM (or BPA). Therefore, the combination has the potential to bring operational excellence to any team or company, saving them more time and money than ever before.
No-code automation requires minimal resources for deployment. A few years ago, it was unthinkable for a company without a robust IT department to standardize its processes in a digital environment. IT specialists were forced to intervene whenever a potential error occurred.
The current labor shortage of qualified developers might have undermined digital transformation of businesses in general were it not for no-code (according to IDC, there will be a shortfall of four million developers worldwide by 2025). No-code automation empowers citizen developers to create their own processes and apps within minutes.
AI brings instant ease and precision to no-code software tools, allowing users to create workflows by describing what they want in a chat. They can obtain high-level data, process insights, and even generate suggestions all within seconds – such is the case for Pipefy AI.
Connecting no-code and AI solutions like ABBYY + Pipefy allows businesses to leverage process standardization (a no-code software feature) and also boost the efficiency and quality of their work by ensuring that all business documents have been read, extracted and processed in databases – thanks to ABBYY's automation capabilities.
Practical uses of AI and no-code BPM
Any process can benefit from the combination of AI and no-code BPM. Below, you'll find a few examples:
Finance
AI can help these teams avoid late payments and penalties by keeping them ahead of deadlines and providing in-depth analyses of financial information; for example, it can identify accounts that are at risk of becoming delinquent. AI can also provide deeper visibility into large volumes of data, create charts, automate and/or structure approval flows, as well as provide predictive analytics.
Finance teams can zero in on particular data points and modify their workflows and processes as needed without creating IT tickets. These tasks are good candidates for AI automation:
Fraud detection
Service chatbots
Risk management
Credit scoring
Document analysis
Human Resources (HR)
Artificial intelligence helps HR teams by increasing objectivity, improving employee experiences, and helping address complex questions such as when (and by how much) an employee's salary should be increased.
Consider the example of salary negotiations. Typically, compensation teams rely on a vast array of spreadsheet data and subjective judgment to determine how much to offer a new hire. AI can consolidate many data points such as performance, seniority, budget, and market trends to support a manager's decision. Other use cases include:
Organizing unstructured data
Automating manual administrative tasks
Identifying and anticipating attrition trends
Providing responses to common employee questions
Candidate selection
Sales
Sales processes are often considered complex and fragmented; this is due to variables related to each prospect and the individual sales team member. AI helps sales teams improve the consistency and effectiveness of their processes by automating some core tasks of the sales process, allowing the representatives to focus on their relationships with customers.
AI also helps sales teams by recommending the most effective sales channel to reach a prospect, suggesting likely upsell opportunities, and prioritizing leads. Other uses for AI in the sales process include:
Lead scoring
Drafting content for emails
Assisting prospects by providing information through chatbots
Personalizing sales journeys
Building intelligent automation with AI and no-code BPM
Throughout this post, we've guided you through no-code technology's ability to build and automate business processes quickly and safely, without the need for IT actions every time automation/process optimization is required.
This technology is critical to teams' productivity and efficiency. While AI is a revolutionary merging technology, its use alone cannot efficiently structure entire processes or enterprise operations. In this sense, no-code prepares the ground for AI, while AI accelerates no-code automation.
Aiming to make process efficiency achievable and timely for all teams, ABBY and Pipefy built a joint solution in which companies can leverage Pipefy's ease of use to standardize their processes and ABBYY's optical character recognition (OCR) technology to read, extract data, and process documents With drastically improved speed and precision.
Curious about increasing speed and accuracy by turning critical documents into workable data through this partnership? Learn more about Pipefy + ABBYY.
Subscribe for blog updates
Your subscription was successful! Kindly check your mailbox and confirm your subscription. If you don't see the email within a few minutes, check the spam/junk folder.
Your subscription was successful!