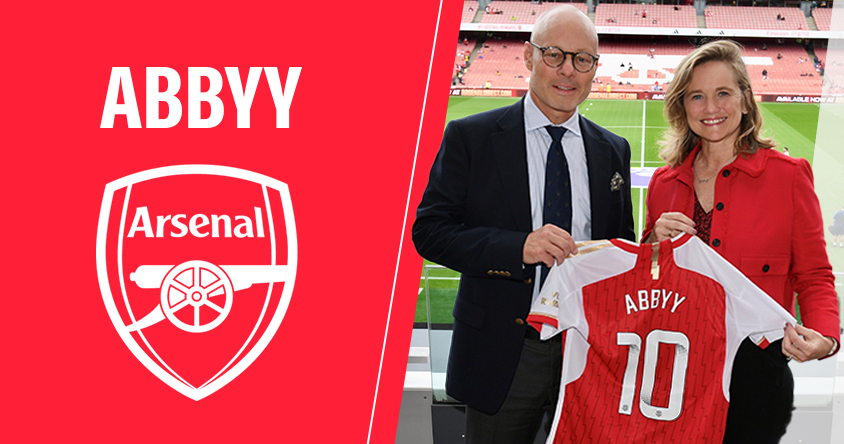 In the world of sports and innovation, certain partnerships exceed traditional boundaries and inspire greatness. ABBYY is excited to announce its partnership with Arsenal Women, a collaboration that embodies the spirit of innovation, integrity, and empowerment.
Since its inception in 1987, Arsenal Women's journey has been nothing short of extraordinary. With an impressive collection of 60 trophies, they are the most successful women's team in the UK. Notably, they are the sole football club in the United Kingdom (UK) to secure a Champion's League victory. The team's achievements are an inspiration to aspiring athletes worldwide. Arsenal Women's current squad is a remarkable blend of talent, diversity, and experience, featuring players from eight different nationalities. Among them are renowned figures like Euro 2022-winning captain Leah Williamson and Golden Boot winner Beth Mead. Let's delve into the essence of this exciting partnership and what it means for both organizations.
Championing excellence on the pitch and in the office
The partnership between ABBYY and Arsenal Women holds significant promise for both entities. ABBYY and Arsenal Women will collaborate on sport, social and education programs focused on technology education, career development, and positively impacting the lives of young people in local communities.
Ulf Persson, CEO of ABBYY (left) and Juliet Slot, Arsenal's Chief Commercial Officer (right) announce ABBYY as the Official Intelligent Automation Partner of Arsenal Women F.C.
At the heart of this partnership lies a shared commitment to innovation. ABBYY's mission is to transform data from any source into intelligent, actionable insights. Our hyper-focus on research and development (R&D) is evident in the proprietary technologies ABBYY has been developing for decades, and industry analysts including IDC and ISG Provider Lens have recognized ABBYY as a leader for delivering solutions that stand out from the crowd.
Similarly, Arsenal Women have redefined football with their innovative team-oriented tactics and commitment to efficiency and excellence on the pitch. This collaboration will provide a platform to showcase the collective impact of driving innovation and moving forward. By using the strengths of both organizations, this partnership is set to raise the bar in their respective fields.
The ABBYY and Arsenal Women partnership is more than a strategic alliance; it's a connection built on shared values. Both organizations value progress, teamwork, and uphold a standard of excellence. This common ground has solidified the cultural fit between the two, enabling a strong foundation for collaboration.
As we look ahead to this exciting partnership, the potential for positive change is immense. The ABBYY and Arsenal Women partnership is a platform to reach a rapidly growing women's football fan base – according to the Financial Times two billion viewers tuned in to the FIFA Women's World Cup 2023 - with messages of innovation, leadership, and empowerment. With a near four-fold increase in viewing hours of the Barclays FA Women's Super League in 2021 and 2022, as well as two-thirds of football enthusiasts showing more interest in UK women's football following the Euros, the potential for meaningful investment in the sport is undeniable.
Just as Arsenal Women have changed the landscape of women's football, ABBYY is revolutionizing data transformation and intelligent automation. This partnership symbolizes the potential of collaboration to drive change on multiple fronts, as investment in women's sports from organizations like ABBYY advances equity by driving viewership, attendance, and fan engagement with women's leagues, teams, and athletes.
Happy, but not satisfied: celebrating wins while looking ahead
The partnership with ABBYY and Arsenal Women highlights our commitment to supporting gender equity and equality, diversity, and inclusion – a powerful mission rooted in ABBYY's history. ABBYY has been supporting female athletes for years through our sponsorship of PFU BlueCats volleyball team in Japan. Challenging the gender gap in the tech industry, we are proud of our above-industry-average representation of women in the workplace. Women at ABBYY represent over 35 percent of our workforce (compared to the tech industry average of 28 percent), and more than a third of our team leaders.
From the solutions we provide to how we lead our organization, ABBYY believes that everything we do should reflect positively on the world; now we are partnering with Arsenal Women to bring positive change both in the local communities and on a global level. Not only do companies leading in diversity and inclusion initiatives see higher employee retention, productivity, and profitability, but diversity also fosters better ideas and increased innovation. As ABBYY and Arsenal Women join forces, the stage is set for an exciting journey that will undoubtedly leave a mark on both industries, inspiring individual, and organizations alike to aim higher and achieve more.
Be a game changer with ABBYY and Arsenal Women. To speak to an ABBYY representative, contact us.
---
Be a Game Changer with ABBYY
To get guidance on intelligent automation and learn more about how ABBYY can help you, or if you want to join the ABBYY team, get in touch with us.
Contact us
Subscribe for blog updates
Your subscription was successful! Kindly check your mailbox and confirm your subscription. If you don't see the email within a few minutes, check the spam/junk folder.
Your subscription was successful!