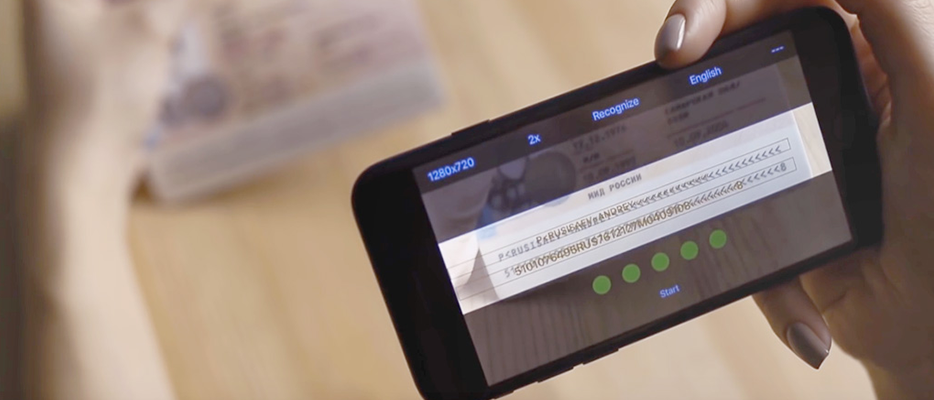 If you want to see a bank customer wince, ask him to manually input some long numbers into your system. Yet in this digital transformation times, a large number of payments made by customers are still done by keying in data manually. The data that many businesses still require customers to provide range from account numbers, bank's routing numbers, tax code numbers, tracking numbers to ID cards and passport numbers.
Meanwhile, new technologies are popping up enabling business processes to be more responsive to customer demands. Such technologies leverage mobility, flexibility, and efficiency of the new generation of tech-savvy users and may soon determine whether a business can survive and thrive in the unfolding digital era.
Instant data capture and processing
Mobile OCR may seem trendy, but it is a trend with a variety of benefits for companies from customer-facing industries such as banks and insurance companies. Financial service companies can greatly optimize their operations by empowering customers to scan and digitize their data using new apps on their own mobile devices. Such apps can now insert information necessary for a money transfer into the fields of a mobile banking app simply by focusing the smartphone's camera on payment slips, invoices or other payment documents.
Allowing engaged customers 'self-service experience' can engender in them self-confidence and pave the way for building trust and credibility. New mobile capture technology also enables customer-facing teams to manage customers and recruit prospects, while enhancing customer loyalty and retention.
Data protection and security
According to a recent Pew Research, 24 percent of U.S. citizens have paid their bills using smartphones, while 44 percent said they are aware of such services. Yet, most people surveyed - 73 percent - avoid mobile payment apps, citing security and privacy as top worries. New mobile OCR technology now offers not only a fast, safe and convenient user experience, but data security as well. Data such as bank details, credit card number, card owner's name or payment amount can be instantly captured, processed and transferred without saving copies on the device. For banks and insurance companies, this is a sure way to build trust and credibility with engaged customers.
Customer-onboarding with ease
Real-time recognition technology promises efficient customer onboarding that can help small businesses create a positive first impression and turn their customers into advocates. This is particularly true for front-end service providers such as airlines, hotels and car rental companies. Manual registration process for new customers is often frustrating, cumbersome and time-consuming. With the new technology, however, customers can simply point their mobile phone cameras at their identification documents and have their data transferred into a company's system without leaving a trace on the device.
Facilitating visual connection
Mobile capture technology is also becoming increasingly popular with road warriors, who are more likely to use it in travelling apps to translate airport and train station signs, restaurant menus, road or street signs. A less obvious feature of real-time recognition technology is that it combines with text-to-speech technology to help visually impaired, elderly people or children interact with their surroundings. Simply pointing their mobile phone camera at a text in a book, a magazine page or at a street sign enable them to listen to words converted into an audio format in real time.
When it comes to digitizing business segments, real-time recognition technology is efficient enough to gain wide acceptance. Features like instant data capture and automatic data entry into forms or text box hold multiple promises for financial service companies.  Telecom and gambling companies can leverage it for instant capture of modem serial numbers or pin number on scratch cards, while booking services will find it invaluable for verification and validation of personal details during customer onboarding. Finally, postal services can build upon the strengths demonstrated by the technology to instantly capture and recognize addresses of premises and automatically notify addressees about the arrival of parcels. Overall, RTR technology will enable every single business segment takes gradual steps towards digital transformation.
General information about Real-Time Recognition SDK.
SDtimes.com: New secure real-time recognition technology from ABBYY completely transforms user experience.
---
The Real-Time Recognition SDK product is discontinued. Explore ABBYY's Mobile Capture solution here.
To see ABBYY's latest technology solutions, visit the ABBYY Products page.
Subscribe for blog updates
Your subscription was successful! Kindly check your mailbox and confirm your subscription. If you don't see the email within a few minutes, check the spam/junk folder.
Your subscription was successful!