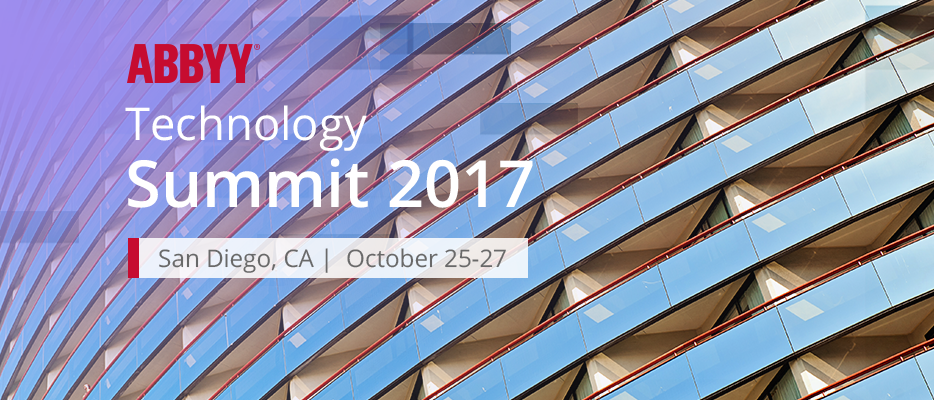 The 5th Annual ABBYY Technology Summit kicks off at the Marriott Marquis San Diego Marina from  25th-27th October . Participants will have the opportunity to meet one-on-one with the engineers behind ABBYY industry leading technologies, network with powerful business leaders, and get hands-on experiences with optional training with the ABBYY technologies and solutions they need to solve their Digital Transformation challenges in 2017 and beyond.
This year's content-rich #ABBYYSummit17 event proves once again that the ABBYY Technology Summit is the go-to event for data capture, digital transformation, and natural language processing. Last year's #ABBYYSummit16 was a remarkable success, drawing our largest crowd yet of 220 business leaders and developers from 15 different countries. In fact, response was so enthusiastic that we were forced to close registration early so register now!
Recap of #ABBYYSummit16
Sandy Kemsley's innovative keynote from 2016's event, "Intelligent Capture & Digital Transformation," opened-up discussions on important case studies presented by athenahealth, Fidelity Financial, Star Cloud Services, and TestPlant.
New and emerging technologies for Receipt Capture (RC SDK) and Mobile Real-Time Data Capture (RTR SDK) were also on full display, but are set to return alongside new Mobile + Cloud content, Robotic Information Capture talks, and new ABBYY AI-infused Text Analytics technologies.
Download the #ABBYYSummit16 presentations on SlideShare.
Coming Up at #ABBYYSummit17
This year's #ABBYYSummit17 agenda will feature two main keynotes:
Capitalizing on Robotics: Driving Savings with Digital Labor - Mike Gough, KPMG

This keynote session is critical for everyone interested in understanding what enterprises, government agencies, BPOs and shared service centers are thinking as it relates to automating manual and repeatable tasks and moving to a digital labor force. The session will also address the various classes and strategies of going digital and the financial impacts, and will explore common themes to all digital labor projects with an emphasis on three classes of digital labor: basic RPA, enhanced process automation, and cognitive automation.

The Evolution and Ultimate Collision of Capture, Content, Context and Analytics: How did we end up here and where are we going? - Martyn Christian, Founder UNDRSTND Group

Martyn Christian of the UNDRSTND group shares his vision and perspectives on the opportunities driven by market and technology shifts. As a senior executive leader at FileNet, IBM, and Kofax, Martyn has unique insights about how the market has evolved and where the next wave of investments, solutions and opportunities will emerge. This session will not only address historical biases related to capture and recognition, but will also address future opportunities presented by AI, cognitive, text analytics, and digital labor. This session is important for thought leaders seeking to change their own solution and revenue paths for the next wave of innovation.
We're thankful for all the great worldwide support and participation, especially from our growing list of dedicated sponsors this year:
Solving Digital Transformation Challenges with Best Practices from ABBYY
One of the great advantages of this event is the opportunity to directly connect with developers, partners, and customers that use and work with ABBYY technologies every day.
These solution stories, hands-on experiences, and in-depth training sessions are shining examples of how developers and business leaders are working together to take advantage of ABBYY technology in ways that make a real difference today.
Here is what Bruce Orcutt, SVP of Product Marketing at ABBYY, said about the event:
I'm still inspired after #ABBYYSummit16 in San Diego last year. Unlike some tech industry events that can leave you wanting more substance, our compact format was filled with a variety of presentations, great ideas, exciting solutions, and rare opportunities to learn and interact with some of the leading practitioners in digital transformation today. Response to the event was overwhelming and you could literally feel the growth in both attendance, and event value as 96% of attendees plan on returning this year. We are very excited and look forward to our attendee's success at #ABBYYSummit17, this October 25th-27th.
Leading the Way to Digital Transformation
There couldn't be a better time of year or place to meet with the best minds from across the world, and plan success in the coming year.
While this compact event format gets a lot of work done, everyone has a fun time while doing it.  The atmosphere and community always come together to create a truly memorable event.
Register before it's too late at www.ABBYYTechnologySummit.com!
Subscribe for blog updates
Your subscription was successful! Kindly check your mailbox and confirm your subscription. If you don't see the email within a few minutes, check the spam/junk folder.
Your subscription was successful!