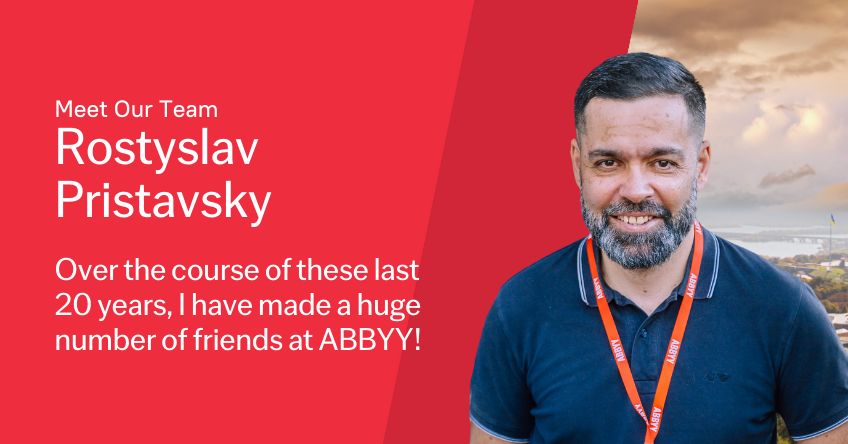 Say hello to Rostyslav Pristavsky, or Rost for short. He's the creative genius behind our eye-catching graphics, and you'll find him hard at work in our Global Corporate Marketing Department. What makes Rost stand out? Well, aside from his remarkable design skills, he's also a true ABBYY veteran, having been part of our organization for an incredible 20 years!
We recently had a friendly sit-down with Rost to chat about his essential role in giving ABBYY its visual appeal and his profound passion for the world of design. Read on to learn about why he joined the team, and what made him stay for a remarkable two decades.
Follow us on Instagram to get to know life at ABBYY
What is your role at ABBYY, and what is your favorite thing about it?
I am a Senior Graphic Designer, and my role is to make our company and its products look beautiful, modern, and recognizable. What I love about this role is that it keeps me on a constant path of improvement. I need to stay updated with the latest design trends and explore the capabilities of graphic editors continuously.
What does a typical day look like for you at ABBYY?
Given ABBYY's global reach and my team's many time-sensitive responsibilities, my day can start very early to cater to our Asia-Pacific offices and end rather late for tasks related to our projects in North America.
Some might say this means that my working day never ends. However, with ABBYY's flexible schedule and efficient workflows, I can manage my time really well. I always find time for work across regions, spending quality moments with my family, and enjoying long walks with my beloved dog.
What was your previous experience before ABBYY?
Before joining ABBYY in 2003, I worked at several Ukrainian printing houses, focusing on pre-press processes, layout design for advertising and marketing materials, and periodicals.
I was also deeply passionate about flash animation and graphic design (yes, that was a very, very long time ago), which eventually led me here.
What attracted you to ABBYY, what made you join?
It was ABBYY's name, reputation, and working conditions that initially drew me in. However, it was the amazing team that sealed the deal. I instantly connected with my colleagues and realized we were on the same journey.
And this journey continues! Over the course of these last 20 years, I have made a huge number of friends, and with many of our friendships continue outside of work.
Learn from senior executives and ABBYY customers on how to successfully adapt to contemporary challenges using innovative technologies | ABBYY's The Intelligent Enterprise
What kept you going at ABBYY for such a long time, and what are some highlights of your journey with ABBYY so far?
Being part of the team, having good friends among my colleagues, and knowing that my work is appreciated made me not once think about leaving my job.
Sure, we had some tough challenges as a team, but they were all quite motivating, and I kept learning new things along the way.
Your top advice to someone joining ABBYY, and for someone joining ABBYY in a similar role?
Work with passion, continuously improve yourself, stay calm, and don't be afraid of challenges. Around here, help is always available when you need it!
What's your favorite benefit at ABBYY? Is there something particular that you enjoy?
With the risk of repeating myself, I'll say —the people, the global scope of your work, the option to work remotely, and the continuous opportunities for improvement.
The company does everything so that you do not stand still, but only move forward.
What is your definition of work-life balance?
Over my years at ABBYY, I've achieved a near-perfect work-life balance. When your work aligns with your passion, it becomes enjoyable. While I might lean towards being a bit of a workaholic, I'm content with my life. Balance, to me, means having enough time for everything that matters to you.
Lastly, could you recommend us a book/movie/series/ or activity you have recently discovered or are enjoying at the moment? What's so great about it?
Despite my busy schedule, I always make time for cinema. As a self-declared movie aficionado, I can talk endlessly about film. Over the past year, I've enjoyed "Babylon" (2022) and "Triangle of Sadness."
But if you're looking for something less challenging on the brain, and more pleasing to the eye, "Strays", "Bullet Train", "Barbie" are worth a watch, especially from a designer's perspective.
Interested in joining the ABBYY team? Please check the vacancies below and apply!
Subscribe for blog updates
Your subscription was successful! Kindly check your mailbox and confirm your subscription. If you don't see the email within a few minutes, check the spam/junk folder.
Your subscription was successful!