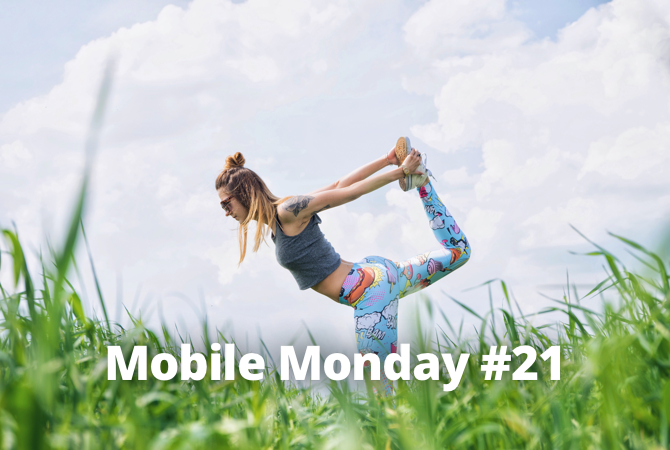 Editorial note: FineReader PDF Mobile for Android, Business Card Reader for Android, and Text Grabber for Android & iOS have been discontinued since September 2023. You can learn more about that here.
---
Health is priceless. Did you know that your smartphone could help you keep yourself in shape? We'll review some iPhone and Android apps that track your physical activity. We'll also help you recover a deleted app and keep yourself hydrated.
iOS Tip: How to Use the Health App
Have you ever wondered how to use your smartphone to be sound of body and mind? Try Health — a built-in iOS app that helps you to learn about your body and start reaching your goals. It gathers data from iPhone, Apple Watch, and third-party apps so you can view all your progress in one convenient place. Health also recommends other helpful applications to round out your collection.
Health features multiple charts with your stats for a day, a week, a month, and a year. It highlights four key categories: Activity, Sleep, Mindfulness, and Nutrition.
Health combines activity data from your iPhone, for example, the number of steps taken or the length of the distance traveled, with metrics from third-party fitness and wellness apps. Whether it is the Clock app or a third-party sleep accessory, the information about your sleep is fed into Health. Use the Breath app on Apple Watch to relieve stress and stay mindful throughout the day. For picky eaters, the app lets you count your calories, carbs, caffeine intake, and more.
On top of all the useful perks, Health allows you to create a personal Medical ID. It may come in especially handy in an emergency, like allergies and medical conditions, and can be accessed from the emergency dialler without unlocking your device.
Health also enables you to monitor your blood pressure, glucose levels, weight, and reproductive health. The app stores all the data in a single interface. You decide which information is fed into Health and which apps can access your data. All the data automatically stays up to date across all your devices thanks to iCloud and is encrypted both in transit and at rest.
Android Tip: How to Use Lifelog and Samsung Health
Lifelog is a free Android app devised by Sony that closely tracks your health. The Lifelog's interface is broken down into multiple activities, for instance, walking, watching videos or sleeping. The top of the screen features an interactive menu with a time scale and shows all the activities recorded by your device. Lifelog captures both physical and social activities. For example, here you can discover the distance walked or run, the time spent with friends, the number of pictures taken, and the music listened.
Lifelog collects data on physical activity based on your height and weight specified in the app, that's why the results may differ for different users. Bear in mind that Lifelog requires an internet connection to sync data.
Samsung Health — a Samsung's proprietary app — is the main competitor of Lifelog. A built-in pedometer displays the number of steps taken and converts this data into the walked distance or burnt calories. While processing data, it factors in your age, height, and weight specified in the profile. Go to settings to set the number of minutes when you plan to stay active (and don't forget to check the time recommended by the app). But there is much more to Samsung Health than just a step counter. The Sport section specifically dedicated to those who enjoy staying fit lets you track your activity for various sports — simply choose what you like.
Unlike Lifelog, Samsung Health allows users to enter their sleep data only manually. If you are concerned about nutrition, the app allows you to specify the amount of water, coffee or tea that you drink and write down what you eat throughout the day.
Samsung Health also has a system that is specifically designed to encourage its users to move more. It tracks your movements and rewards you with virtual medals for taking a long distance or for keeping within the allowed amount of calories.
Samsung Health is intended as a universal application that combines all means to live a healthy lifestyle and allows also users to integrate third-party apps. The home screen of the app has enough space to accommodate icons from the linked apps.
ABBYY Tip: How to Restore a Deleted App
We have all been there: the storage is low, your phone runs slowly, the screen is loaded with unused apps — the list goes and on. Anger starts to build up and bam! You go on a deleting spree and start removing apps one after another. But over time you realize that you actually need some of them… We have a solution. Here's the guide to getting our deleted apps back from the store.
Let's see. All the apps that you download from the App Store are linked to your Apple ID. Therefore to restore a purchased app, you simply need to take a few steps:
Go to the App Store with your Apple ID that was used to purchase an app. 2. Tap Updates > Purchased > Not on This iPhone (or iPad). 3. Find any of the ABBYY apps (FineScanner, TextGrabber or BCR) and click the download icon. 4. Enjoy your restored apps!
If you still have doubts on how to redownload content, check these instructions from Apple.
App of the Week: Waterbalance
Water is essential to our health and it is important to drink a sufficient amount of it every day. That's why we recommend Waterbalance — a no-frills app that helps you calculate and track the amount of liquid that you drink daily and provides helpful tips on how to maintain your water balance.
Specifying your water intake is simple. Tap the plus button, select liquid you wish to add, and enter the amount. By the way, even a small amount of alcohol keeps your body from retaining water and the app notifies you about it. You can even set a timer to drink a glass of water when you need it. If you do everything right, say, drink the appropriate amount for 10 days, the app will reward you with the Expert status.
The app is available for iOS and Android.
That will be all for today. As always, see you tomorrow. You can find the previous issue of our newsletter here.
Subscribe to our newsletter
Enter email and get FineReader PDF Mobile with 1 month premium for free!
Your subscription was successful! Kindly check your mailbox and confirm your subscription. If you don't see the email within a few minutes, check the spam/junk folder.
Your subscription was successful!