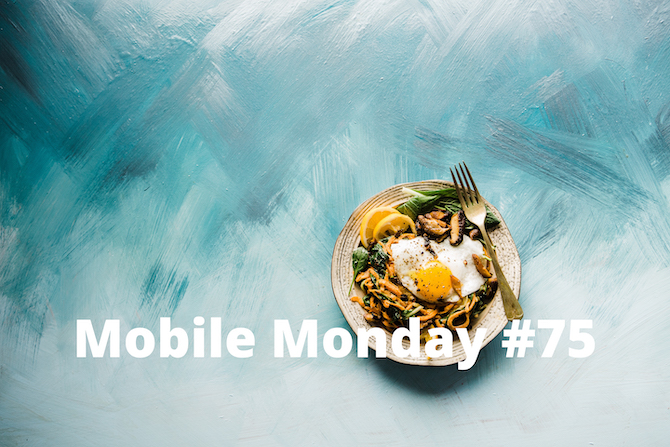 Editorial note: FineReader PDF Mobile for Android, Business Card Reader for Android, and Text Grabber for Android & iOS have been discontinued since September 2023. You can learn more about that here.
---
In today's issue, we'll tell you how to use a "mobile" heart rate monitor to look after your health during training or stress, show you how to delete business cards in BCR, and give you some advice on food photos.
Yes, you heard us right — you can check your pulse using only your smartphone! This can be done thanks to your mobile device's flash and camera. The bright light is directed through one of your fingers, and the camera then tracks the change in the color of your blood vessels inside. Their color depends on how long ago blood was pumped through them — making it possible to detect heartbeats.
iOS Tip: Taking Your Pulse Using an iPhone
To check your heart rate, you just need to install the appropriate app on your smartphone. You can find a lot of apps designed to do that in both the iOS and the Android app stores. This is the one that we think is the best:
Cardiio
The Cardiio app can help you keep track of your heart rate. Launch the app, then place your finger on the flash when it comes on. Note that your finger needs to cover both the flash and the camera.
The app is indeed good — it takes your pulse quickly and precisely. Of course, there is a small margin of error, which is understandable, especially when you consider that the procedure is done without any specialized equipment. However, the readings are precise enough to tell you when you have overexerted yourself and can be used to keep a record.
But that's not all — aside from measuring your heart rate, the app also offers a number of ways to share your results, a way to export the results to CSV, as well as an additional section with compact seven-minute exercise plans designed to keep you in shape.
And of course, Apple Health is also supported: all data you record about your heart rate can be exported there.
Download Cardiio to keep track of your pulse here
Android Tip: Measuring Your Pulse Using an Android Phone
When we opened Google Play to look for a good mobile heart rate monitor, we were a little taken aback by all the various options. After taking a closer look and giving them a try, we eventually settled on Accurate Heart Rate Monitor.
This app takes precise measurements, which can then be exported to Google Fit.
The intuitive and simple interface design — although a bit gloomy — means that it's easy to keep a record of all your heart rate measurements, sort them by exercise type, and even count your calories during training.
The main thing is — you don't need any extra equipment, just an Android 4.0 or newer smartphone and a camera with a flash.
Download this mobile heart rate monitor for Android here.
ABBYY Tip: Deleting Business Cards in Business Card Reader
If you ever want to start with a clean slate, or if you just need to clear your contact list in Business Card Reader, follow the steps outlined below.
First, open the BCR main screen (Android or iOS).
Deleting cards in Business Card Reader iOS
You can delete them one by one, select several to delete at once, or delete all of them.
In the upper right corner, tap the circled checkmark to switch to the selection mode.
A circle will appear next to each contact, tapping which will mark that particular business card. Mark all contacts you want to delete in this fashion.
You can also tap Select All in the upper left corner, which will mark all of the business cards.
Next, tap the "recycle bin" icon in the lower left corner. And just like that — all unwanted contacts are gone!
Deleting cards in Business Card Reader for Android
Business Card Reader for Android requires you to mark each business card separately. To do this, just tap the checkbox to the right of a contact. Next, open the context menu (three dots, upper right corner) and tap Delete. This will delete the selected cards.
App of the Week: Foodie
Did you know that #food is one of the most popular hashtags ever?
If you want to take pictures of your food, you might need a separate app. We really like Foodie — an app that has loads of cool filters to give your food a complete makeover. The filters have appropriate names, too: Tasty, Juicy, Fresh, etc.
Smart guides will make taking top-down photos easier, and a built-in timer will let you capture the best moment.
We suggest you try it for yourself 🙂
This app for taking tasty pictures is available for both iOS and Android.
That's all, folks! See you next time!
P.S. You can find the previous issue of this newsletter here.
Subscribe to our newsletter
Enter email and get FineReader PDF Mobile with 1 month premium for free!
Your subscription was successful! Kindly check your mailbox and confirm your subscription. If you don't see the email within a few minutes, check the spam/junk folder.
Your subscription was successful!