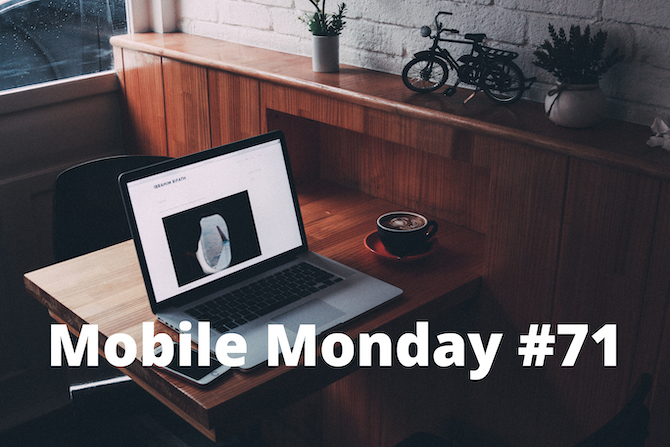 Even the most powerful smartphones can freeze. In today's issue, we'll tell you what to do if your device isn't responding to anything. We'll also scan song lyrics and use an iOS device as an extra monitor for the computer.
iOS Tip: Restarting Your Smartphone
A situation where your iPhone is completely frozen — the buttons and the screen do not respond to anything — might be unpleasant, but it's not as scary as you might think. A force restart is all that you need to do.
The way to go about this will be different for owners of newer iPhones without a Home button (X, Xs, or Xr) and owners of older generations of iPhones.
Force-restarting an iPhone with a Home button
For a force restart, simultaneously hold down the Power and Home buttons for about 10 seconds. The Apple logo will appear on the screen and the iPhone will switch back on. However, having it start up this way can take a longer time than usual.
A force restart can also help if you have noticed that your iPhone has gotten slow lately. It will clear the system memory and restart all background processes. You might say that this is no different from what happens during a normal restart, but from our personal experience, a force restart does indeed speed up your phone more than a normal restart. It might just be our imagination though.
Force-restarting an iPhone X, Xs, or Xr
The disappearance of the Home button has made doing some things more difficult. To make up for it, the volume buttons are now used much more often.
Here is how to do a force restart on models without a Home button:
Quickly press and release the "volume up" button — as when locking your screen.
Quickly press and release the "volume down" button.
Next, press and hold the Power button for about 10 seconds until the Apple logo appears.
Android Tip: Restarting an Android Smartphone
An Android phone is just as susceptible to freezing and becoming unresponsive. If this happens, the standard way of restarting — holding the Power button and tapping Restart — will not work, since the device will not respond to touch.
To breathe life back into your device, simultaneously hold down the Power and both volume buttons. After several seconds, the phone will restart and become usable again.
There is yet another way to unfreeze a smartphone with a removable battery. You can restart your phone by physically removing the battery and then putting it back in. However, we recommend that you do this only as a last resort.
ABBYY Tip: Scanning Song Lyrics
One of our FineScanner customers has shared with us an interesting way of using our app: scanning old song lyrics printed on paper. The user reports that the scans are a success even if the paper has become worn out with time (you can read their full review here). FineScanner will make its best to correct the document, so that the text becomes crisp and clear. Be sure to follow these guidelines for taking photos of documents, or you may end up with a bad scan even if the original document is clear and readable.
App of the Week: Duet Display
Sometimes, having just one monitor for your computer or laptop is simply not enough. Clearly, buying a second monitor will solve the issue, but in many cases, there is no real need to fork out for an extra screen. There's an app called Duet Display which allows you to use your iPad or even your iPhone as an additional monitor, where you display the control panel, Photoshop menus, Logic Pro presets — basically anything that doesn't fit on your main screen. You can also use your iPad as a monitor with your Mac Mini, which is very useful.
The app works on both Mac and Windows. However, only Apple devices can be used as the second screen.
Download the app here and turn your iPad or iPhone into a second screen. That's all, folks! See you next time!
P.S. You can find the previous issue of this newsletter here.
Subscribe to our newsletter
Enter email and get FineReader PDF Mobile with 1 month premium for free!
Your subscription was successful! Kindly check your mailbox and confirm your subscription. If you don't see the email within a few minutes, check the spam/junk folder.
Your subscription was successful!