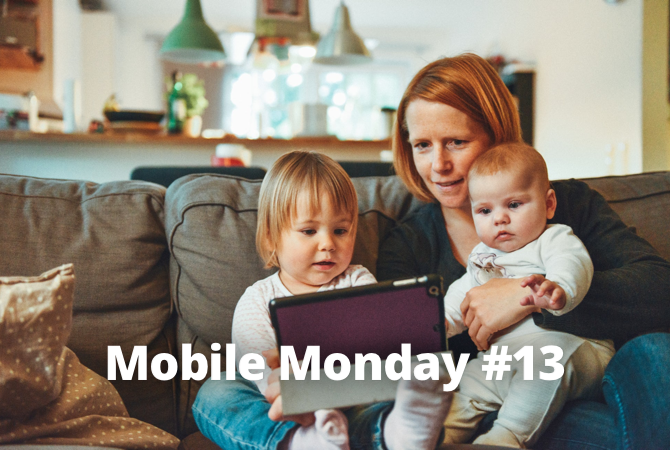 Talking over the phone is a classic no doubt but still way too old-fashioned! Innovative technologies today allow you to talk face to face using your smartphone. Also today: recognizing documents for free, storing digital content, and fighting procrastination.
iOS Tip: How to Use FaceTime
What is FaceTime? Like Skype, it's an app and service that allows you to make video calls on iOS devices. Your calls can be routed though Wi-Fi, 3G or 4G networks. For video, FaceTime uses the front camera of your mobile device. You can have up to four people participating in a video call and up to nine people if you use only audio. FaceTime is supported on all of the Apple devices— iPhones, iPads, and Mac computers.
Before you can start using FaceTime, you must register with the service using your Apple ID. If you want to use FaceTime on your iPhone, it will automatically register your phone number as well.
To call someone, you either tap their phone number or e-mail address (naturally, the other user must also must be registered with FaceTime). There are several ways to place a call:
You can use your Contacts. Tap the name of the person you want to call. A FaceTime section will appear below the contact's name, with two icons next to it—a video camera (initiates video calls) and a handset (for making voice calls).
You can also make FaceTime calls from Messages. Open your past correspondence with the person you want to call and you will see the same two icons next to his/her name.
Thirdly, you can tap the FaceTime icon while you are talking to someone over the regular phone. If  the other person accepts your call, the FaceTime window will open and your conversion will continue there.
The Call Waiting feature is available only during FaceTime voice calls. Additionally, you can:
End the current call and accept the incoming call.
Put the current call on hold and accept the incoming call.
Decline the incoming call.
You see that voice calls in FaceTime are no different to regular phone calls.
There's not much else we could tell you about FaceTime apart from thanking modern technology for giving us the ability to see and speak to our near and dear who may be thousands of miles away.
Android Tip: How to Use Hangouts
Hangouts is a versatile communication tool that supports phone and video calls, instant messages, and SMS. There's a plethora of messaging apps out there, and Hangouts is Google's attempt to bring some method into this madness.
To start using Hangouts, complete these two simple steps
Sign in to the app with your Google account, e.g. the one that you use for accessing Gmail.
Tap the green plus sign in the bottom right corner of the screen to initiate a chat session or make a video call.
You will see a list of your contacts, some of whom will already have Hangouts installed. You can also invite new users. Like FaceTime, Hangouts can be used both on mobile devices and on desktop or laptop computers.
ABBYY Tip: How to Use the OCR Feature in FineScanner for Free
This is one of the most popular questions we receive. We have no secrets from our readers, so here's the instructions.
Once you've installed FineScanner on your iOS or Android device, you can run the OCR feature five times without paying a penny. After the trial is over, you will need to activate the Premium features:
Open the app and tap Side Menu > Premium Features.
Select Monthly and tap Buy > Subscribe. Now you'll have seven days of free trial, with a subscription payment due on the eighth day of use.
That's it! By following the steps above, you can use FineScanner 5 times + 7 days absolutely free. Hope you like the app. Please leave your feedback in the app stores so we could make FineScanner even more useful.
App of the Week: Pocket
Pocket is a service that enables you to save web articles, videos, and other content for reading and viewing later. Once you've placed some content in your Pocket, it will become accessible to you on your phone, tablet, and computer, even when you're offline. Who could wish for more!
Many apps integrate with Pocket, so you can easily add texts from Feedly or Twitter. Here's how you do it:
Using a browser extension. There's a browser extension for Chrome, which lets you Pocket any story you find on the Web. In other browsers, you can use a bookmarklet.
Using e-mail. Even if you are browsing the Web on someone else's computer or you don't have the Pocket extension installed, you can save a link by sending it to add@getpocket.com.
Using batch saving. Sometimes you may encounter lots of useful links on one page that you would want to save all in one go. There's a Chrome extension for that as well.
Content saved to Pocket can be tagged, archived, and shared with others.
Pocket is an excellent service for all those who need to save video, images, texts, and other content in one place.
First-Hand Experience: Advice From a Colleague
Shared by Maria Rodionova, testing engineer
Hi,
Here's a life hack for Monday bouts of procrastination. It's officially called the Pomodoro technique and was invented by Francesco Cirillo. Below you can see a picture of a time piece similar to the one used by Cirillo:
It's a simple kitchen timer in the shape of a tomato (hence the Italian name of the technique). The method itself is a no brainer: set the timer to 25 minutes and continue working on your task until the timer rings. Twenty-five minutes is not that much, is it? Then take a short break (say, 5 minutes) and do another 25-minute stint. After three pomodoros you are entitled to a bigger break of 25-30 minutes.
When you actually start timing yourself, the method might prove harder to follow than it looks on paper, but don't despair. Try again, and your next pomodoro will most likely be 25 minutes of honest work.
That's all for today, guys. See you next Monday! P.S. You can find the previous issue of this newsletter here.
Subscribe to our newsletter
Enter email and get FineReader PDF Mobile with 1 month premium for free!
Your subscription was successful! Kindly check your mailbox and confirm your subscription. If you don't see the email within a few minutes, check the spam/junk folder.
Your subscription was successful!