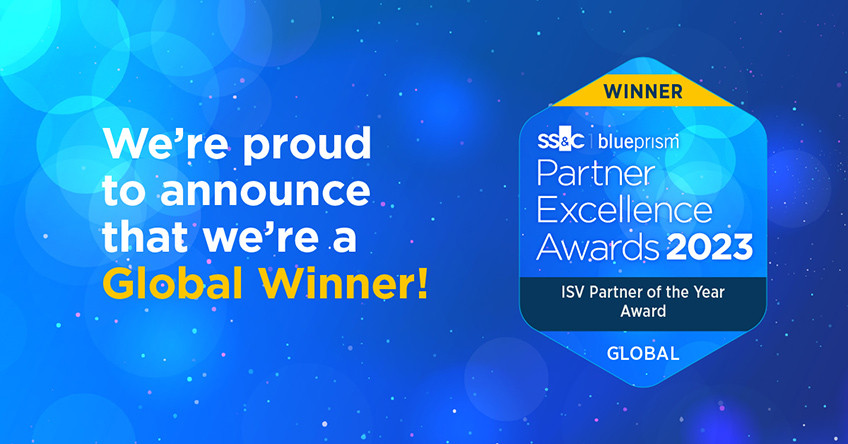 SS&C Blue Prism recently acknowledged partners in its ecosystem that showcased their expertise in delivering intelligent automation capabilities to digitally transform how organizations operate, compete, and innovate. We're proud to say that ABBYY was recognized at the SS&C Blue Prism Partner Excellence Awards Ceremony 2023 as the Global ISV Partner of the Year for its industry-leading process intelligence capabilities that power Blue Prism Process Intelligence 2.0 featuring ABBYY Timeline 6.
This recognition highlights the proven business outcomes realized by our mutual customers as a result of the close strategic partnership between ABBYY and SS&C Blue Prism. Using ABBYY Timeline's innovative capabilities, customers are able to gain greater process understanding and discover new opportunities for automation. This allows them to explore, analyze, and monitor processes with the speed of an intuitive, truly no-code approach—making data-driven process improvement accessible to the widest range of users.
Recent improvements to Timeline 6 and Blue Prism Process Intelligence
Using Timeline's new "Primary Path" analysis tools, users can now easily switch between traditional process schema views and a focused representation of the most dominant execution patterns, based on what is most useful for them. This is just one example of the completely redesigned user experience that's now available in Blue Prism Process Intelligence 2 and Timeline 6.
SS&C customers also now have a new analysis module that enables simulation of potential changes in processes so they can evaluate the impact of these changes on the entire business process prior to implementation of the solution, which means more efficient and cost-effective implementation of automation solutions based on existing event logs.
We're excited about the market opportunity for Blue Prism Process Intelligence 2.0 featuring ABBYY Timeline. We've already had several customer meetings, and we see great opportunity in the market for our joint offering.
Blue Prism Process Intelligence use cases
In one early customer deployment, our joint solution provided useful insights into the trade finance and customer onboarding/services processes. We created a visual model of the trade finance process as well as all of its variations to help understand what's working well, discover where the bottlenecks exist, and identify automation opportunities with SS&C Blue Prism's RPA solution. We automated the document intake and management process and uncovered opportunities to repair broken, inefficient processes.
The impact of using ABBYY Timeline is significant. Enterprises in many different industries have achieved tangible business outcomes, realizing millions of dollars in process efficiencies and analysis while drastically reducing time to identify opportunities for automation by at least 50 percent. They've achieved 85 percent faster reporting and production planning time and reduced cycle time by 30 percent with process redesign.
A few industry examples include:
Healthcare: Improve the patient experience and clinical effectiveness, maintain quality standards, and increase efficiency. Intelligent process analytics helps you understand what's working, what's not, and why. Identify opportunities to improve service delivery, processes, and more.
Financial Services and Insurance: Optimize multiple connected steps in the claims cycle, secure customer loyalty, and ensure positive business outcomes. With insurance process analytics, deliver business value for internal staff, contract adjusters, third-party support organizations, and other partners.
Procurement and Supply Chain management: Optimize supply chain efficiency and improve the purchasing and sourcing process. Discover, analyze, and monitor how your procurement process really works. Uncover delays that cost time and money and discover the most efficient process paths for positive business outcomes.
Telecommunications and Customer Service: Automatically discover and visualize services incidents or task processes. Help service desk managers quickly identify ticketing process bottlenecks, uncover and avoid SLA violations, or find the causes of unnecessary, avoidable tickets.
We look forward to continuing our collaboration with SS&C Blue Prism and empowering their customers with industry-leading process intelligence.
Subscribe for blog updates
Your subscription was successful! Kindly check your mailbox and confirm your subscription. If you don't see the email within a few minutes, check the spam/junk folder.
Your subscription was successful!